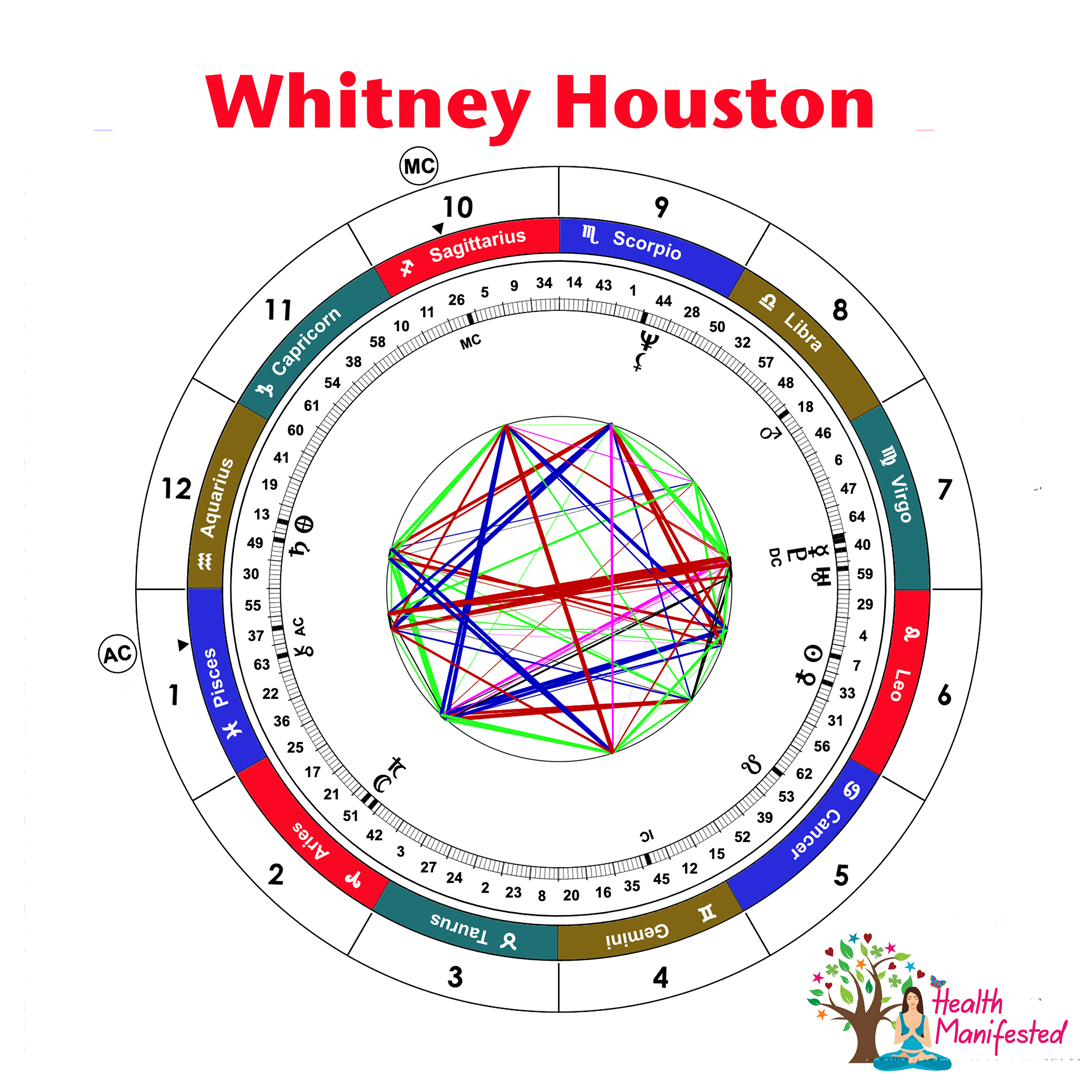 I got a notification today, April 24th, 2023 that there is a new movie out on Netflix called "Whitney Houston, I Wanna Dance with Somebody.  This was my favorite song as Jupiter was transiting Pisces.  And coincidentally Whitney Houston was a Pisces rising.  As this movie was released we are in the last part of Jupiter being in Aries.  Whitney Houston was born with Jupiter in Aries conjunct her Moon in Human Design Gate 51, the gate of shock and she definitely shocked the world in many ways. When I first started watching the movie I immediately captured this brief clip and sent it to some friends telling them that this is the ultimate message Jupiter in Aries is here to bring us…Loving yourself is the greatest love of all.  Jupiter is in her 2nd house, which is the house associated with values, and the song, Greatest Love of All says it all.  The second house is associated with Venus, which is also associated with what we value like the 2nd house.  She was here to show self-love (Jupiter in Aries) and also relationship love Sun and Venus conjunct in Leo).
Saturn Return
This movie was made during what would have been her Saturn return in Human Design Gate 49 the Gate that is gate of principles.  during the Saturn square Uranus transit.  She had Saturn in the 12th house and the 12th house can be associated with endings, death, drugs, and rehab.  Uranus was in her 3rd house, which is associated with communication and technology and her story lives on through this movie beyond her death.
Sun conjunct Venus
Whitney Houston had Sun conjunct Venus.  The Sun is where we shine and Venus is also beauty.  Her natal Sun and Venus were in her 6th house.  The 6th house is work/daily routine and health.  Leo is the sign of fame and the socialite.  Whitney Houston was known for her work (6th house Sun/Venus conjunction) and became super famous (Leo).  You can see in this movie she loved her work.  Leo is also associated with love, friendship, and children.  All of her songs were about love.  Venus is the planet of love and with Venus conjunct with the Sun in Leo in her 6th house, she was here to bring love through her work.
Human Design
Whitney Houston's Sun was in Human Design Gate 7.  This is a gate that makes a great leader.  Her Venus was in Gate 33, which is next to Gate 7.  Human Design Gate 33 can have so many things happen in one day that they can't process it all and just want to retreat.
Career and Family
Her 10th house was Sagittarius.  Her Midheaven was Human Design Gate 26 which can be great at sales.  Sagittarius is often associated with teaching and traveling and she traveled and taught love through her work.  The 10th house is also the father and her father talked about how he took care of her and changed her diapers while her mom was off traveling and doing tours.  The 4th house is often seen as the mother and Gemini is often seen as our words and her mother was also a famous singer.  Her 10th house Sagittarius is ruled by Jupiter which is in her 2nd house/Aries (self-love) and can be selfish.  She spoke up after her miscarriage about not being able to be everything for everyone.  Whitney Houston probably should have listened to that message more and it would have brought her more freedom/optimism (Sagittarius) and personal self-comfort (Aries 2nd house).  She had Mars in Libra opposing her Jupiter and Moon in Aries.  Libra can often worry more about others than themselves.  Sagittarius is also the sign that wants freedom and the 10th house can be a placement for feeling controlled or authority figures and her father talks about how she owes him money (Sun and Venus conjunct) for the work she did.  Jupiter in Aries wants financial (second house) independence (Aries).   But her father wanted to control her financial (Venus) freedom (Sagittarius) and wanted $100,000,000 on his deathbed for what he did to help her have her success.
In the movie, she showed how much she loved her daughter and wanted to be there for her.  She had 5th house Cancer.  Cancer is the sign of home and family and this placement can be very nurturing and 5th house is the sign associated with children and business.  After she had her daughter she really wanted to be able to be home with her kid.  Leo is also associated with kids and she had Venus (love) conjunt her Sun in Leo and you can see how much she loved her daughter in the movie.
As I mentioned previously 3rd house can be communication and technology, but it can also be your local community, cousins, siblings, and neighbors.  There is a part in the movie where Whitney sits down with her father and said, everyone is using my money like I am an ATM machine.  It sounds like her cousins, siblings, and community took advantage of her financial success.  The Sun is also associated with the father and in her chart and as mentioned before her Sun was in Human Design Gate 7, which is the supportive leader and her father (Sun) managed her money (Sun conjunct Venus, Venus representing money) and thought he was being a supportive leader.  Her father saw himself in the position of managing her fame (Leo) and fortune (Venus) even though Clive was her manager.  You could tell in the movie that Clive cared about her success but also her health, when he encouraged her not to do the 70-day world tour her father, encouraged her to do.  Clive also sat her down when her drug problem got serious and wanted to help her get into rehab.
After Whitney's father died she ended up going to rehab for 4 months.  As mentioned previously Whitney was a Pisces rising and Pisces can be associated with drugs, it can also be associated with death and endings.  Pisces is also associated with music and she was one of the best musicians winning 6 Grammys.
A little bit about her passing
Leo can also sometimes be associated with drinking alcohol in more social settings.  Venus is also associated with nourishing ourselves and sometimes Venus can overindulge and with this combination and being a Pisces rising the sign that can also be associated with drugs and alcohol, unfortunately, lead to her death.  Her Rising sign was Human Design Gate 37, which is a very compassionate loving energy.  Whitney Houston's Chiron is at the beginning degrees of Pisces.  Chiron is our wound.  Her Chiron was in Human Design Gate 63, which is the Gate of doubt, and she probably turned to drugs when she was doubing herself.  Pisces is also a water sign and she passed away while on prescription drugs, and cocaine while in the bathtub shortly after Neptune entered Pisces.  Pisces is ruled by Neptune.  Pisces is also the sign that is associated with peace, the dreamer, music, being a victim, and meditation.  Her Mars in Libra opposing her Jupiter and Moon in Aries probably created a push-pull going on within her which probably drove her to the drugs to help her escape the pressures of being famous and the feeling to please everyone (Mars in Libra).  Aries is ruled by Mars, so there was a degree of her needing to please people to make money.  The 2nd house and 8th house are money houses.
The day she passed away there were several strong aspects like Venus conjunct Uranus and Sun conjunct Mercury in her 12th house.  The 12th house can be associated with death and Venus conjunct Uranus was in her 2nd house of values as mentioned before Venus can have the potential to overdo luxuries even drugs or overeating and Venus conjunct Uranus was in her 2nd house which is also the house which can overindulge.
Relationships and Commitments
She had Mercury conjunct Pluto on her DC/7th house.  Mercury and Pluto were in Human Design Gate 40.  This is the Gate of Aloness.  Often times people with this Gate feel like they are alone even when they are in a room full of friends at their birthday party.  The 7th house is commitments,  it is often seen as your marriage partner.  Mercury is associated with cars and communication.  Pluto can create transformation and change.  When Bobby Brown first proposed to her she said yes, then he told her the news his ex-girlfriend was pregnant then she jumped out of the car and ran into traffic and they got in a fight and then she changed (Pluto) her mind (Mercury) and agreed to marry him.  Pluto is also the planet associated with Power and Mercury is communication/voice and she had such a powerful voice that her voice lives on.  She also made powerful contractual agreements (Mercury conjunct Pluto).  The 3rd house is associated with communication and her 3rd house was Taurus.  Taurus is the sign associated with money and she made a lot of money with the power of her voice.  Another instance of Mercury conjunct Pluto on her DC/7th house was having to postpone her wedding to be in the movie The Bodyguard.  She first said no and then changed (Pluto) her mind (Mercury) and said "yes, it's only a wedding".  The movie shows several times where she walked away from something and said she wouldn't do it but ended up doing it (Mercury conjunct Pluto on her Descendant).
Whitney had Mars in the 8th house in Human Design Gate 18 the gate of Correcting and perfecting.  The 8th house is associated with the sexual organs and she had the 8th house as Libra.  When Bobby Brown cheated on her she got really mad (Mars) and threatened to call the cops (Libra).  Libra is associated with the law, commitments, and agreements.  Mars in Libra in the 8th house also showed up when Bobby Brown proposed to her and then shared his ex-girlfriend was pregnant.  That started a fight (Mars) after he had proposed.  The 8th House is also associated with intimate relationships and Libra is the law, and after doing a little research I saw Bobby Brown has been in jail many times.  The 8th house is also the house associated with alimony and supporting others and her father talks in the movie about all the money she spent fighting (Mars) court cases (Libra) for Bobby Brown.
After getting out of rehab she talked to Bobby Brown and was telling him a home (Cancer) was all she wanted outside of her music and he never gave her that.  The 5th house is often seen as who we date.  She wanted Bobby Brown to be the Cancer energy for her, bring her the home and family feel that she craved in love.
Are you interested in learning more about your Human Design and Astrology?  Check out the services we offer or learn more.  Check out other Celebrity Mini Human Design Astrology Readings.