I often get asked, What Human Design Type am I?  The first thing you will want to do is get your Human Design chart.  You can get your free Human Design chart here that tells you your Type.  You can also sign up for the membership service and get more information about your chart as well as some useful charts and tools.  I would also be happy to send you your HD Astro chart with a purchase of one of our or services.  Once you get your report look at the bottom of the chart where it says type.  This will tell you what type you are.  The arrow in the image below shows the type is a Generator.  After you learn what type you are, you can go to the information below related to that Human Design type.  If you would like to learn more about your Human Design type we also offer detailed written Human Design reports.

There are 5 different Human Design Types in the Human Design system. They are the Manifestor, Generator, Manifesting Generator, Projector and Reflector. The Reflector is very rare and makes up less than 1% of the population.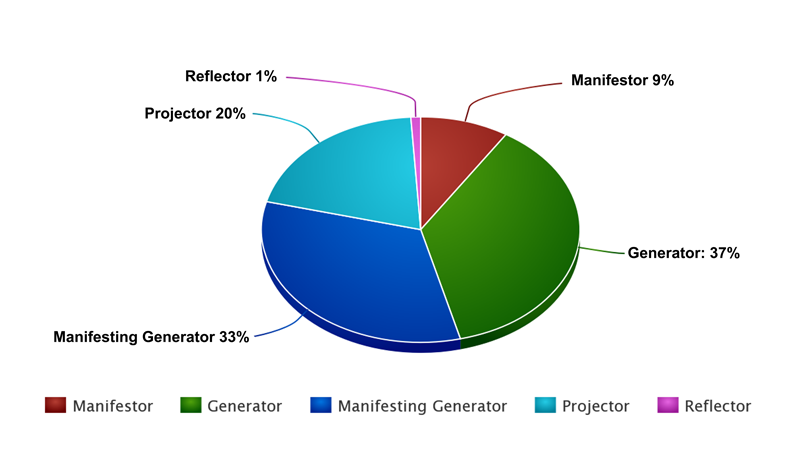 The Manifestor makes up about 9% of the population. The Generator makes up about 37% of the population. The Manifesting Generator makes up about 33% of the population and the Projector makes up about 20% of the population.
Manifestor
Manifestor's inspiration comes from within. They have the ability to be successful starting things without waiting for an invitation. They need to inform other people about what they are planning to do before they take action. These people do not have the energy for a traditional 9:00AM – 5:00PM job. Manifestors should go to bed before they are tired in order to get a good nights rest and they need to sleep alone so they can discharge the Sacral energy they picked up during the day.
Generator
Generators have a defined Sacral center and they do not have a connection between the motors and the throat. They are designed to work, and they must love what they do for work. Generators need to let what they want to show up in their outer world before going after it. They need to set an intention and wait. Generators are supposed to respond to life and set an intention for what they want to have. They get their gut feeling answers by answering yes or no questions. They can have someone ask them questions that can be responded to with "uh-huh" and "uh-uh." When a Generator gets bored with learning, it means that a new opportunity is coming, like a job. They are great at mastering things. They need to set an intention of what they want next. Generators who do not sleep well should exercise in order to wear out their Sacral. Generators need to wait to respond to something to speak.
Manifesting Generator
Manifesting Generators have defined Sacrals and they have a motorized center connected to the throat. They first need to visualize what they want, from start to finish, to see if it is right for them. They also need to wait for something to respond to before taking action. Manifesting generators are designed to do more than one thing at a time. They need to learn to be patient because most people aren't as fast as them. They should wear out their Sacrals through exercise in order to get the best sleep. Manifesting Generators can just talk about what they want.
Projector
The Projector Human Design type has an undefined Sacral and they do not have any defined motors to the throat. Projectors are supposed to manage, guide and lead others. They love to share their knowledge and they are not designed to work in the traditional sense. Projectors have to wait to be invited and they often struggle to be heard. Projectors should take naps throughout the day and they should go to bed before they are tired. They need to sleep alone, so they can discharge the energy they picked up during the day. They are also designed to wait for an invitation to speak.
Reflector
The Reflector Human Design type has all centers undefined. They can help people make decisions and improve the welfare of all. Reflectors need to wait 28 days before they make a decision, so they will have time to figure out if the decision is right for them. They can, however, quit a job or move without waiting 28 days. Reflectors need to talk to figure things out. The best gift you can give a Reflector is to listen to them. They need time to discharge energy, but they also need lots of people. The gates in a Reflector's chart are the only consistent energy that they have. Reflectors can take on illnesses from the people they are around. Reflectors can be clingy and have no authority.
Learn more about Human Design, the Human Design Gates, and more.