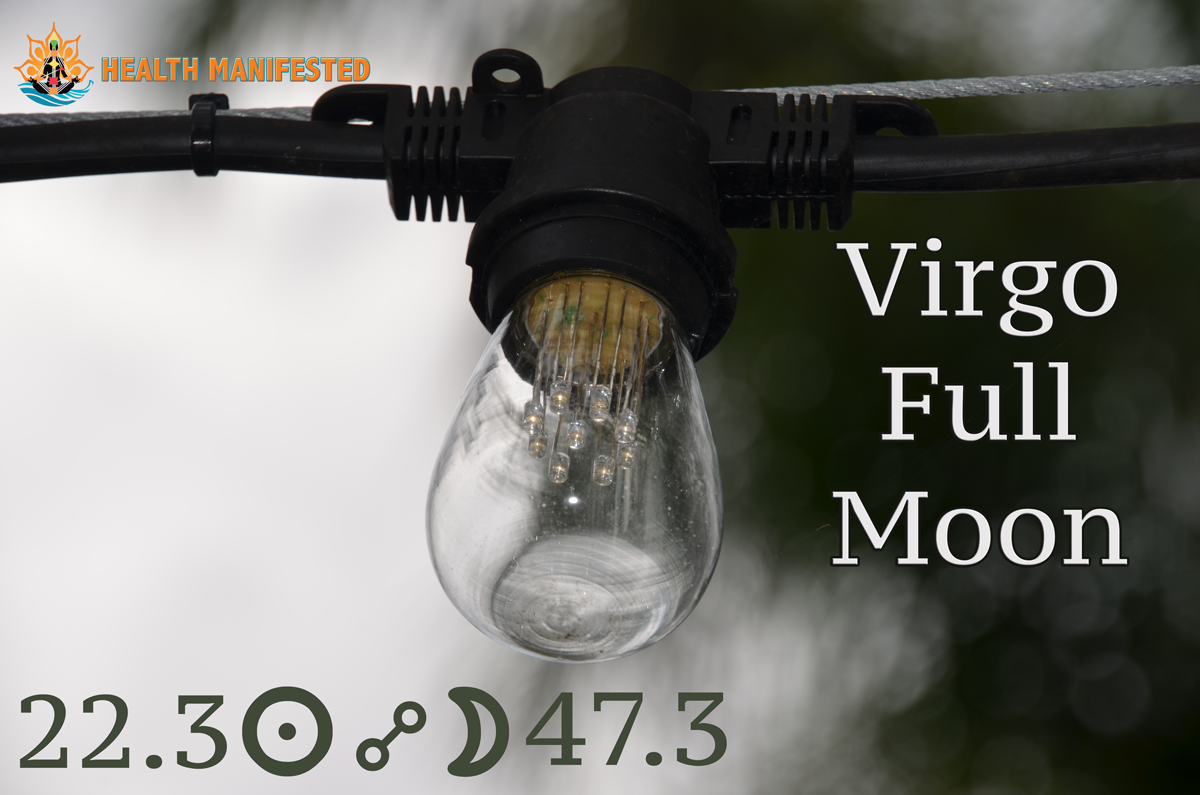 On March 9, 2020, around 1:00 pm EST we have the Virgo Full Moon.  During a Full Moon the Sun and the Moon are opposite each other on the astrology Wheel.  During the Virgo Full Moon the Sun is at 19° of Pisces in Human Design Gate 22.3.  This is the Gate of Grace and the Enchanter.  The Moon is at 19° of Virgo in Human Design Gate 47.3.  This is the Gate of Realizations and Self-Oppression.  The Moon will illuminate some realizations about our life.  Virgo energy is about improvements and change.  What realizations are you having that will shift in your life and improve it?  Is there something you can remove from your life to simplify it? Find solutions to improve your life.  What can you do better?  This realization can be very supportive in making a change to improve your life.
The Sun is conjunct Neptune in Human Design Gate 22.  This is a Pisces energy and Pisces energy has a lot to do with rest and relaxation, so this will be amplified and we can have a strong desire to rest, relax and take a step back from things.
This can be a great time to take a vacation day and give you the time to need to decide what is the best way to go forward.  Virgo is great work energy, but with The Sun and Venus in Pisces, we can have a strong desire to escape our responsibilities and find new ways to organize our daily routine.  The Pisces energy is asking us to trust in the next best step.
It is helpful to look at which houses are affected by this Virgo Full Moon to see what you may be ready to look at in a new way or something you weren't aware of in the past.  Look at the house Virgo is in and that is the area of your life where you will be improving things in your life.  Read this article to learn about which house system is most accurate to learn more about the houses and see where the Pisces New Moon is happening in your chart.  You can pull both the Placidus system and Whole House system charts and see which one you resonate most with.  I have also been working with Genetic Matrix to develop a Human Design Astrology Wheel for those of you interested in incorporating Human Design and Astrology into your readings you will really enjoy this.  It is being released on this Full Moon as part of the membership.  Another great software you can purchase is Astrograph.  The have reports and you can see what each aspect means.
Are you interested in learning more yourself or how these transits affect you on a personal level?  Check out our products page to learn about the different types of readings we offer.
Click here to learn more about other Human Design Gates. or see other transits. Also, make sure to get your Free Human Design chart to take on your journey through the exciting world of Human Design.