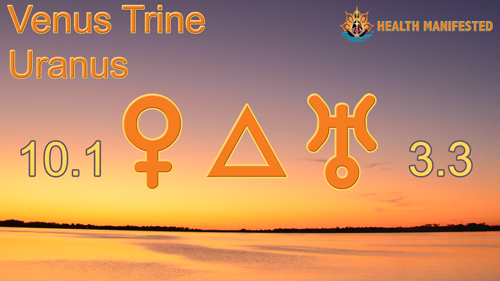 In the evening of February 2, 2019, Venus in Sagittarius in Human Design Gate 10.1 trines Uranus in Aries in Human Design Gate 3.3.  Human Design Gate 10 is the gate of Self Love and gate 3.3 is the gate of ordering.  Gate 3 part of the channel of Mutation.  During this time we can have pleasant surprises.  We can free ourselves from limitations.  Uranus is the planet of unpredictability and this can create unexpected offers or experiences.  We would have unexpected financial gains. It can also be unexpected changes in appearance or creativity.    You can be more liked during this time and your relationships can be more pleasant.
Other Venus Trine Uranus Dates
August 26, 2019
November 28, 2019
October 10, 2020
November 19, 2021
September 20, 2022
December 22, 2022
October 31, 2022
Are you interested in learning more yourself or how these transits affect you on a personal level?  Check out our products page to learn about the different types of readings we offer.
Click here to learn more about other Human Design Gates. or see other transits. Also, make sure to get your Free Human Design chart to take on your journey through the exciting world of Human Design.