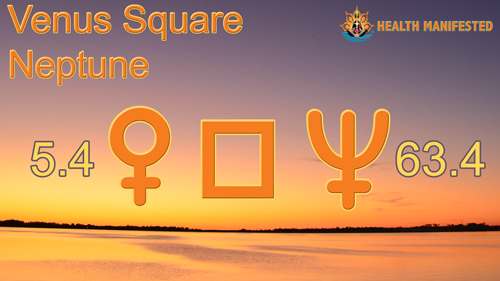 January 21, 2019 Venus is in Sagittarius in Human Design Gate 5.4 squaring Neptune in Pisces in Human Design Gate 63.4.   Human Design Gate 63 is the gate of doubt and gate 5 is the gate of rhythms.  Let your hair down relax and let go of your doubts.  This is a good day to relax and spoil yourself.  We can be more emotional on this day, so be compassionate.  Do something that makes you feel better.
Other Venus Square Neptune Dates
June 24, 2019
November 14, 2019
May 3, 2020
May 20, 2020
July 27, 2020
December 30, 2020
May 27, 2021
October 26, 2021
Are you interested in learning more yourself or how these transits affect you on a personal level?  Check out our products page to learn about the different types of readings we offer.
Click here to learn more about other Human Design Gates. or see other transits. Also, make sure to get your Free Human Design chart to take on your journey through the exciting world of Human Design.