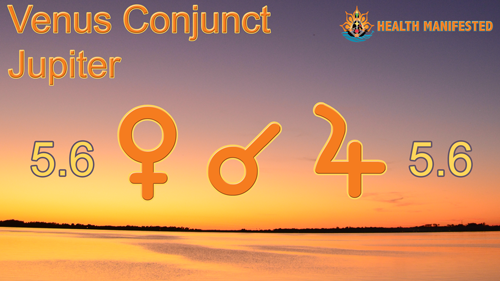 January 22, 2019, Venus is conjunct Jupiter in Sagittarius in Human Design Gate 5.6.  In Human Design this is the gate of fixed rhythms, but I like to think of it as Universal Timing.  This day will feel luckier than normal and we will be more optimistic.  We may feel more love in the said on this day and be more giving.  We have the potential to have a lot of opportunities or see the best in everything.
Other Venus Conjunct Jupiter Dates
November 24, 2019
February 11, 2021
April 30, 2022
March 2, 2023
May 23, 2024
August 12, 2025
Are you interested in learning more yourself or how these transits affect you on a personal level?  Check out our products page to learn about the different types of readings we offer.
Click here to learn more about other Human Design Gates. or see other transits. Also, make sure to get your Free Human Design chart to take on your journey through the exciting world of Human Design.