Genetic Matrix now offers Vedic Human Design charts as part of the Pro Membership.  The traditional Vedic Human Design chart includes the Sun, North Node (Rahu), South Node (Ketu), Moon, Mercury, Venus, Mars, Jupiter, and Saturn.  These planets are traditionally used in Vedic Astrology.  There is also another version of the Vedic chart that also includes the outer planets Uranus, Neptune, Pluto, and also Chiron for those of you who are interested in those planetary placements within the Vedic system.  There is a Personality only chart which is your birth chart that is used in Vedic Astrology and is equivalent to the Black Human Design Gates in the Human Design chart you can see the example here.  There is also a Quantum Vedic Human Design chart which includes the Unconscious (Red) Human Design Gate Activations and Conscious (Black) Personality/Birth chart Human Design Gate activations.
Vedic (Eastern Astrology) uses the Sidereal system.  Human Design was based on the Tropical System (Western Astrology) because of this you have the ability to switch between the Sidereal system and the Tropical system and use the look and feel of the Vedic chart.  You can learn more about the
differences between these 2 calculations
 and how to switch between Tropical and Sidereal calculations. You can also use pure Vedic with the correct Ayanamsha.  You can see a
list of the Ayanamsha's
here.  It also shows how you can set the Human Design calendar to use Sidereal as well if desired.
Vedic Charts
Eastern India Vedic Grid
Southern India Vedic Grid
Northern India Vedic Grid
For a True and accurate Vedic chart select any Sidereal version and set Lahiri Ayanamsha in the settings area.  To clarify, you can select Sideral, Sidereal 13, or  True Sidereal with the Lahiri Ayanamsha and you will be ale to get your Human Design Vedic chart.  Tropical ignores the Ayanamsha and will give the traditional Human Design Gates in the Vedic layout.
Angelina Jolie's Vedic Human Design Chart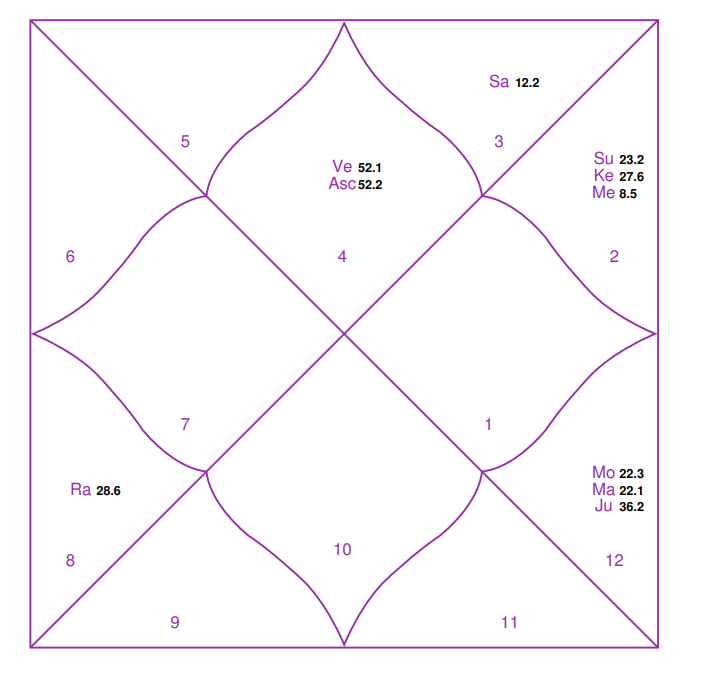 To the right, you can see an example of Angelina Jolie's Human Design Vedic chart.  There are 12 different chart views.  These charts can be created using Sidereal or Tropical depending on your preference.  To the right, you can see Angelina Jolie's traditional Northern India Vedic Grid chart without the outer planets as it would be in the traditional Vedic system.  Make sure to check out the other charts to see which one you resonate most with.  As you can see in Angelina Jolie's chart the Sun, Ketu, and Mercury are in the 11th house which is equivalent to Aquarius, which is Virtual reality. Her Sun, Ketu, and Mercury are in Taurus representative by the (2).  Human Design Gate 23, Human Design Gate 27, and Human Design Gate 8 are all in Taurus.  Taurus is the zodiac sign connected to wealth.  Angelina shined in movies (Virtual Reality/Aquarius) and made her wealth/Taurus doing so.  She also has Venus conjunct her Ascendant (1st house) which makes her come across as very beautiful.  Her Venus and Ascendant are in Cancer in Human Design Gate 52 which is equivalent to the 4th house, which is represented by the 4.  Venus is what you value and your Ascendant is how people see you.  Based on this placement she really values, loves, and protects her family and we have seen how many children she adopted and the family she created.
You can also get these charts in 8 different foreign languages. Make sure to check out other charts offered.