Genetic Matrix now offers a True Sidereal Astrology Human Design Chart.  So your next question is probably, what is True Sidereal?  Traditional Human Design was based on Tropical Astrology, as a matter of fact, most people use Tropical astrology, which is based on the seasons, but there is a form of astrology that uses the actual location of the constellations in the sky.  When using Tropical Astrology a planet's astrological position doesn't always line up with its actual position.  True Sidereal shows the actual position of a planet at any given time.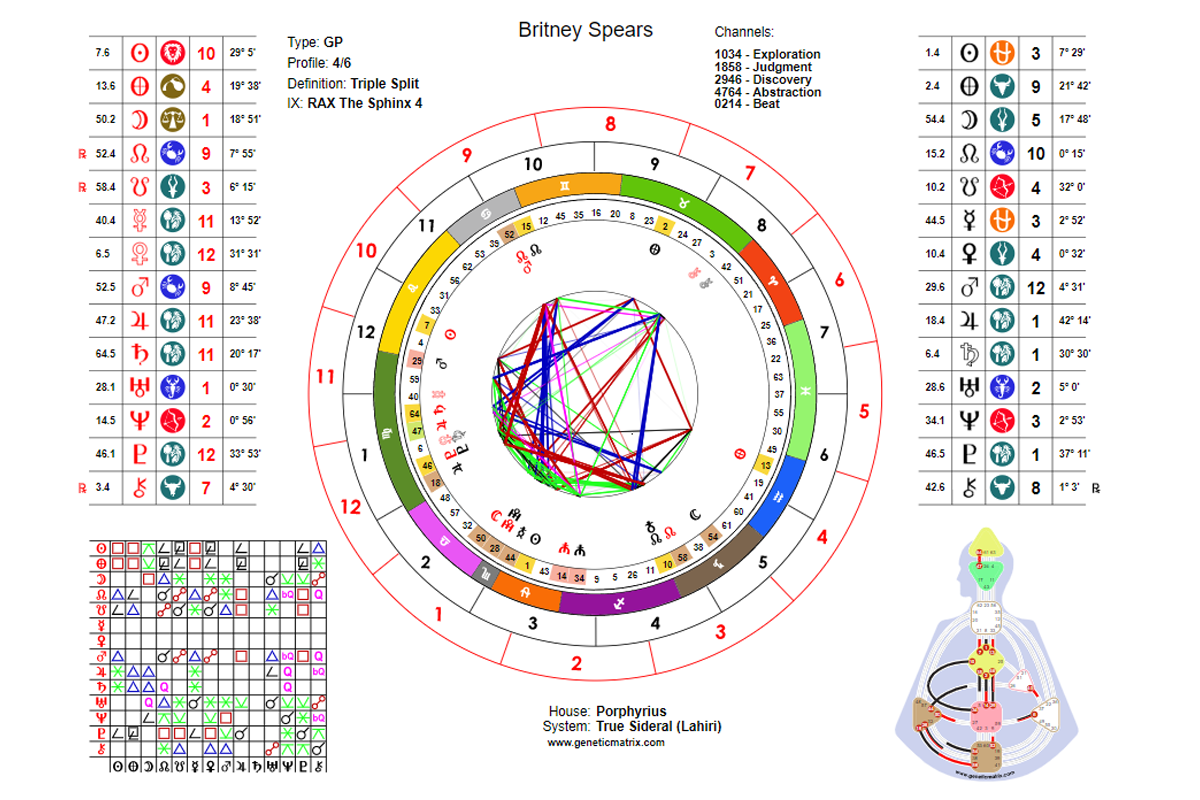 Traditional astrology is based on the Ecliptic, which is the path the Sun travels and is broken down into 12 different signs that are then further broken down into 30 degrees pers sign.  Some people believe there is a 13th sign Ophiuchus, which can be found between Scorpio and Sagittarius, which passes right through the Ecliptic.  Some people believe Ophiuchus should be considered an astrological sign.  Sidereal 13 uses equal degrees for each sign, so Scorpio and Ophiuchus are the same sizes, but True Sidereal uses 13 signs and the signs are actual degrees on the Mandala.  In True Sidereal Scorpio is very small, while Ophiuchus is large.
In these charts, you can see Brittany Spears has her Sun and Mercury in Ophiuchus.  Ophiuchus is considered the sign of the go-getter.  People with planets in Ophiuchus tend to be very passionate, impulsive, and can potentially head in the wrong direction.  They usually enjoy change and love their freedom.  They have the potential to have a temper, can be very curious, secretive, and even have a tendency of being jealous or have trust issues.  People with Ophiuchus tend to be very straightforward.
Sometimes I go out to the beach and use Sky View an iPhone app to look up at the sky to see where the stars are at night.  Occasionally you can look up and see that a planet that an astrologer will say is in a certain sign, appears to be in the sign next to it.  This app is based on the actual position of the planets instead of an astrological position.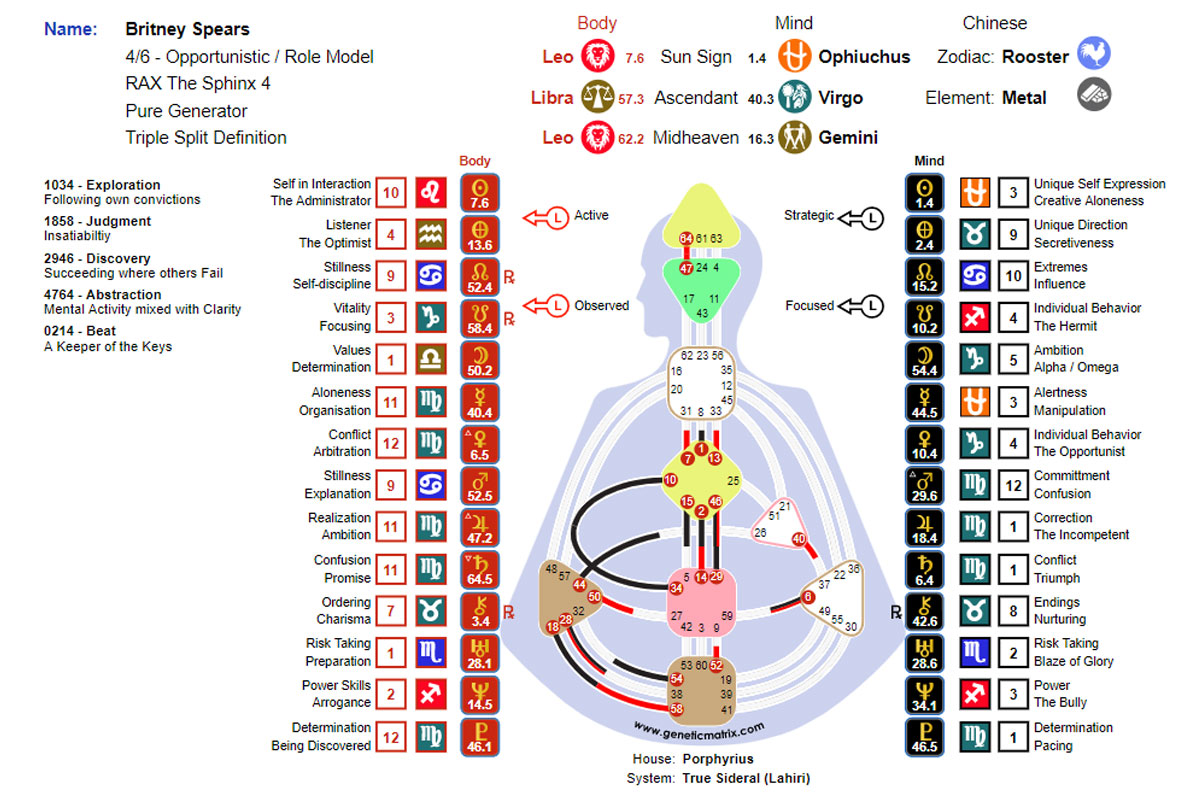 Vedic astrology is often seen as a more accurate placement of where the planets are in the sky, but True Sidereal Astrology uses the actual placement of where a planet is in the sky.  It is believed that around 2000 years ago the Tropical Astrology/Seasons did line up with the constellations in the sky.  It is now believed that the Tropical zodiac could be off by up to 2 zodiac signs.  Because of this people find that they resonate more with True Sidereal.  If someone was to look up in the sky and see the constellations with the technology we have today, they may have said your Sun, as well as other planets at the time of your birth, were in a totally different sign than your Tropical Astrology birth chart shows.  The placement they would say they are in by looking at the sky would correlate with the True Sidereal calculations and now you can see True Sidereal through the lens of Human Design.
I would like to invite you to check out the True Sidereal Human Design chart to see where your planets were actually located at the time of your birth.  Sign up to get your chart today.
Above you can see the chart is the HD Astro chart.  You can now choose to use this chart using the Tropical Zodiac, Sidereal 12, Sidereal 13, and True Sidereal and easily switch between them to compare or use the one you resonate most with.
Ayanamsha angles are not constant. They grow as time passes. This is why Genetic Matrix provides all of the various Ayanamsha's so you can choose which Ayanasmsha you want to allow you to adjust longitudes. You can do this in the settings section in your hub.
Genetic Matrix provides Tropical, Sidereal 12, Sidereal 13 charts, and True Sidereal.  You can change the Ayanamsha's in the settings section of your hub.
The only difference between Sidereal 13 and True Sidereal is that both have 13 Zodiacs, but True Sidereal Zodiacs are actually degrees of size based upon constellations in the sky. which make the mandala segments vary. Sidereal 13 has a fixed size per zodiac.
If you are interested in looking at Human Design from the eyes of an astrologer or want to look at Human Design from an astrology perspective I would highly recommend checking out more articles on Genetic Matrix to learn more. Genetic Matrix offers a Human Design Calendar, a Human Design Astrology Wheel, HD Astro (Human Design Astrology Chart and in multiple foreign languages. If you want to learn more about Human Design and the Human Design Gates you can learn more here, but keep in mind that the articles were written based on the original Human Design calculations and they may not resonate with the True Sidereal placements and Ayanamsha's.