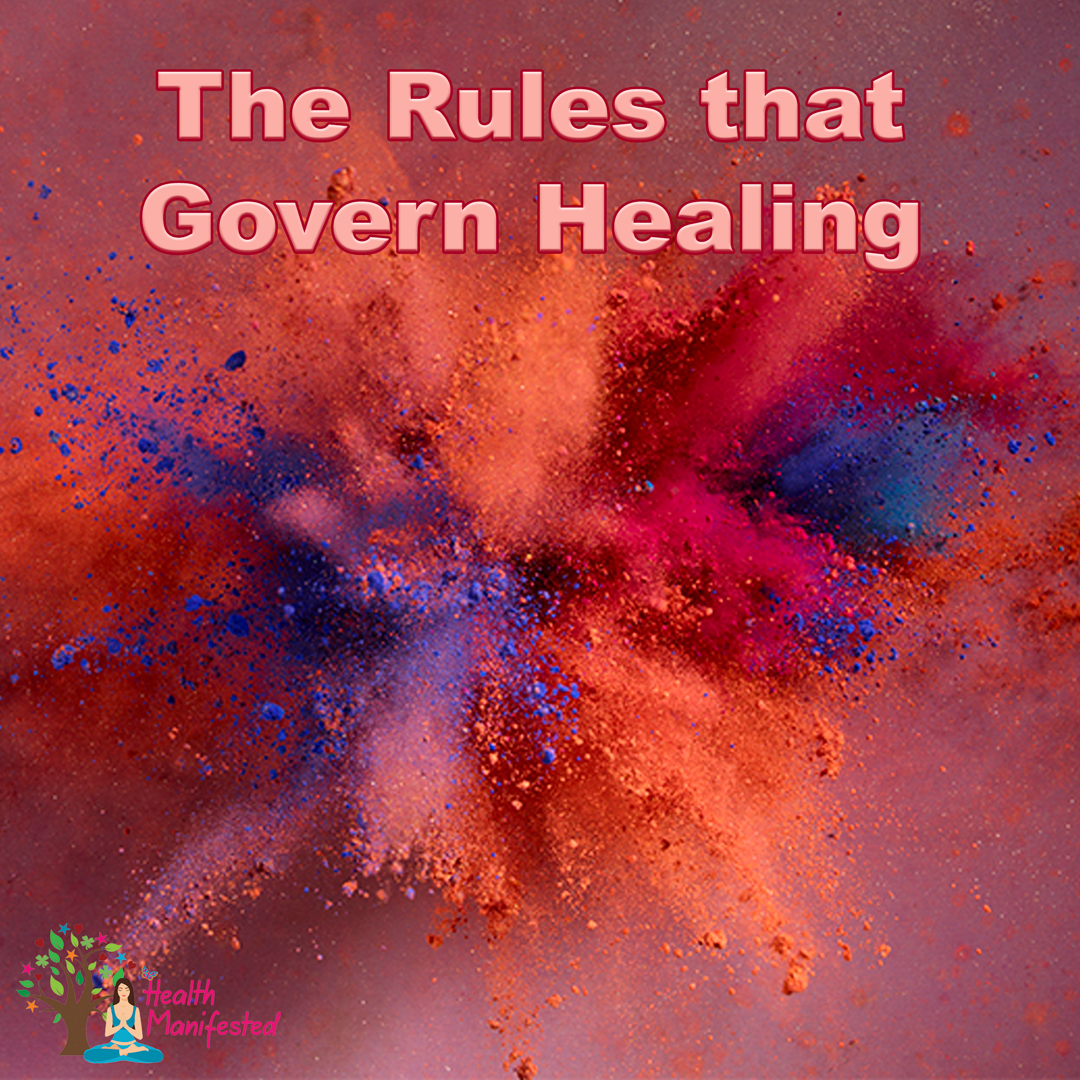 No healing ever takes place by chance nor does "Nature', without reason, overcome the trouble, for every change within us (and every change that takes place in the universe) is the result of law-governed forces. If this were not so, science could not advance, for there might always come the unknown factor to upset calculations. 
Therefore it may be helpful to restate the general rules that govern spiritual healing. They are: 
1. There must always be a thought application, either as prayer or intercession to set the healing process in motion. The study of healing from all sources and races proves this. 
2. No healing can take place outside the spirit and physical law. 
3. No state of change takes place except by the application of law-governed forces to the subject. 
4. Every healing is a planned act. To accomplish this there must be applied intelligence. 
5. To produce a planned result, there must be intelligent administration of the healing forces. 
6. Through the healing of the "incurable" it implies that a wiser intelligence than men is responsible. If it is not human, then it must come from Spirit. 
7. The spirit intelligence is not omnipotent; they can only work within their knowledge and within the law. 
8. For the reason that the cause of many diseases lies within the spirit or soul frustration, etc., this can be influenced on the same plane as it exists, namely spirit, and which accounts for many healings, especially the "incurable". 
9. There must be harmony between transmission and reception (a law). Therefore, for a patient to be healed, he must be in harmony with Spirit. This demonstrates in practical ways that everyone possesses a spirit-self or soul. 
10. Healing is not restricted by religious views. An agnostic or a Moslem can be healed with equal facility. 
From these rules, a vast number of questions and implications naturally arise. For example, as healing is a planned act, it follows that the spirit intelligence must be able to diagnose the cause of the trouble in order to treat it. 
If a patient needs a stimulating force to overcome weakness or anemia, then the particular lacking quality must be known in order to direct the corrective strengthening character of the healing force. If the trouble is a cataract or a growth, then the nature of this must be known to the spirit doctors to be able to send the true dispersing force for the need. 
If the cause lies in some form of inner-self unrest or frustration, the circumstances must be known for the remedial corrective, thought influences to be given to calm and soothe the disharmony…and so on. 
Spirit healing is an exact spirit Science. 
A few people, after seeking our help, learn that spirit doctors administer the healing, and they then write and say, "I do not want help from spirit people, I only want help from God." This is a very strange philosophy, for as such people are quite willing to receive help from a human doctor, why should they refuse help from a spirit doctor? 
These patients do not ask their human doctors whether they are Christians, Catholics or Presbyterians or even atheists, but strangely enough, refuse help from spiritual doctors whose only purpose can be to carry out the Divine plan to remove pain and misery. 
In these rules, we find the basis of spiritual healing. We see why. the so-called "incurable" by human standards can often be restored to full health. 
If you are looking to learn more about Spiritual healing and are in need of Healing Cassadaga Spiritualist Camp is offering a Zoom Spiritual Healing Session with Reverend Steve Adkins from February 19th through April 9th, 2022.  Make sure to check out the links and join the class to learn more.