I use a more holistic view of your Human Design "Mental World" by adding a post solar calculation. The Human Design Post Solar Layer is like the Design calculation only this one is 88° after your birth, which covers the first approximately 3 months of your life and the transiting planets.
Why use an added Human Design Post Solar layer?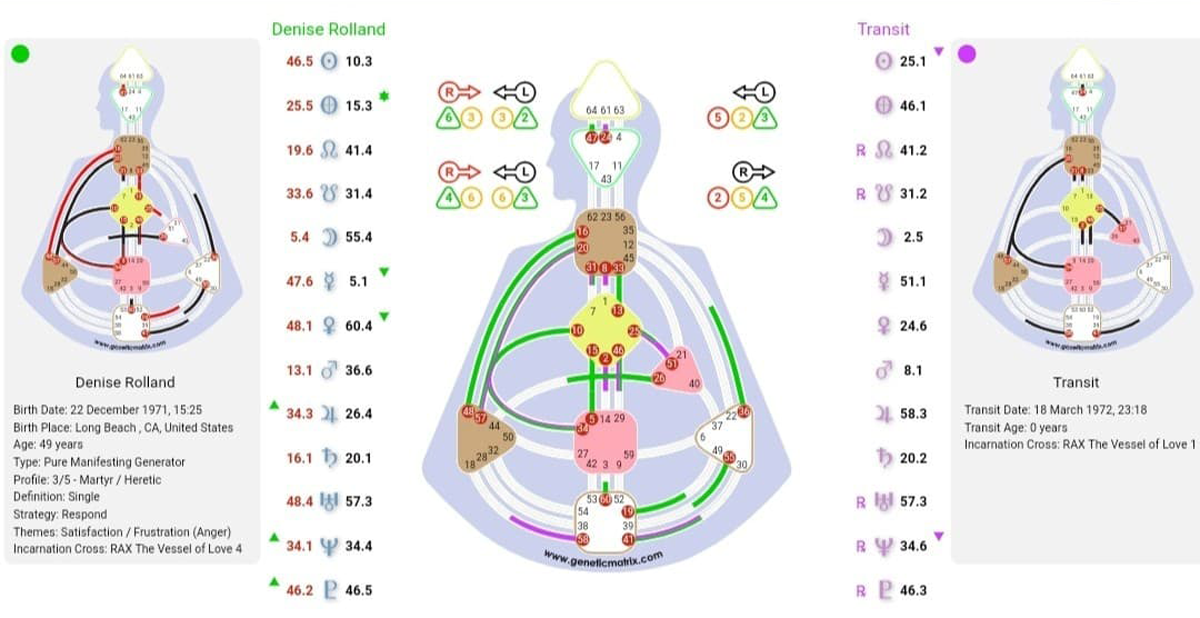 According to Eleanor Haspel-Portner in her book, 'Cosmic Secrets A Key to Self Discovery':
"The 88 solar degrees after birth corresponds to the chart that reveals your mental interaction with the world. This is the point where social scientists have observed that a baby possesses volitional cognition capacity."
"The Mental World determines how you think about things in your life, your relationships to others, i.e., your daily reality."
"The uniqueness of your own chemistry was influenced over a critical six-month period spanning the last trimester of pregnancy and the first three months of your life. During this time, your cognition (awareness) was activated in accord with your development in all four layers of being (she uses 4 layers, here I'm only focusing on the Mental World)."
In using this, I also include the added Profile line. Mine adds the 1st line which has been true in my life experiences. I love to investigate and research things, to get to the foundation which helps me feel secure in sharing what I've found to be true for me.
My Ego/Will/Heart is defined in my post solar layer, with Mercury in Human Design Gate 51 forming the Channel of Initiation, which I call the Channel of the Seed Planter, with my design earth in Human Design Gate 25. In contemplating this, I know growing up that I needed to be first, others were always competing with me, I was competitive and I shocked others, especially my parents. As I got older I knew my self-worth, what my value was in my work. Now I plant seeds when I share (communicate) my experiences and inner intuitive wisdom, which Initiates and Arouses the Spirit with You. Sometimes what I share is shocking at first.
Ra said that both crystals within us are actually Yin-Yin, not Yin-Body & Yang-Personality, yet it's creating the Personality – it's as if out of the 2 comes the 3rd, the personality, which I feel may be derived from the 3rd calculation of 88° Human Design post solar. He expressed the Yin-Yin as representing the body-mind, pre-personality. Both are Design Crystals, there really is no Personality Crystal. (Prophecy of Ra section The Bhan & Tugh and the Beginning of the Universe)
In the Gray Course, Ra said that "When I teach Human Design, I teach you that there's a Personality Crystal and a Design Crystal and I do that to appeal to your vanity"
"And we have this illusion, because I tell the story, in the beginning, was a Yang and a Yin and the Yang banged into the Yin. But they were both Yin folks, sorry, what to do"
Ra also said, "One of the things the voice explained was, that at this stage of our evolution, life on Earth has produced enough entities to provide Nature with sufficient collective experiences for the potential mutations that are possible and needed to finish evolving the species with the exception of a *gap* that has to be filled in by humans themselves as their awareness and higher consciousness develops"
"It is interesting that human Design came to us at this significant juncture because we will have to fill in the *gaps*. So now we have the information of our strategy that can *liberate* us from the program's imprisonment and our self-reflectiveness can be directed to co-evolving with nature instead of being its test tube."
At the time, I wondered if maybe the *gap* may be the post solar calculation, the building of the true personality out of the 2 design crystals, knowing there really isn't a personality crystal that was only used for our vanity. This would make sense though, as part of our personality is being molded/formed/created during our first 3 months after birth. Later, I was shown that the *gap* is our RNA and choices, tho I'm fully aware that Ra has always said we have no choice.
Now, back to the extra profile line, what if we all actually experience 3 phases of life which includes this post solar profile line? I had an epiphany (Human Design Gate 47) around this while reflecting (13/33) on my own life. In the 1st 28 years of my life, I investigated and researched things. Between ages 28 & 48 I had a lot of trial and error and now, at 49, I find myself leaning into BEing a leader in my chosen field of study, based on my intuition and my own life experiences, and those of my clients.
I invite you to be playful with curiosity and experiment with this; to see if your own life experiences validate it. As always, follow your own Strategy and Authority.
Would you like to purchase a Human Design Post Solar session?  If so we can help you schedule a session.  Make sure to check out other articles BEyond Human Design,