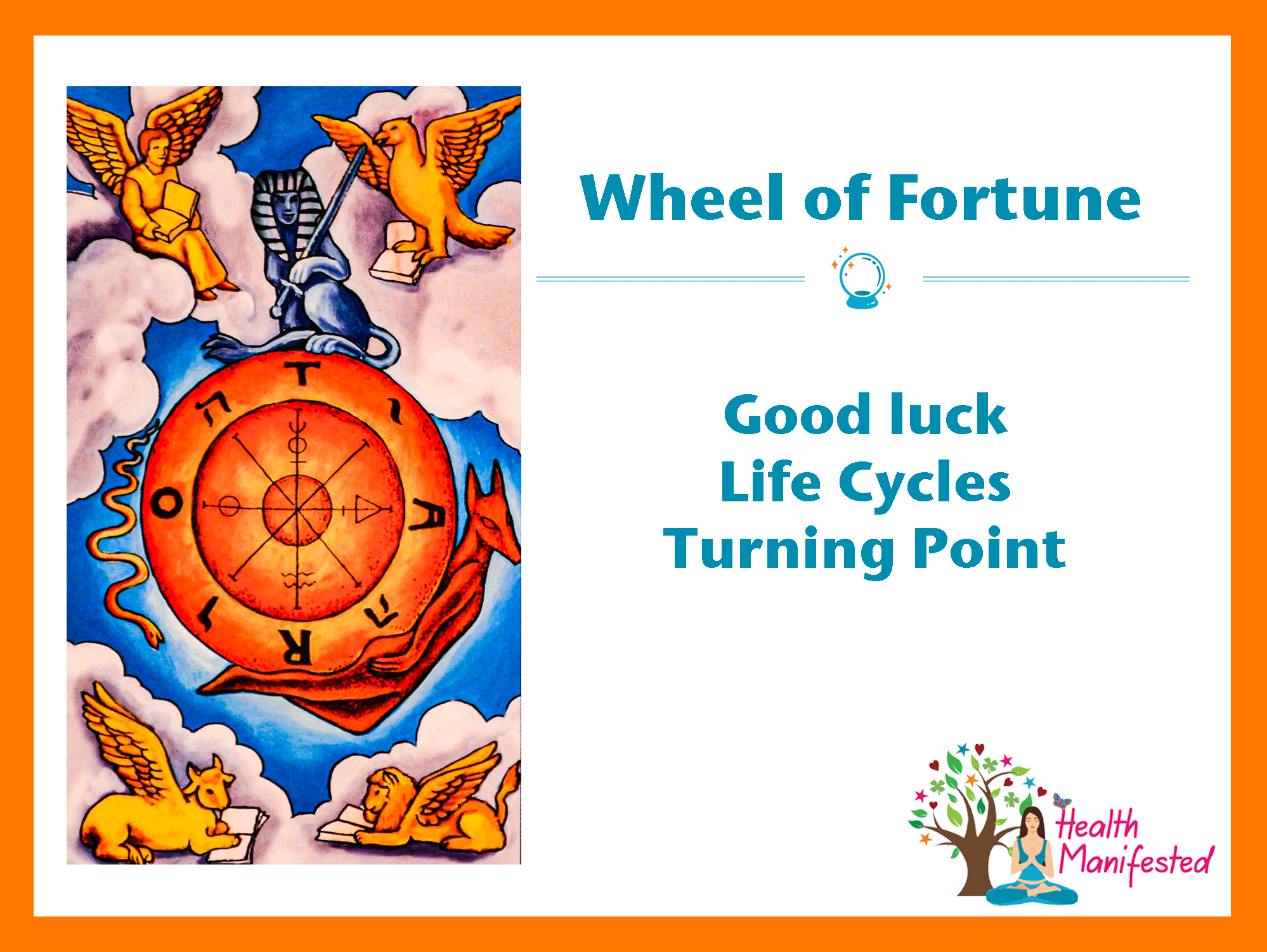 In the Wheel of Fortune tarot card, you see a giant wheel with the Hebrew letters Y H V H, which translates to God.  The elements represent fire (Y), water and Earth (H), and V (air).   The letters on the wheel can spell Tarot, Taro, Rota, Taro, Orat, Tora, or Ator.  This is related to the Law of Hathor.  The symbols in the middle represent mercury, sulfur, water, and salt.
The sphinx sits on top of the wheel with a sword representing unity and strength.  The God Anubis represents the ups and downs of life and the ups and downs in faith.  The Snake represents Typhon the God of destruction.
In the corners, you see 4 angels with books.  The books represent learning from experience.  The angel at the top represents Aquarius.  The Eagle represents Scorpio.  The Bull represents Taurus and the Lion represents Leo.  Below you can find the Wheel of Fortune tarot card meanings for upright and reverse.
Number: 10
Ruling Planet: Jupiter
Answer: Maybe
Wheel of Fortune Upright
Good change
Good luck
Opportunity
Progress
Doors opening
Ending of a phase
Starting a phase
Improvements
Choices
Forward momentum
Wheel of Fortune Reversed
Bad luck
Failure
Stagnation
Disappointment
Resistance
Worse before better
Ending cycles
Refusal to change
Questions to ask when pulling the Wheel of Fortune tarot card:
Can you see your fortune is starting to turn for the better?
Are you creating positive situations in your life?
Do you have choices you need to make?
Do you feel unsure of where things are going to land?
Can you see better solutions?
The Tarot card meanings are based on the Rider Waite tarot deck.
If you would like to learn more make sure to check out the Tarot books and resources and learn more about the Tarot Card meanings.
Would you like to get a tarot card reading?  If so, reach out to one of our Tarot card professionals.  If you are a Tarot professional, medium, psychic, or have another profession and would like to get more exposure, let's team up.