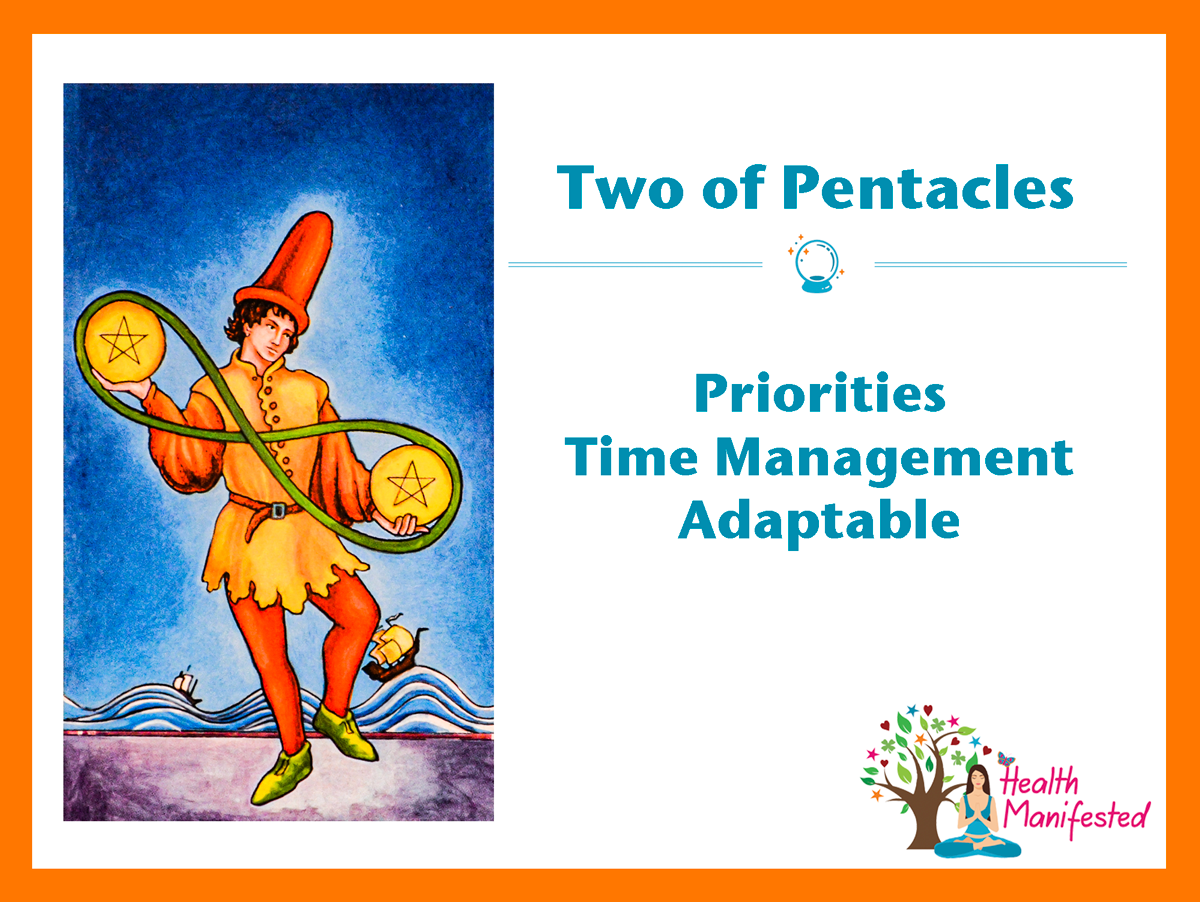 In the Two of Pentacles tarot card, you see a man balancing and juggling two Pentacles. The Two Pentacles create the figure 8 infinity symbol. It can also represent going in circles.  There are 2 ships in the background.  One is big and one is small.  The ships can symbolize different things.  It can represent there are 2 opportunities being juggled.  One can be off in the distance and one ship is about to come in.  Another interpretation can be some waves and winds are easier to ride in than others.  His large hat can indicate that he is juggling so much that he can't see the ships behind him and needs help.
Number: 2
Ruling Planet: Jupiter
Sign: Capricorn
Answer: Maybe
Two of Pentacles Upright
Seas of Change
Possibilities
Have all you need
Juggling a lot of things
Lots of facts
Need to be flexible
Juggling finances
Feeling pulled in many directions
Lots of responsibility
Need to make a decision
The ship is coming in
Time to make a decision
Stop juggling everything
Finding stability
Juggling two Worlds
Two of Pentacles Reversed
Overwhelmed
Feel unstable
Wasteful
Inflexible
Restless
Indecisive
Too much to do
Bad news
Shifting from one thing to another
Things are coming together but feel like they are falling apart
Need to reorganize things
Feel out of balance
Cycles are shifting
Questions when pulling the Two of Pentacles Tarot card:
Do you feel like you have taken on too many responsibilities?
How can you reorganize things to create less juggling?
Do you feel balanced?
Are you staying flexible?
Do you feel overwhelmed?
Do you see the possibilities?
The Tarot card meanings are based on the Rider Waite tarot deck.
If you would like to learn more make sure to check out the Tarot books and resources and learn more about the Tarot Card meanings.
Would you like to get a tarot card reading?  If so, reach out to one of our Tarot card professionals.  If you are a Tarot professional, medium, psychic or have another profession of similar nature and would like to get more exposure, we offer personalized profiles on our professional's page and page for your expertise. We also offer a service that helps you get more exposure through writing articles and or videos.  You can learn more on our let's team up page.