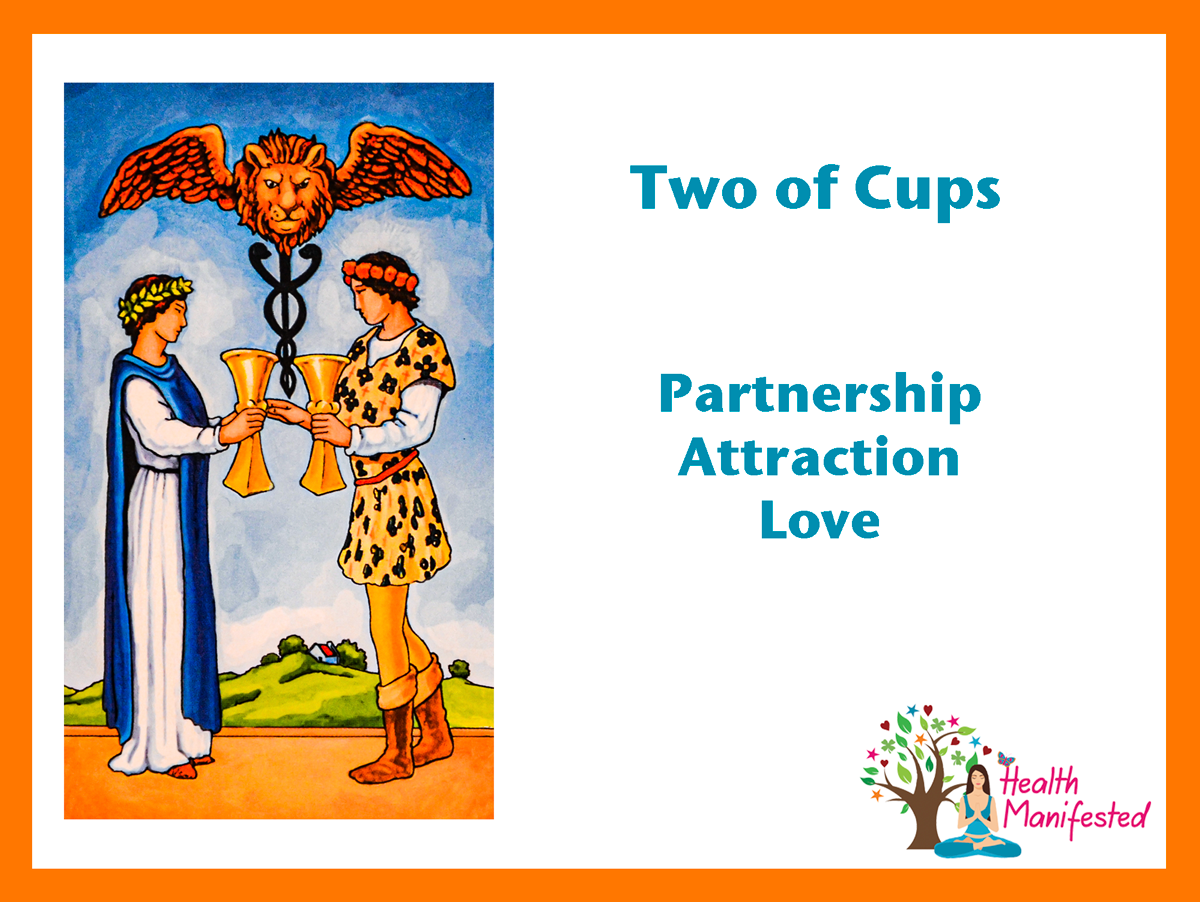 In the Two of Cups tarot card, you see a man and a woman each holding a cup as if they are going to trade or share with each other.  You can see above them a winged lion representing courage and passion.  The symbol hanging from the lion's head is the staff of Hermes.  This can symbolize trade, negotiation, and wisdom.  It is also sometimes associated with medicine.
Number: 2
Ruling Planet: Venus
Sign: Cancer
Answer: Yes
Two of Cups Upright
Uniting
Sharing
Attraction
Partnership
Friendship
Love
Business partnership
Cooperation
Understanding
Commitment
Trusting
Two of Cups Reversed
Relationship ending
Separating
Completing commitments
Disagreement
Dislike
Leaving
Not compatible
Self Love
Distrust
This can feel like the balance isn't there in relationships.  Look within to find what you need to bring the balance back in relationships.
Questions to ask when pulling the Two of Cups tarot card:
Is there someone you are attracted to?
Have you connected with your friends lately?
Who makes you feel understood?
Who do you trust?
Are you looking to make a commitment?
Are you allowing yourself time to love yourself?
Is there a relationship ending or beginning?
The Tarot card meanings are based on the Rider Waite tarot deck.
If you would like to learn more make sure to check out the Tarot books and resources and learn more about the Tarot Card meanings.
Would you like to get a tarot card reading?  If so, reach out to one of our Tarot card professionals.  If you are a Tarot professional, medium, psychic or have another profession of similar nature and would like to get more exposure, we offer personalized profiles on our professional's page and the page for your expertise such as the Tarot Professionals Page. We also offer a service that helps you get more exposure through writing articles and or videos.  You can learn more on our let's team up page.