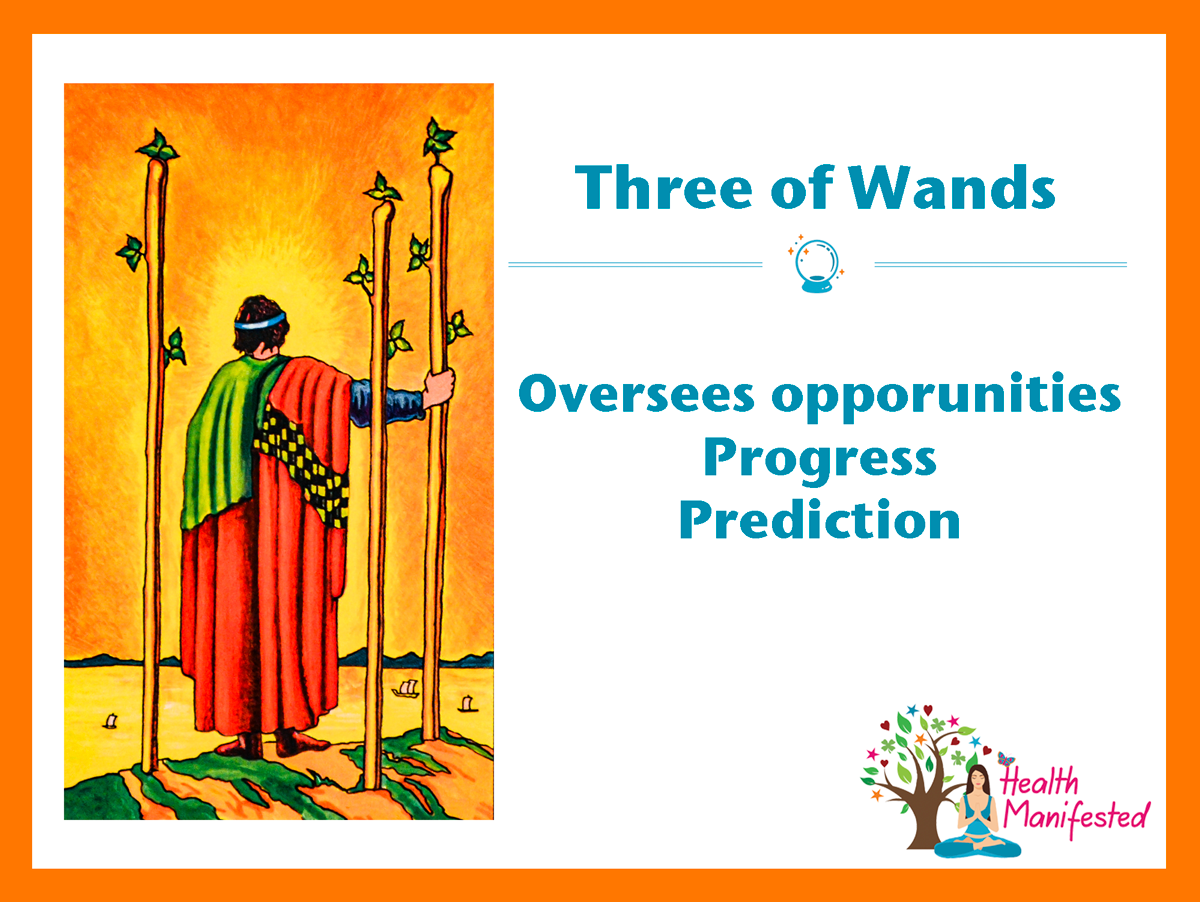 In the Three of Wands tarot card, you can see a man wearing a red robe with green standing on what appears to be the top of a cliff or hill looking out on the water as if to see the potential opportunities.  The green on the man's robe can represent your heart's desires and the red can represent the same or symbolize being impatient.  The land off in the distance can represent where you are heading and the land he is standing on can represent where you are, have been, or the unknown.  The ships can represent feeling left behind, the opportunities ahead, or waiting for your turn.
Number: 3
Ruling Planet: Sun
Sign: Aries
Answer: Yes
Three of Wands Upright
New opportunities
Success
Progress
Setting goals
New ideas
News coming
Good advice
Ships coming in
Travel
Hopeful
Future visions
Expansion
Three of Wands Reversed
Overly confident
Unrealistic
Feeling blocked
Disappointed
Missed opportunities
Delays
Lack of plans
Let go of what isn't working
Feeling hopeless
Questions to ask when pulling the Three of Wands tarot card:
What do you want to accomplish?
What opportunities do you see in front of you?
Do you feel like you missed your opportunities?
Have you been impatient while waiting for the right opportunities?
Are you ready to make a move?
Can you see things from a different perspective?
Have you created a plan to turn your dreams into reality?
Do you believe in your dreams?
Are you losing hope or hopeful?
The Tarot card meanings are based on the Rider Waite tarot deck.
If you would like to learn more make sure to check out the Tarot books and resources and learn more about the Tarot Card meanings.
Would you like to get a tarot card reading?  If so, reach out to one of our Tarot card professionals.  If you are a Tarot professional, medium, psychic or have another profession of similar nature and would like to get more exposure, we offer personalized profiles on our professional's page and page for your expertise. We also offer a service that helps you get more exposure through writing articles and or videos.  You can learn more on our let's team up page.