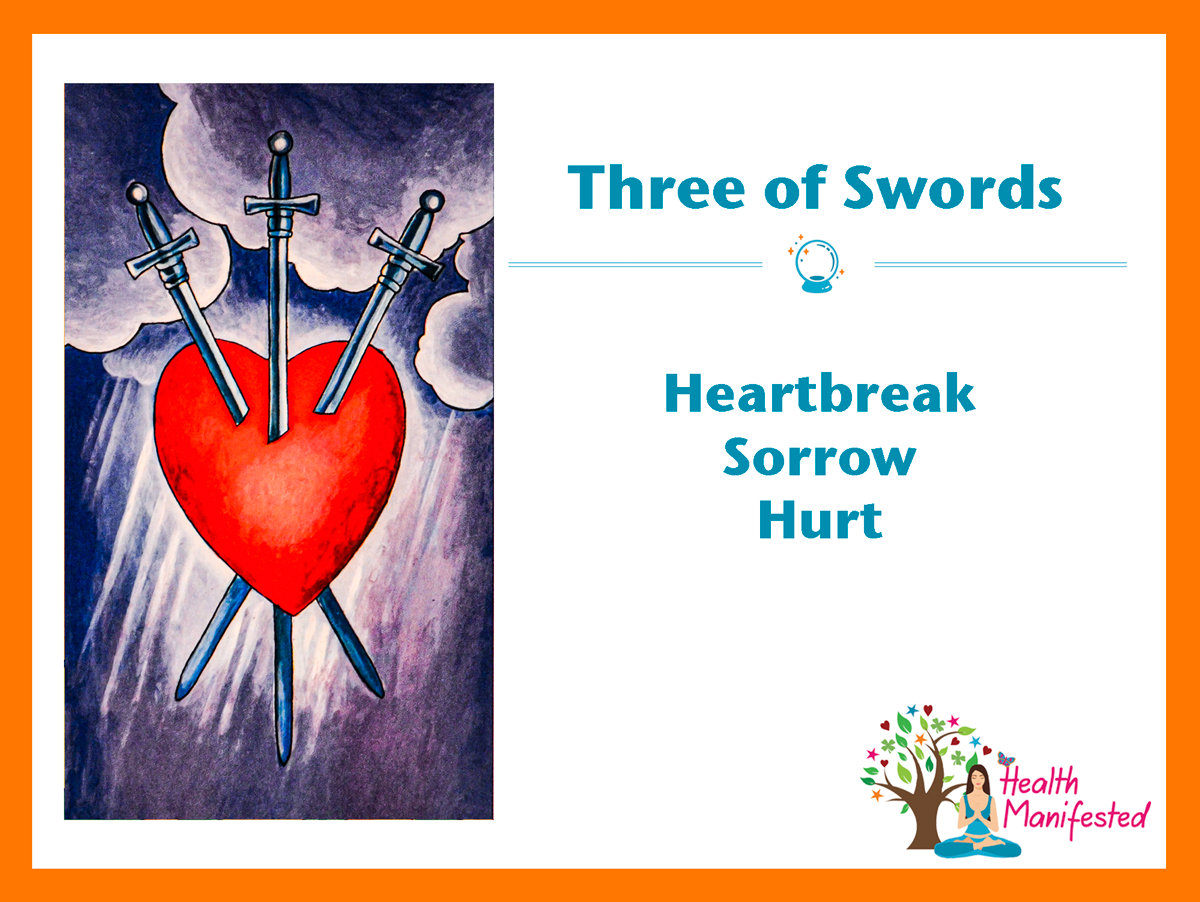 In the Three of Swords tarot card you can see, are heart with three swords going through it.  It appears as though there is rain in the background.  Clouds and rain pass pretty quickly, so this can imply pain that doesn't last long and to let go of the pain as quickly as a storm passes.  The heart is large compared to the swords.  This can indicate you have a big heart and don't let the small stuff get to you.  The swords can represent pain caused by your thoughts or others.  Swords represent the mind so it can also be representative of using your heart and mind in conjunction to make the best decision for you.
Number: 3
Ruling Planet: Saturn
Sign: Libra
Answer: No
Three of Swords Upright
Loss
Irritable
Conflict
Misunderstandings
Hurt feelings
Heartbroken
Stress
Painful situations
Stressful change
Deep emotions
Three of Swords Reversed
Pain ending
Recovering
Stuck in the past
Regret
Optimistic
Negative self talk
Releasing pain
Forgiving
Questions to ask when pulling the Three of Swords tarot card:
Are you feeling love-struck?
Are you listening to your heart's desires?
What can you do to make your heart happy?
Are you allowing your wounds to heal?
Do you care?
Are you giving love a chance?
Are you bring true about love?
Is there something about yourself you don't want to look at?
Are you learning something about yourself or a situation?
Is something true but hurtful?
Do you feel heartbroken?
The Tarot card meanings are based on the Rider Waite tarot deck.
If you would like to learn more make sure to check out the Tarot books and resources and learn more about the Tarot Card meanings.
Would you like to get a tarot card reading?  If so, reach out to one of our Tarot card professionals.  If you are a Tarot professional, medium, psychic or have another profession of similar nature and would like to get more exposure, we offer personalized profiles on our professional's page and page for your expertise. We also offer a service that helps you get more exposure through writing articles and or videos.  You can learn more on our let's team up page.