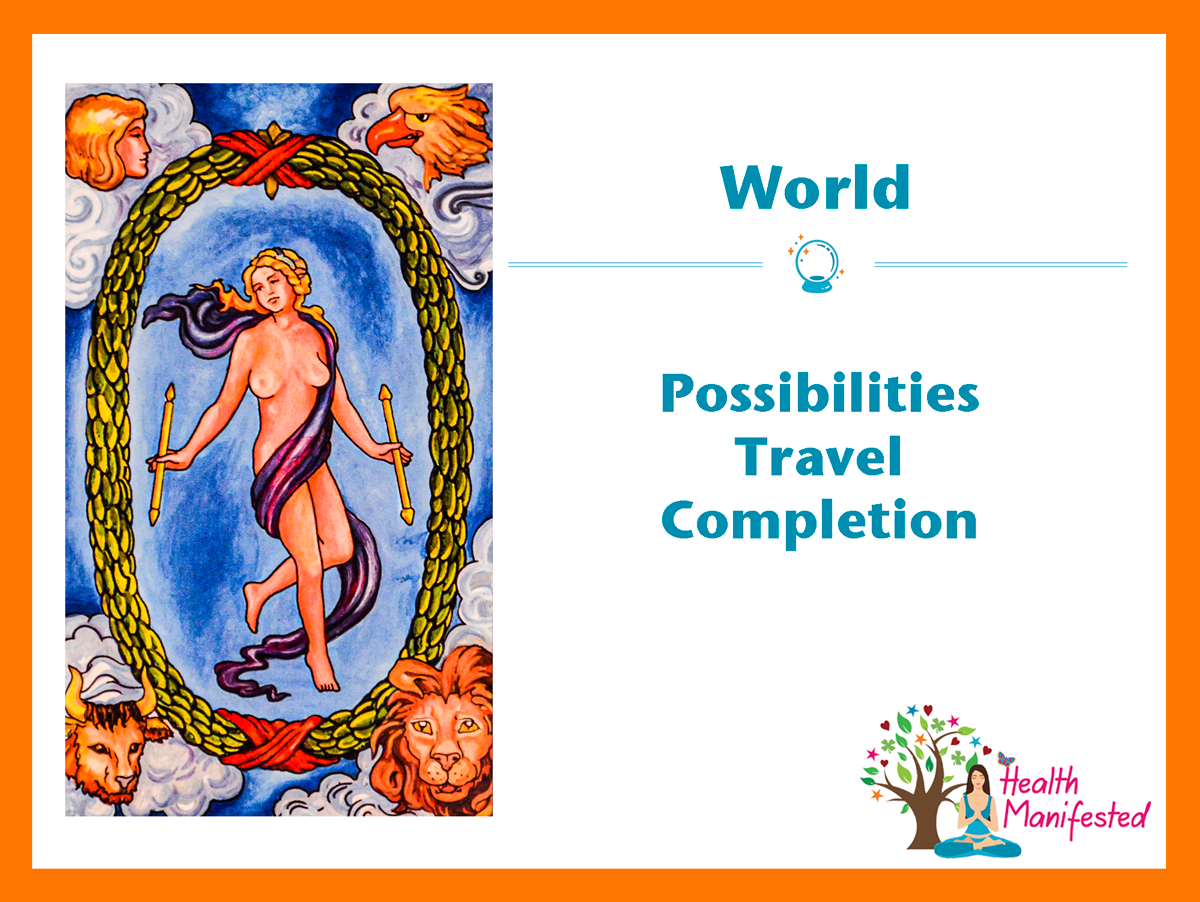 In the World tarot card, you see a naked woman with a purple wrap holding 2 wands.  She is naked symbolizing the naked truth.  You see the 4 elements in the 4 corners of the card.  It can be seen as astrology signs, and seasons of life. The wreath is like a frame, symbolizing the framework, protection, and success.  The red at the top and bottom of the wreath in the World tarot card symbolizes vitality and creates an endless circle of life, success, and progress.  It represents the continuous cycles in life.
Number:
21
Ruling Planet:
Saturn
Answer:
Yes
The World Tarot Card Upright
Completing things
Time to end something
Start something new
Seeing a bigger picture
Ending cycles
A new world
Ending old chapters
Making it after all
New cycles
Conclusion
Fulfillment
Reaching a goal
Success
Best outcome
Travel
Fresh start
The World Tarot Card Reversed
Closure in your life
Delays
Shortcut to complete something
Not wanting to end a cycle
Learn from the cycle ending
Unfinished
Obstacles
Insecure
Unappreciative
Not there yet
Questions to ask when pulling the World Tarot Card reversed:
Can you see everything the world has to offer you and has given you?
Do you see all the possibilities?
Is there something you have finished or are ready to move away from?
Is there something new you are ready to start?
Are you running into obstacles?
Are you appreciative for what you have?
The Tarot card meanings are based on the Rider Waite tarot deck.
If you would like to learn more make sure to check out the Tarot books and resources and learn more about the Tarot Card meanings.
Would you like to get a tarot card reading?  If so, reach out to one of our Tarot card professionals.  If you are a Tarot professional, medium, psychic, or have another profession and would like to get more exposure, let's team up.