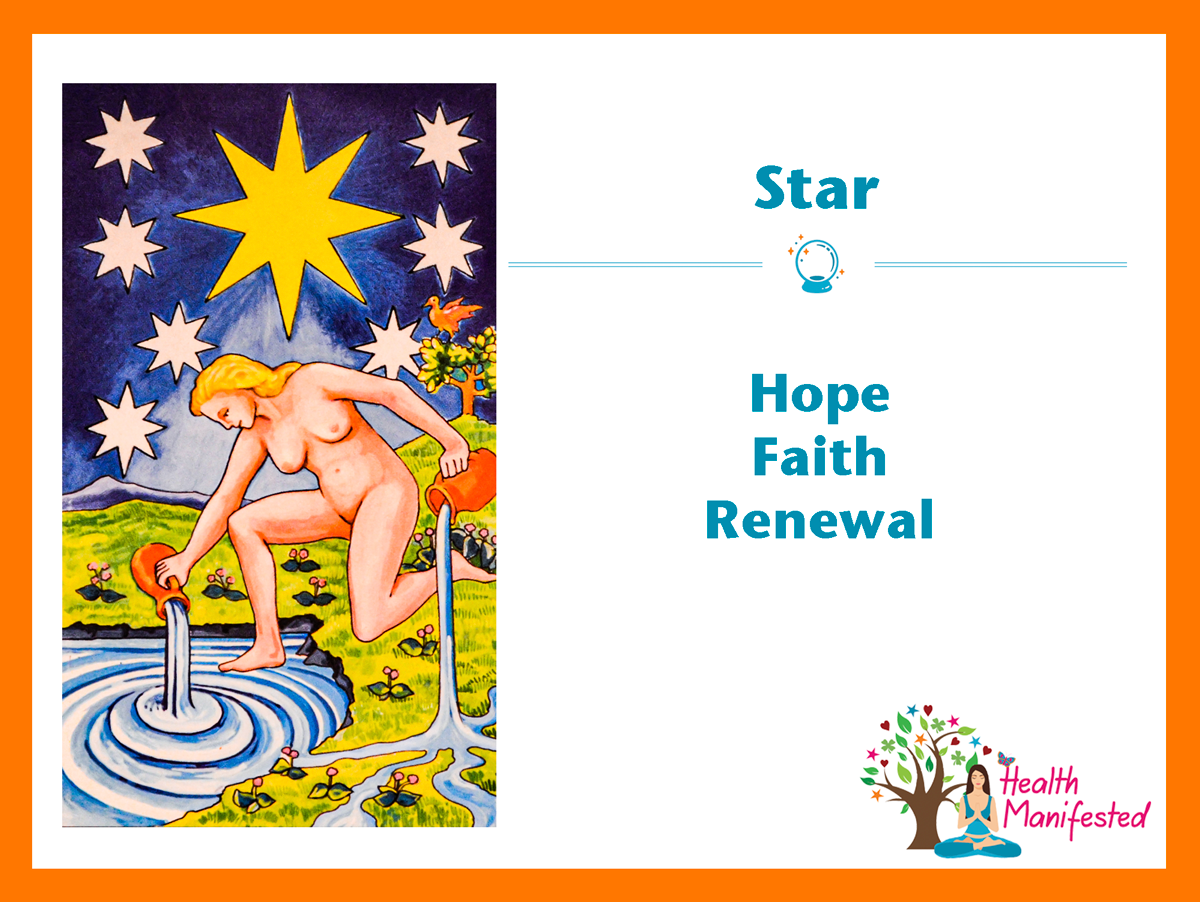 In the Star tarot card you see a naked woman kneeling down by the waters edge.  The lady being naked can represent her openness  She has one foot in the water, which can represent her connection with water, emotions and intuition.  Her other let is bent and kneeling on land.  This can represent her connection to the Earth and material possessions and what she wants to grow.  She has 2 containers of water.  One she is pouring back into the lake and the other she is pouring on the land.  The water she is pouring on the land can symbolize watering what we want to grow.  The 5 streams of water on land can represent 5 ways, 5 people, 5 resources or the 5 senses.  The water she is pouring into the lake can symbolize everything has its place.  In the sky you see one large star and seven smaller stars.  The stars can represent trusting in that big dream and seeing the opportunities along the way.  It can represent many different ways to get to the big dream.  The birth on the tree is also up next to the stars showing the connection between heaven and earth.
Star Upright
Hope
Faith
Optimism
Trust
Confidence
Reflection
Talent
Fertile
Peace
Guidance
Wishful
Star Reversed
Pessimism
Disappointed
Unsatisfied
Lost opportunities
Anxiety
Disbelief
Lack of trust
Questions to ask when pulling the Star tarot card:
Do you trust you are being guided by the stars?
Are you following your dreams?
Do you have faith your dreams will come true?
Are you looking at the glass as half full or half empty?
Do you trust you are being guided?
Do you believe you have your own unique contribution?
Are you unable to trust?
The Tarot card meanings are based on the Rider Waite tarot deck.
If you would like to learn more make sure to check out the Tarot books and resources and learn more about the Tarot Card meanings.
If you are a Tarot professional, medium, psychic or have another profession of similar nature and you would like to get more exposure, we are now offering personalized profiles on our professional's page.  If you would like to learn more let's team up.