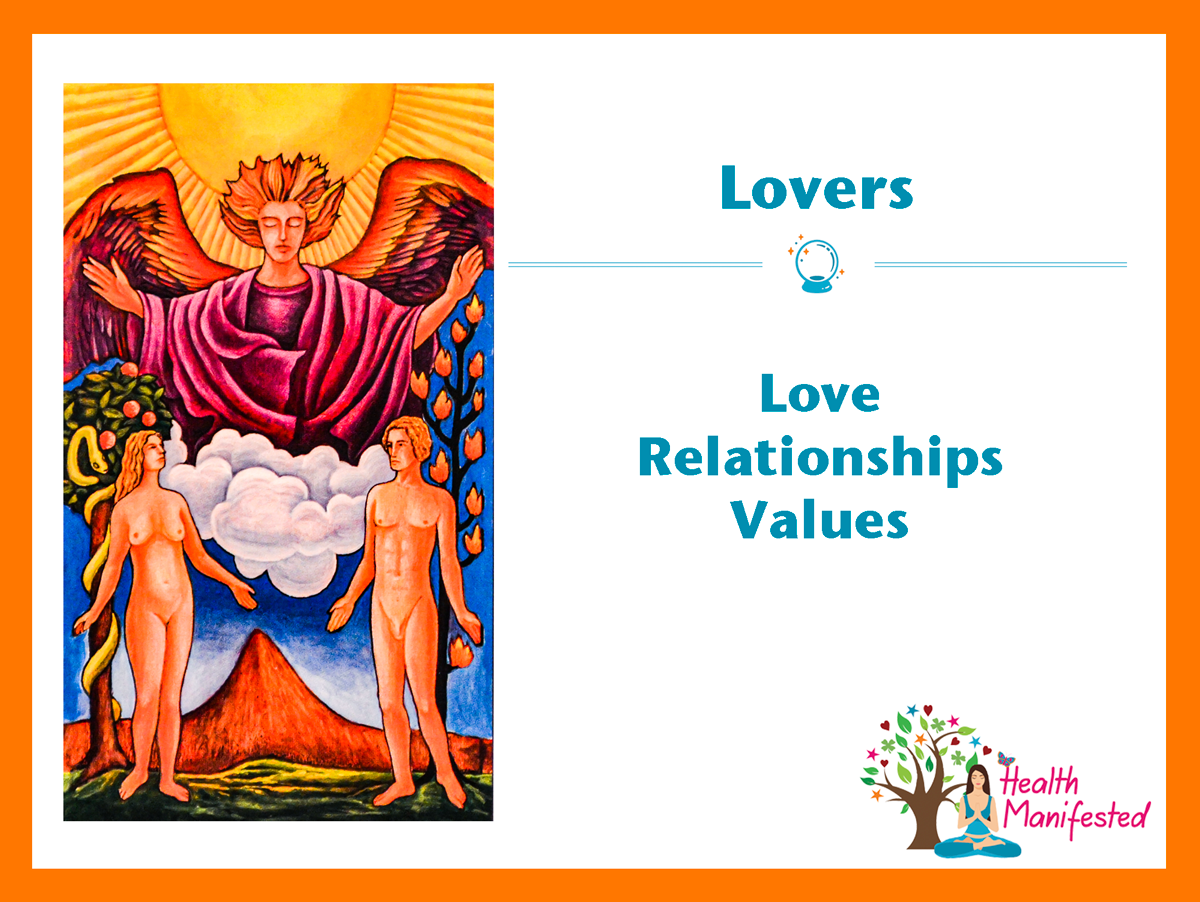 In the Lovers tarot card, you see Adam and Eve standing under an angel in a Garden representing the garden of Eden.  Behind Eve you see an apple tree which is connected to the story from the Bible representing temptations, which can pull us away from our connection to God.  The snake can represent our fears, change, evil, and temptations.  Behind Adam, you see a tree of flames.  There are 12 flames which can represent the 12 signs of the zodiac and can be seen as the passions, ambitions, and desires in life.  The angel above Adam and Eve represents healing and protection from God or the divine energy and angels.  It is as if the angel is giving them advice and protecting them if they listen.  Below you can find the Lovers tarot card meanings for upright and reverse.
Number: 6
Ruling Planet: Mercury
Sign: Gemini
Answer: Yes/No
Lovers Upright
Love
Relationships
Values
Partnerships
Choices
Sharing
Trust
Healing
Sexuality
Temptation
Commitment
Marriage
Business partnerships
Lovers Reversed
Bad choices
Partnerships ending
Freedom
Lack of commitment
Fear of Commitment
Marital issues
Dishonest
Disagreements
Indecisive
Questions when pulling the Lovers tarot card:
Do you feel loved?
Do you believe Angles, Spirit guides, God, the Universe, or whatever you believe is protecting and keeping you safe?
What makes you happy in your life?
Do you know you are loved?
Do you love yourself?
Where are the blocks in your relationship?
Do you have common interests with someone?
What do you value?
What is important to you?
Can you see the magic you can create with others?
The Tarot card meanings are based on the Rider Waite tarot deck.
If you would like to learn more make sure to check out the Tarot books and resources and learn more about the Tarot Card meanings.
Would you like to get a tarot card reading?  If so, reach out to one of our Tarot card professionals.  If you are a Tarot professional, medium, psychic, or have another profession and would like to get more exposure, let's team up.