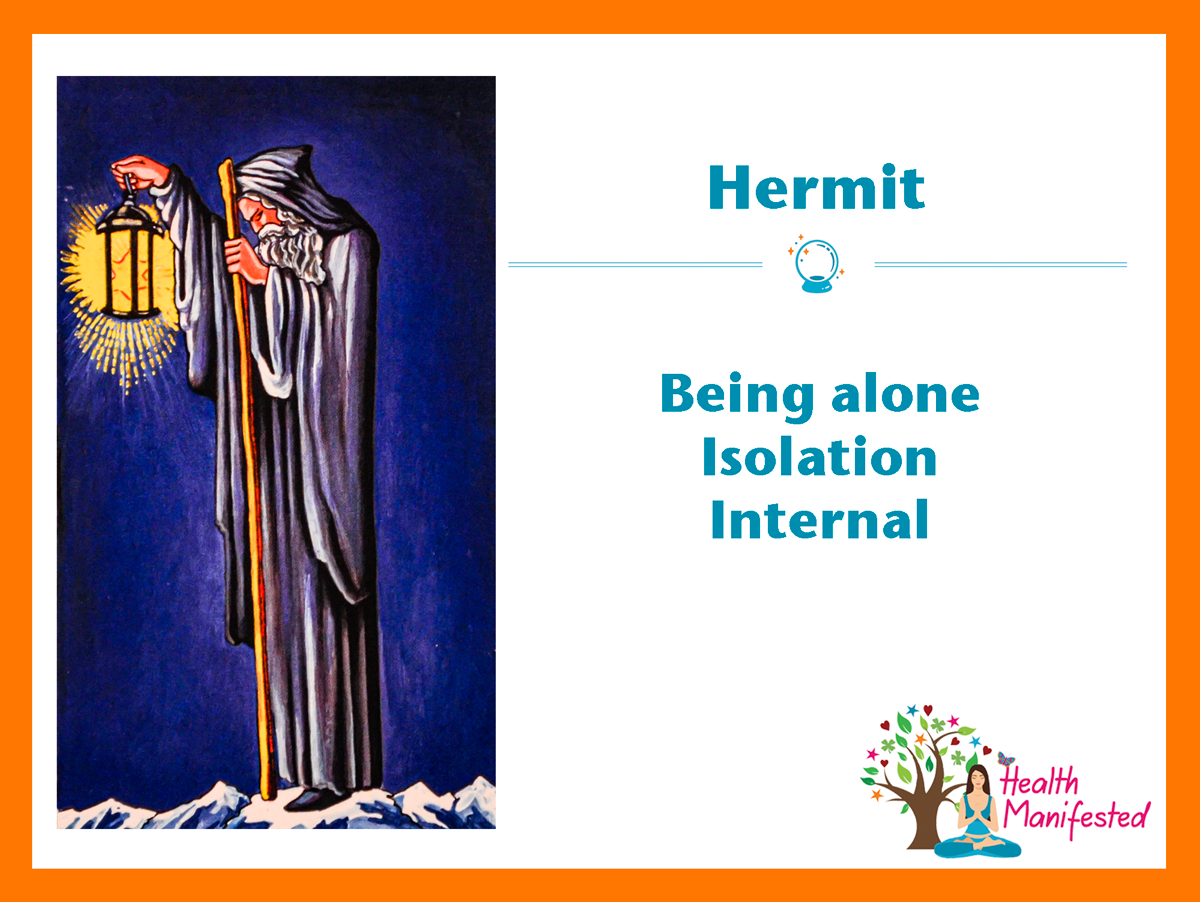 In the Hermit tarot card, you see an old man in gray looking down carrying a light, and standing in the snow at night time.  The lantern can be symbolic of being prepared.  It can also symbolize nighttime and feeling sleepy and a time to rest.   The star in the lamp can represent the light within yourself or wisdom and can help light your way.  The stave he holds can represent strength and helps him stay balanced.  The snow can represent a time when you can start over.  Below you can find the Hermit tarot card meanings for upright and reverse.
Number: 9
Ruling Planet: Chiron
Sign: Virgo
Answer: No
Hermit Upright
Looking within
Inner peace
Inner security
Contemplation
Meditation
Connecting with God or Source
Quiet time
Self-reflection
Alone time
Patience
Planning
Wisdom
Withdrawal
Feeling sorry
Hermit Reversed
Coming out of isolation
Stuck in your thoughts
Too much being alone
Self-pity
Victim
Complaining
Confusion
Nervous
Aloof
Worry
Independent
Lonely
Question to ask when pulling the Hermit tarot card:
Can you see your situation in a new light?
Are you on a path with God?
What is important to focus on?
Are you looking within yourself to find answers?
Is this a good time for you to rest?
Are you taking things one step at a time?
Do you need some space to reflect?
Is this a good time to meditate?
Are you at a point where it would be best to start over?
The Tarot card meanings are based on the Rider Waite tarot deck.
If you would like to learn more make sure to check out the Tarot books and resources and learn more about the Tarot Card meanings.
Would you like to get a tarot card reading?  If so, reach out to one of our Tarot card professionals.  If you are a Tarot professional, medium, psychic, or have another profession and would like to get more exposure, let's team up.