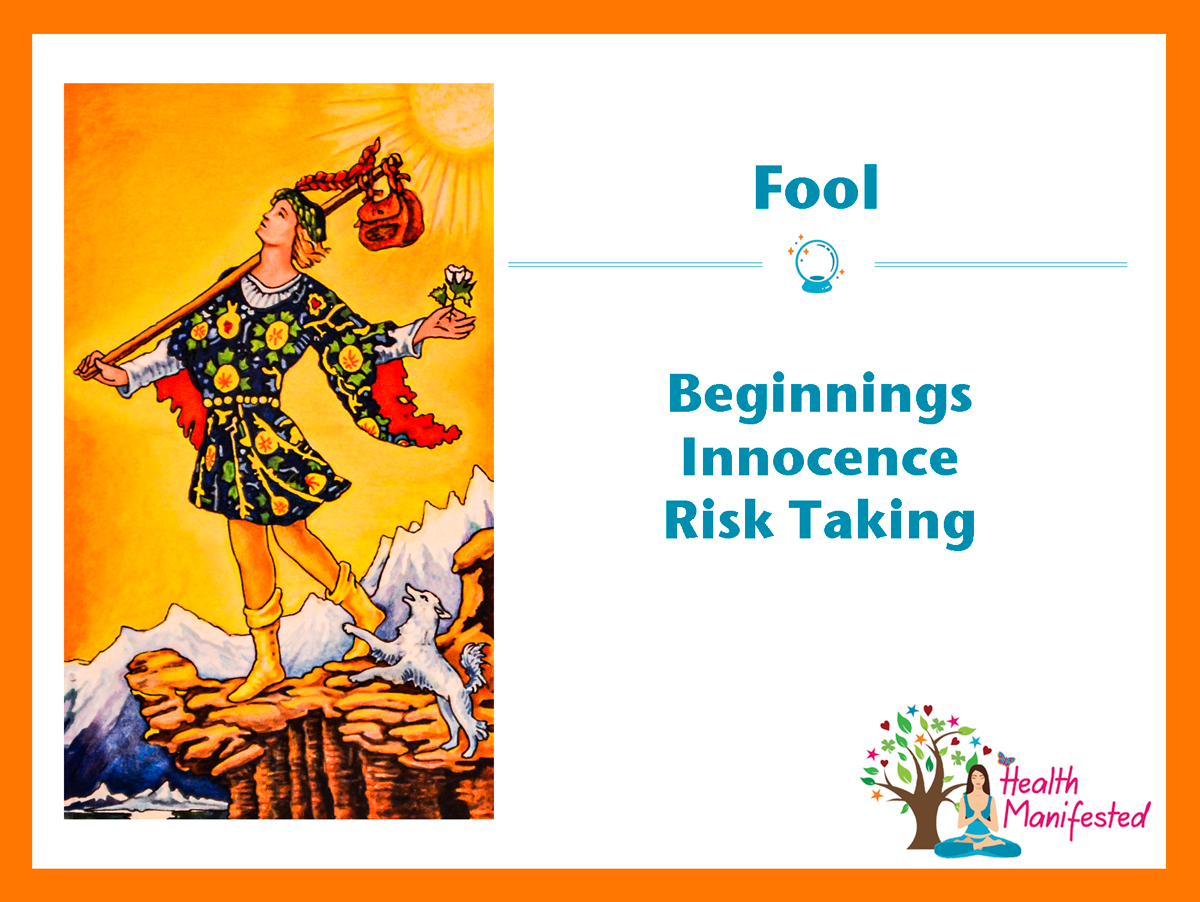 In the Fool tarot card, you see a man standing at the edge of a cliff looking up, carefree, and might just walk right off the cliff.  The cliff represents trust and opportunities.  He looks happy and at peace with life.  He is holding a bag, which indicates he has what he needs or it can represent the burdens we carry.  The white rose in his hand can represent his innocence, beauty and grace.  There is a white dog jumping with joy also ready to jump off the cliff.  Dogs are often seen as loyal companions and can also represent safety.
You can see mountains in the distance and oftentimes mountains represent obstacles or challenges along the way or off in the future.  The white Sun can represent freedom or a new beginning.  The ° or 0 on the sky can represent a certain degree of waiting time or coordinates.  The Fool often represents new beginnings or taking a leap of faith.  It can represent taking chances in life and following your heart's desires. The Fool can also represent making foolish decisions and learning from our past mistakes.  It teaches us to let go of our fears and trust in life, the lessons, blessings, and opportunities.  Below you can find the Fool tarot card meanings for upright and reverse.
Number: 0
Ruling Planet: Uranus
Answer: Maybe
Fool Tarot Card upright
New Beginnings
Innocent
Carefree
Believe in the new you
Take a leap of faith
Openness
Adventurous
Spontaneous
Fresh start
Free spirit
Enthusiastic
Trust/Faith
Opportunities
Dedication
Having what you need
Blind faith
Naive
Prepared
Fool Tarot Card reversed
Cycles ending and beginning
Hesitant to start something new
Being in-between
Not knowing what's next
Reckless
Taking risks
Foolish
Gullible
Bad decisions
Questions to ask when you pull the Fool tarot card:
Are you allowing yourself to take a step back and look at the bigger picture?
Are you worrying too much?
Are you ok with not knowing the answer?
Do you believe your wishes can come true?
Are you living in the moment?
Do you see an opportunity or a new beginning on the horizon?
Is a cycle ending that gives you a sense of freedom?
Are you taking a big risk in your life?
Do you believe in yourself?
The Tarot card meanings are based on the Rider Waite tarot deck.
If you would like to learn more make sure to check out the Tarot books and resources and learn more about the Tarot Card meanings.
Would you like to get a tarot card reading?  If so, reach out to one of our Tarot card professionals.  If you are a Tarot professional, medium, psychic, or have another profession and would like to get more exposure, let's team up.