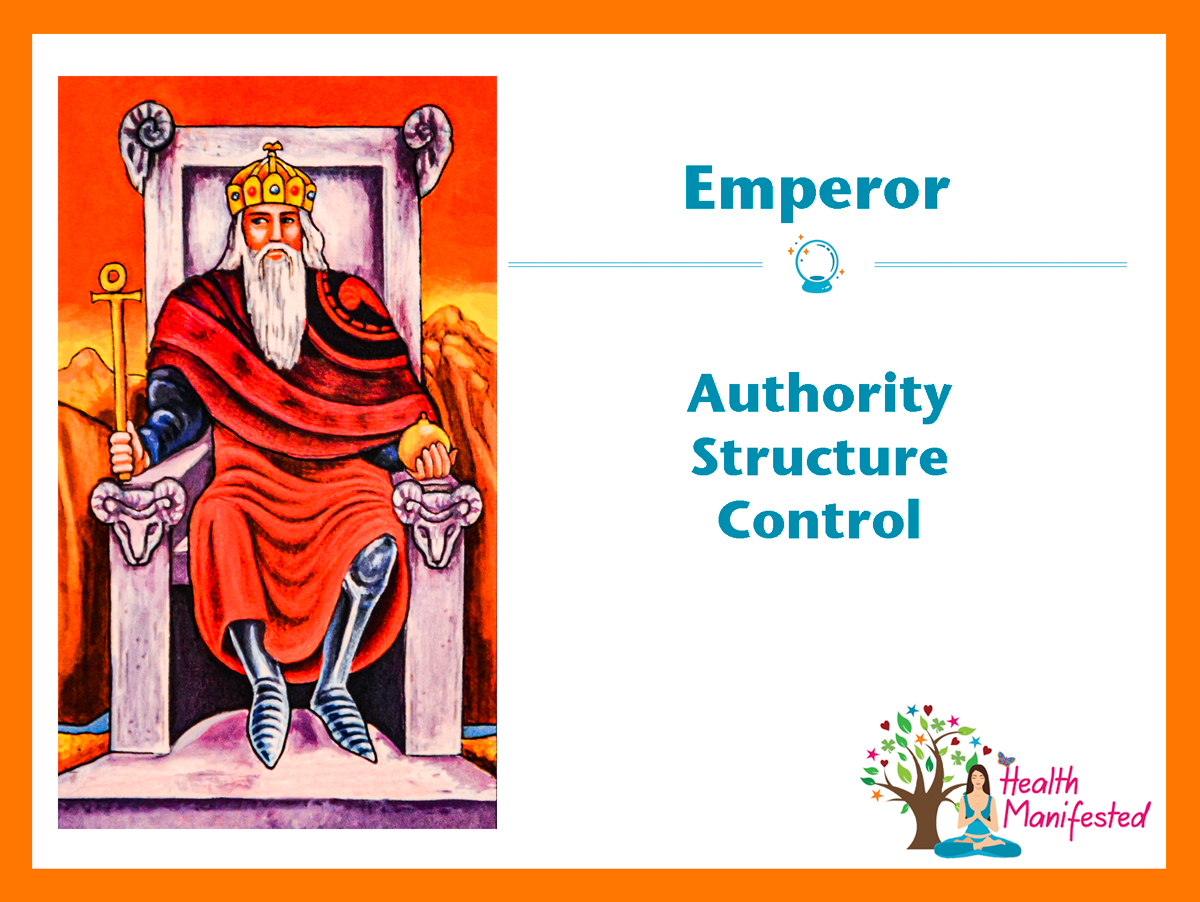 The Emperor tarot card portrays a father figure.  The rams on his throne represent the astrology sign Aries, spring, and new beginnings. The ankh he holds is an Egyptian symbol that represents life.  The orb he holds represents the world.  The red on the card presents power and passion.  He is wearing a suit of armor indicating safety.  His beard shows he is a wise old man.
Behind his throne looms a tall, impenetrable mountain range, signifying that he is backed by a solid foundation but resistant to making any changes unless he deems it necessary. Beneath the peaks flows a small river, giving some hope that despite his tough exterior, he is still an emotional being – it will just take a lot of digging and trust to open him up to his softer side. Below you can find the Emperor tarot card meanings for upright and reverse.
Number: 4
Ruling Planet: Mars
Sign: Aries
Answer: Yes
The Emperor Upright
Master thinker
Loyalty
Father figure
Family
Safety
New Beginnings
Structure
Authority
Order
Power
Influence
Achievements
Success
Respect
Security
Fearless
Progress
The Emperor Reversed
Lack of progress
Issues with authority
Immaturity
Lazy
Lack of control
Indecisive
Unreliable
Needing structure
Let go of control
Create more structure
Loosen your grip
Don't be tough on yourself
Questions when pulling the Emperor tarot card:
Are you stepping to your own power?
Do you see a new beginning in your life?
Is there something you need to let go of?
Are you being hard on yourself?
Can you see the progress you have made?
Do you need to put more structure in your life?
Do you feel safe?  If not what can you do today to create a sense of security in your life?
The Tarot card meanings are based on the Rider Waite tarot deck.
If you would like to learn more make sure to check out the Tarot books and resources and learn more about the Tarot Card meanings.
Would you like to get a tarot card reading?  If so, reach out to one of our Tarot card professionals.  If you are a Tarot professional, medium, psychic, or have another profession and would like to get more exposure, let's team up.