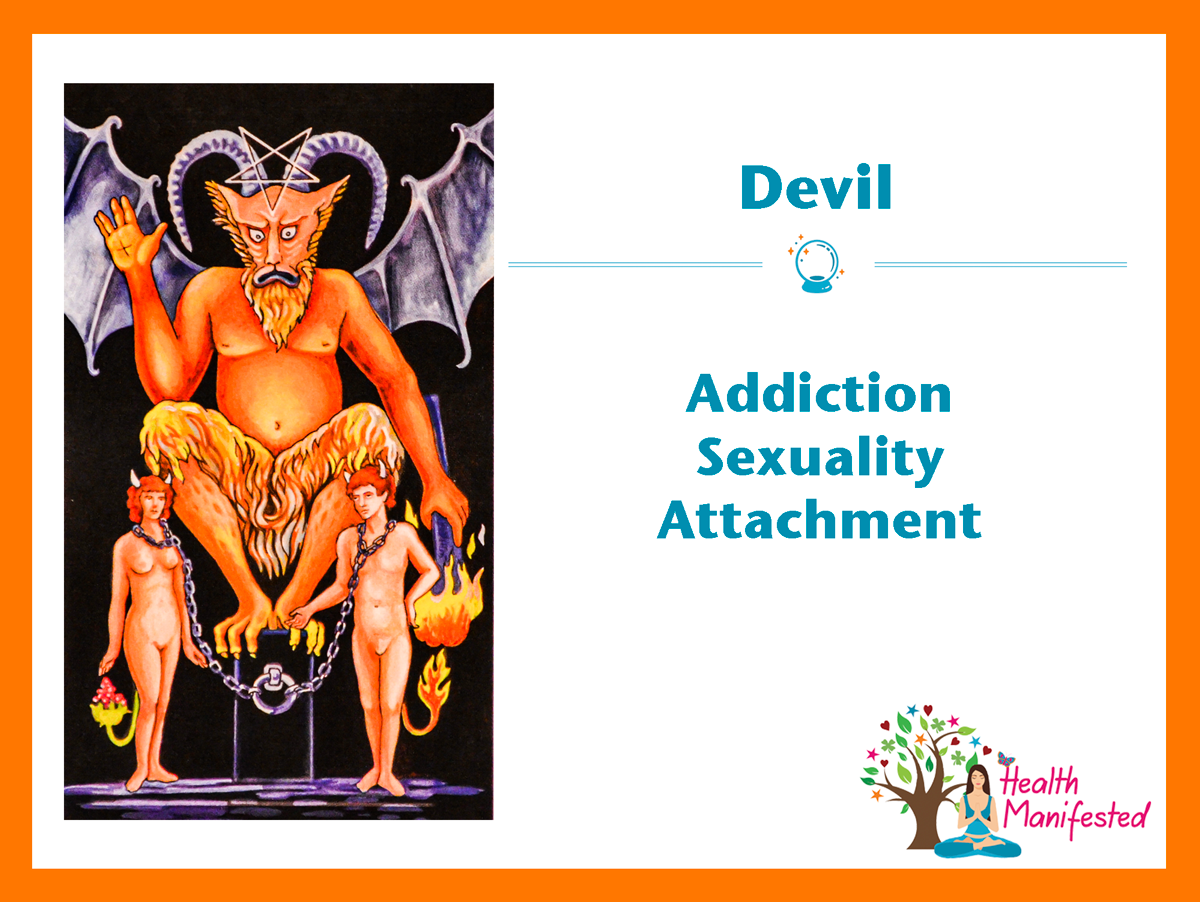 In the Devil tarot card, you can see the Devil with what appears to be 2 lovers chained together below him.  The chains can represent being tied to each other or relying on each other.  The tail on the man and woman represents following their instincts. The grapes on the woman's tail represent abundance the fire on the male's tail can represent a burning desire for abundance.  The torch the devil holds can represent bringing light to a dark situation.  Below you can find the Devil tarot card meanings for upright and reverse.
Number: 15
Ruling Planet: Saturn
Sign: Capricorn
Answer: No
Devil Upright
Addiction
Sexuality
Feeling stuck
Negative thinking
Temptation
Dependency
Unhealthy attachments
Fear
Greed
Unhappy
Limiting beliefs
Devil Reversed
Letting go
Addressing fears
Positive thinking
Releasing temptation
Independent
Renewed beliefs
Release
Greed
Dependency
Questions to ask when you pull the Devil tarot card:
Do you feel afraid?
Do you feel tormented?
Can you see the light in the situation?
Are you ready to talk about some kind of issues you are having in a relationship?
Can you see a dilemma clearly?
Are you tempted?
Do you feel restricted?
Is there an addiction you need to address?
Do you have limiting beliefs?
The Tarot card meanings are based on the Rider Waite tarot deck.
If you would like to learn more make sure to check out the Tarot books and resources and learn more about the Tarot Card meanings.
Would you like to get a tarot card reading?  If so, reach out to one of our Tarot card professionals.  If you are a Tarot professional, medium, psychic, or have another profession and would like to get more exposure, let's team up.