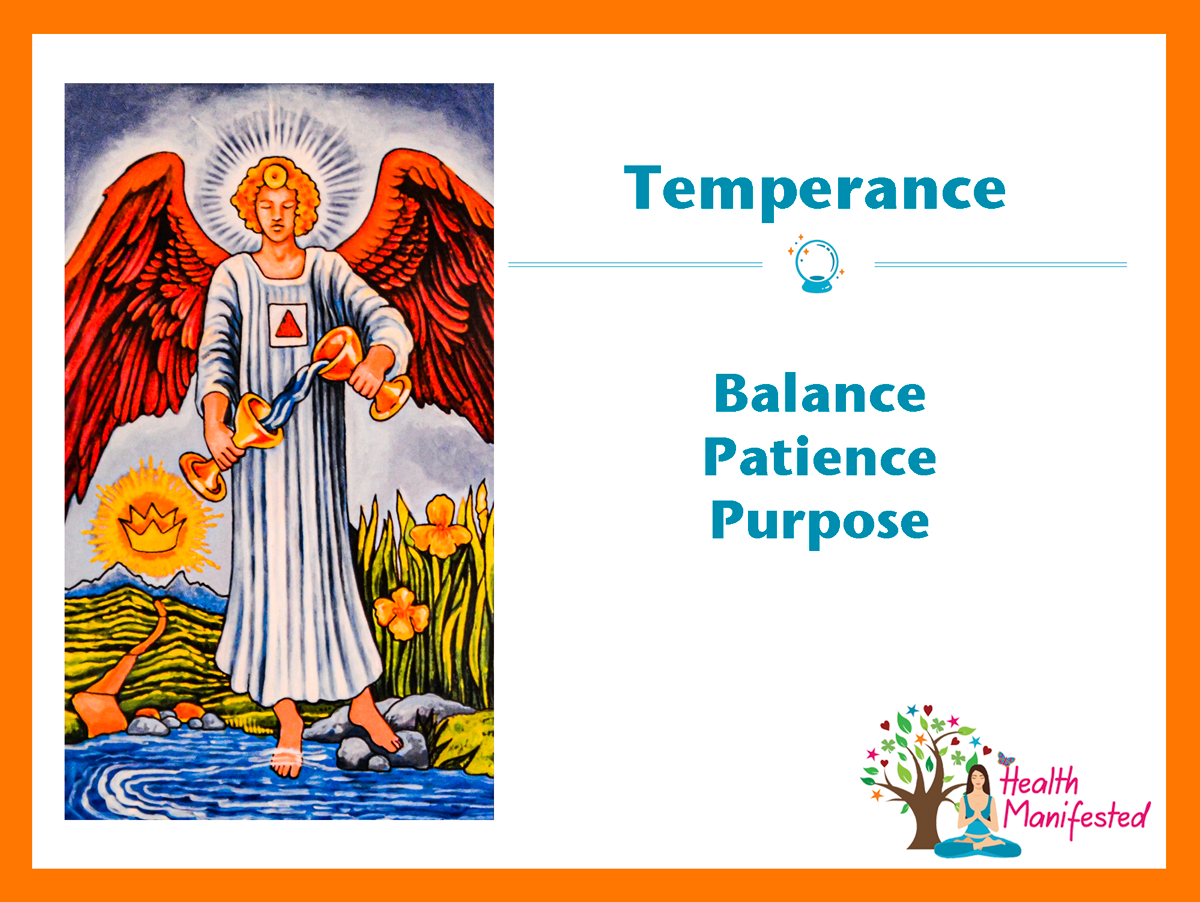 In the Temperance tarot card, you see an angel with wings.  The wings run off the card, which can be seen as endless possibilities.  The angel has a symbol on the front of the gown symbolizing masculinity and femininity.    In the Temperance tarot card, the yellow circle on the angel's head can be representative of the third eye.  The angel is pouring water from one cup into another, which can represent finding the right amount of mixing things up and the angel has one foot in the water and the other on land, which can also represent finding your balance.  There is a path off in the distance leading to a crown in the sky.  This can be representative of a path that will lead you to true happiness.  Below you can find the Temperance tarot card meanings for upright and reverse.
Number: 14
Ruling Planet: Jupiter
Sign: Sagittarius
Answer: Yes
Temperance Upright
Balanced
Universal timing
Compromise
Combination
Mixing things up
Creating
Patience
Forgiveness
Cooperation
Temperance Reversed
Extremes
Fantasy
Excess
Uncompromising
Overly ambitious
Moody
Overboard
Indecisive
Conflict
Impatient
Bad judgment
Questions to ask when pulling the Temperance tarot card:
Do you see how things unfold over your entire lifetime?
Are you working on something that will take a lifetime?
Are you being patient as you travel the path to happiness?
It's ok to reinvent yourself
Are you allowing yourself time to replenish?
What are you creating?
Are you taking things step by step?
The Tarot card meanings are based on the Rider Waite tarot deck.
If you would like to learn more make sure to check out the Tarot books and resources and learn more about the Tarot Card meanings.
Would you like to get a tarot card reading?  If so, reach out to one of our Tarot card professionals.  If you are a Tarot professional, medium, psychic, or have another profession and would like to get more exposure, let's team up.