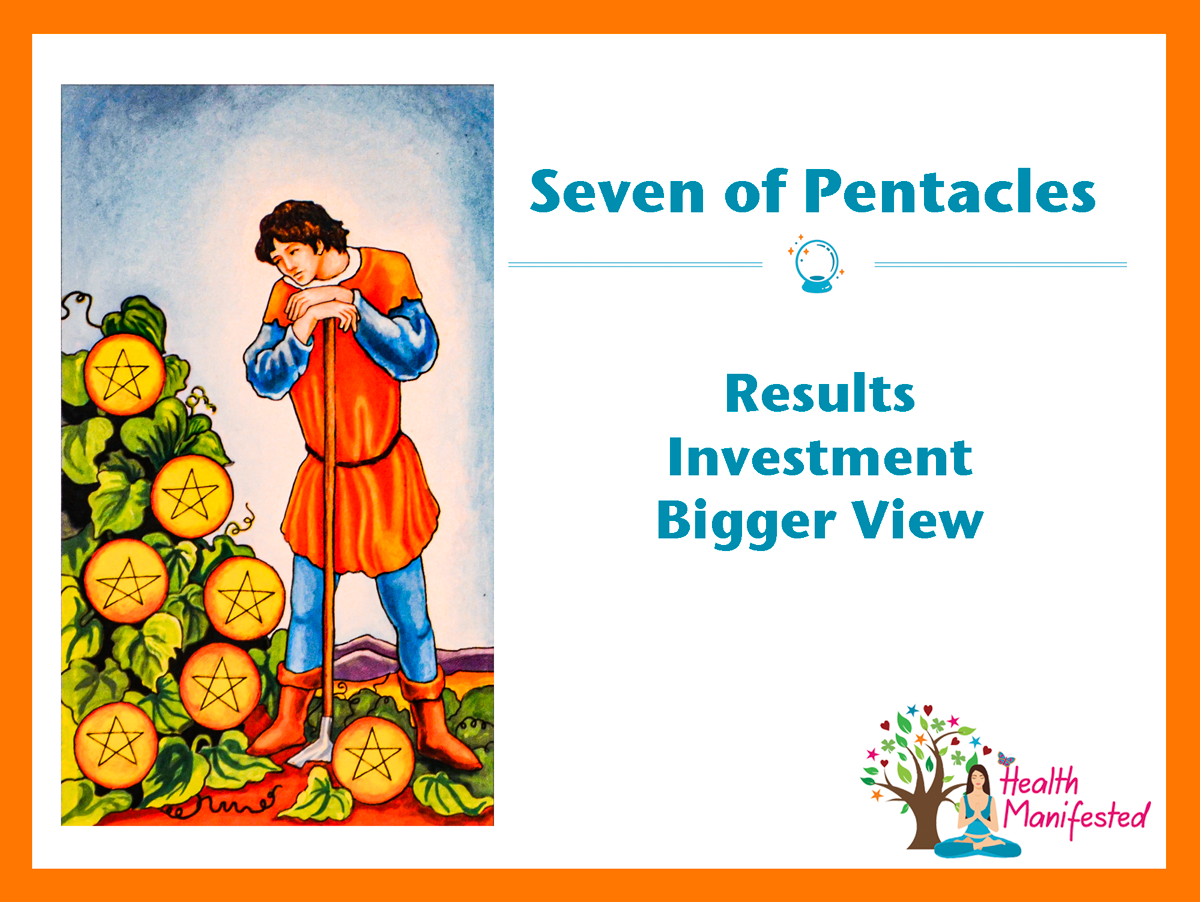 In the Seven of Pentacles tarot card you see a man with a hoe look at the growth of his crop filled with Pentacles. He is just staring at as if he is worn out from all the hard work.  He can see all of his hard work is paying off.  The hoe represents the ability to create something new.
This card reminds us to put our efforts on things are going to bring abundance. It is also important to remember to allow yourself time to rest.  Growing something full of abundance takes time and effort, be patient.
If what you are creating isn't bringing wealth, be patient also know that sometimes you may need to clean up the old garden and create a new garden.  Grow something that will give you the positive return you want.
Number: 7
Ruling Planet: Saturn
Sign: Taurus
Answer: Yes
Seven of Pentacles Upright
Growth over time
Reevaluating what you are growing
Hard work pays off
Patience
Waiting to see the results
Hard work
Reflecting on growth
Progress
Time for change
Not satisfied with the growth
Reevaluating
Seven of Pentacles Reversed
Depression
Hopeless
Missing opportunities
Bad investment
Financial loss
Worry about financial loss
Giving up before the success
Questions when pulling the Seven of Pentacles Tarot card:
Have you taken the time to look at your current situation?
What are you proud of?
Are you create what you genuinely want?
What do you want to grow?
What are you investing your time and energy into?
The Tarot card meanings are based on the Rider Waite tarot deck.
If you would like to learn more make sure to check out the Tarot books and resources and learn more about the Tarot Card meanings.
Would you like to get a tarot card reading?  If so, reach out to one of our Tarot card professionals.  If you are a Tarot professional, medium, psychic or have another profession of similar nature and would like to get more exposure, we offer personalized profiles on our professional's page and page for your expertise. We also offer a service that helps you get more exposure through writing articles and or videos.  You can learn more on our let's team up page.