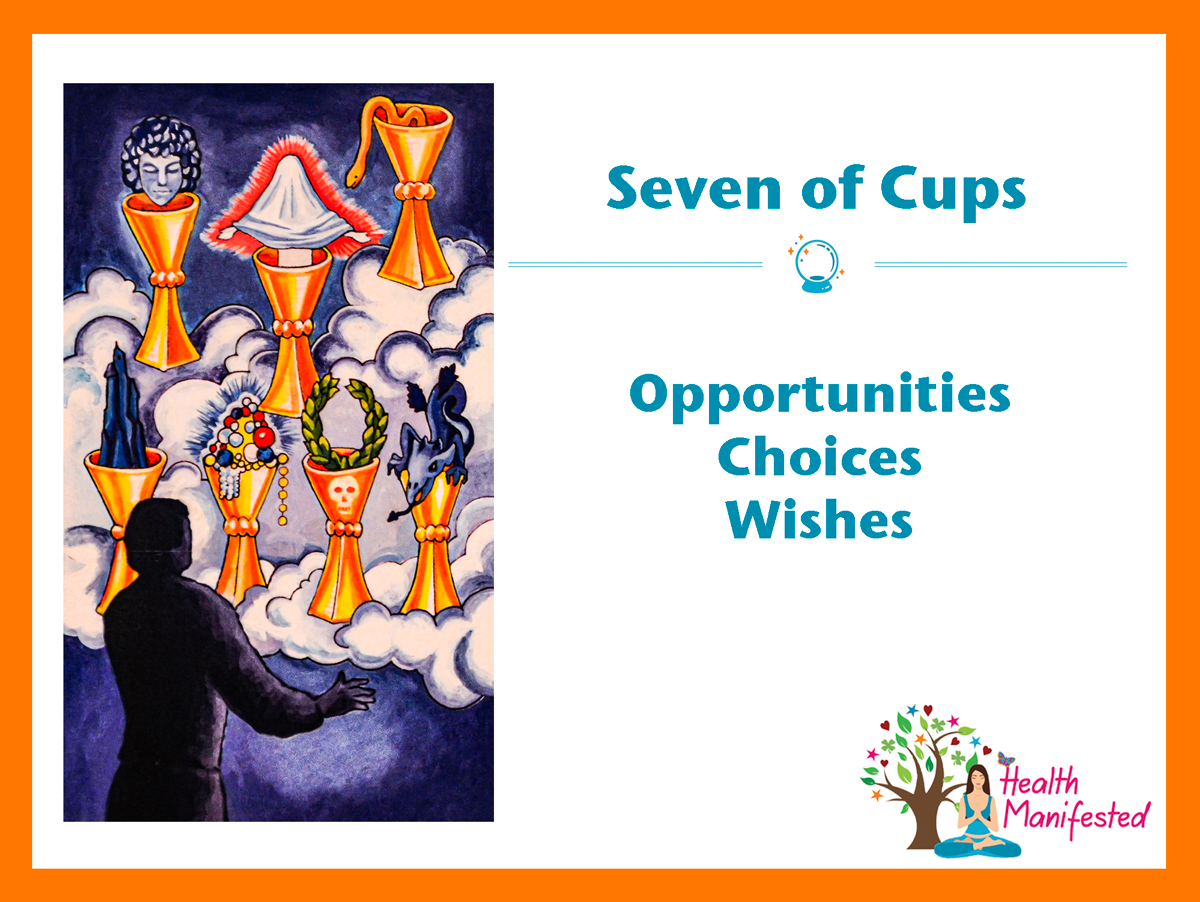 In the Seven of Cups you see a man with shadows that make him dark looking at seven cups filled with many different gifts or possibilities.  The black shadows represent things from the past that have been stopping you for making a decision or reaching your goals.
There are 7 cups.  One cup represents jewels and riches.  Another cup has a skull and laurels with a skill.  This represents victory and endings.  One cup has a dragon in it.  The dragon represents good luck and power.  Another cups has a head in it.  The head represents beauty and youth and self acceptance.  Another cups has a snake in it.  The snake can represent transformation and wisdom.  Another cup has a figured covered up which can represent the unknown.  Another Cup has a castle in it.  The castle can represent home, security and safety.  All of the items in the cups can represents multiple things.  The cloud can represent, an illusion, awaiting opportunities, wishes or dreams.
Seven of Cups Upright
Confusion
Not focused
Lots of options
Opportunities
Wishful
Fantasizing
Feeling lost
Indecisive
Visions
Dreams
Choices
Seven of Cups Reversed
Making decisions
Determined
Clarity
Realistic
To the point
Questions to ask when pulling the Seven of Cups tarot card:
What opportunities look best for you?
Are you getting lost in all the opportunities or dreams?
What are your fears with the opportunities in front of you?
What opportunities or wishes will make you the happiest?
Can you see through the confusion?
Are you focusing on the prize?
Are you getting lost in the possibilities?
What do you want to manifest?
The Tarot card meanings are based on the Rider Waite tarot deck.
If you would like to learn more make sure to check out the Tarot books and resources and learn more about the Tarot Card meanings.
If you are a Tarot professional, medium, psychic or have another profession of similar nature and you would like to get more exposure, we are now offering personalized profiles on our professional's page.  If you would like to learn more let's team up.