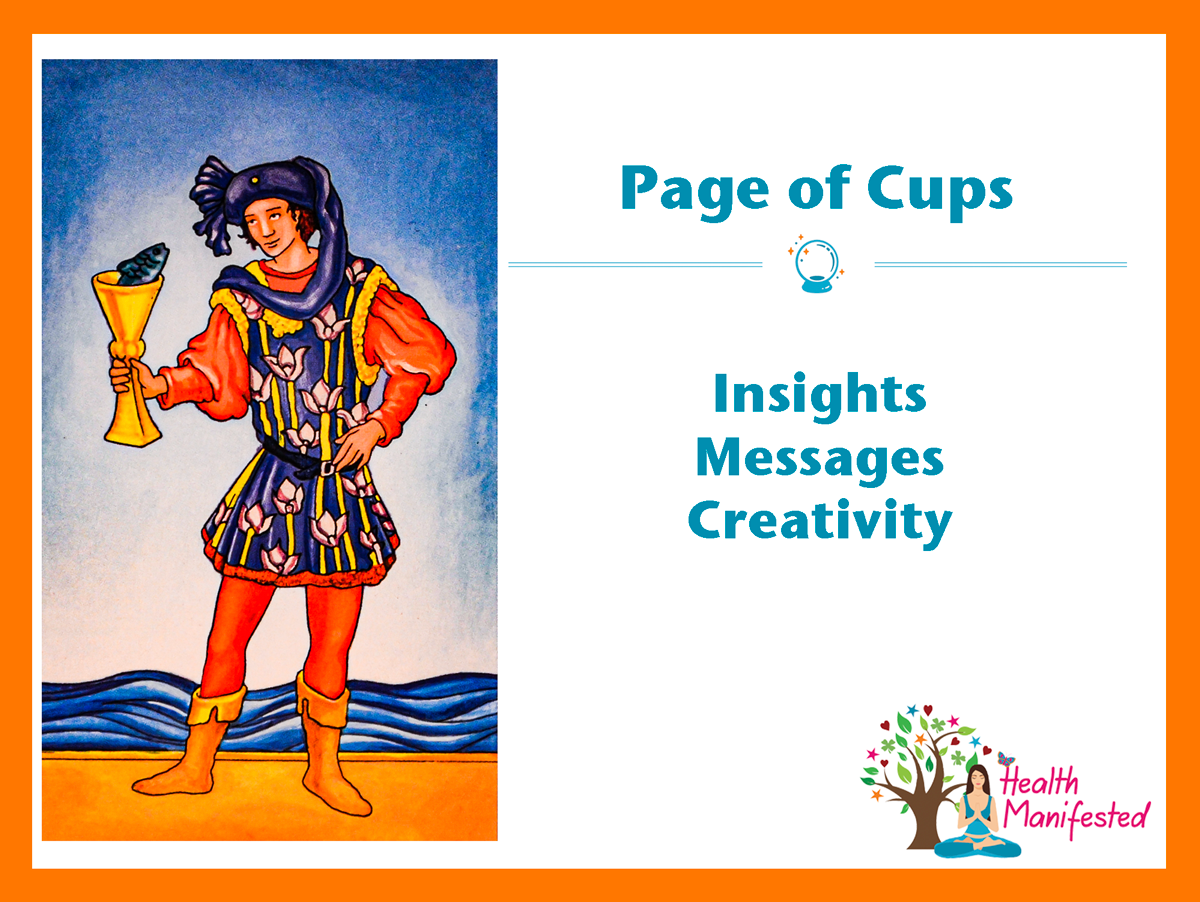 In the Page of Cups tarot card, you see man standing by the water's edge holding a cup with a fish in it.  The fish represents abundance and wealth.  The fish and the water can be representative of creativity.  With the man holding the cup with the fish in it can indicant that wealth is just at his reach or he is holding the wealth.  The fish popping out of the cup can represent unexpected abundance or a new idea and inspiration.  The man's outfit has lily's on it, which can represent beauty.    He is wearing a blue hat which can mean he has a calm mind.
Number: 11
Ruling Planet: Moon
Sign: Pisces
Answer: Yes
Page of Cups Upright
Insights
Messages
Creativity
Comfort
Possibilities
Imagination
Inspiration
Curious
Talents
Ideas
Plans
Opportunities
Page of Cups Reversed
Insecure
Fantasy
Lazy
Lack of planning
Unrealistic
Immature
Doubtful
Questions to ask when pulling the Page of Cups tarot card:
Do you believe in your own creativity?
Do you believe you deserve abundance?
Are you hopeful?
Are you working on fulfilling your dreams?
What can you do to let go of your fears?
Do you believe you are on your way to creating what you desire?
Are you sharing what you desire?
Have you recently had a new insight?
Are you sticking to your dreams?
What do you want?
Can you see the opportunities in front of you?
The Tarot card meanings are based on the Rider Waite tarot deck.
If you would like to learn more make sure to check out the Tarot books and resources and learn more about the Tarot Card meanings.
Would you like to get a tarot card reading?  If so, reach out to one of our Tarot card professionals.  If you are a Tarot professional, medium, psychic or have another profession of similar nature and would like to get more exposure, we offer personalized profiles on our professional's page and page for your expertise. We also offer a service that helps you get more exposure through writing articles and or videos.  You can learn more on our let's team up page.