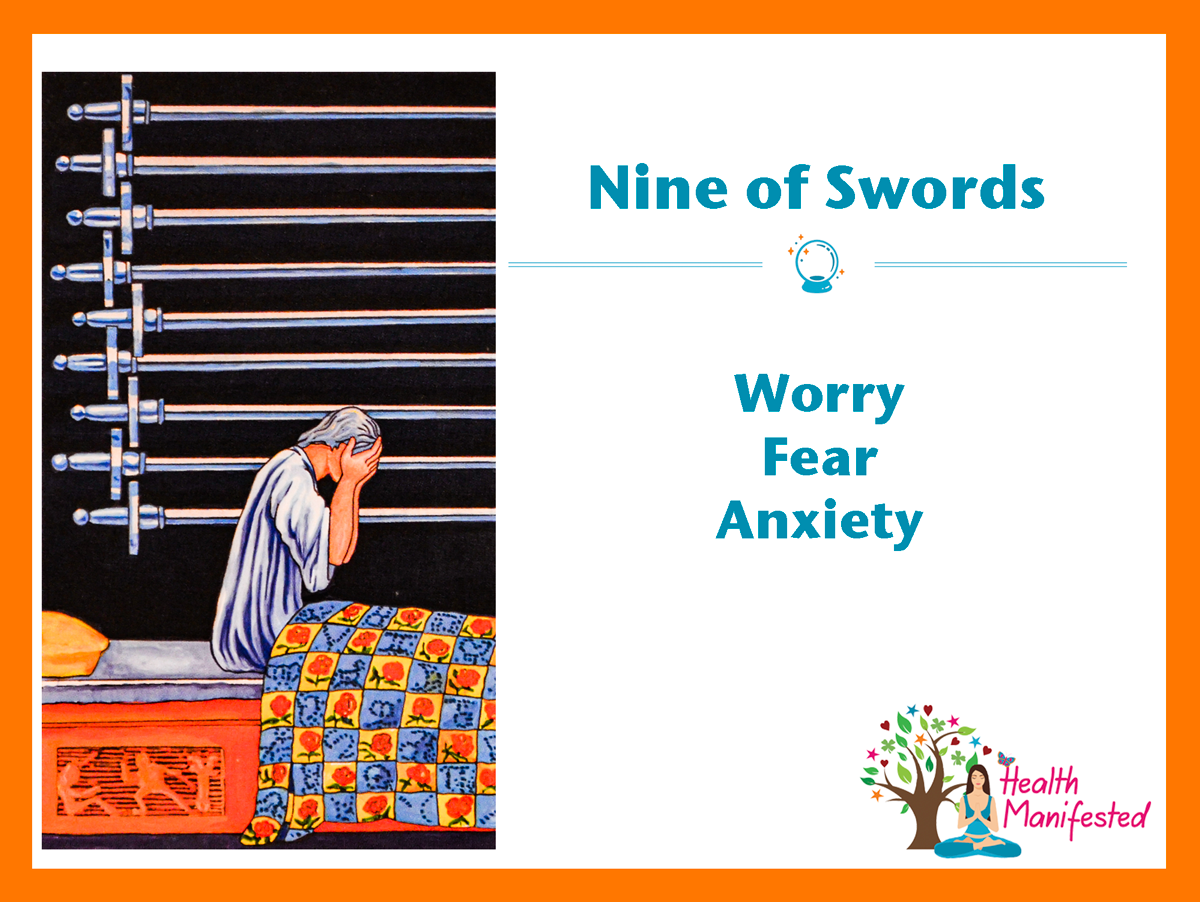 In the Nine of Swords tarot card, you see a person in bed in a dark room who appears to be unable to sleep and is crying.  The nine swords on the wall can represent nine worries or nine insights.  On the bed there appear to be 2 people who might be having an argument or fight.  On the comforter, you can see the astrological zodiac symbols, which can represent cycles of life or personality traits and the roses can represent following your heart.
Number: 9
Ruling Planet: Mars
Sign: Gemini
Answer: No
Nine of Swords Upright
Worry
Anxiety
Fear
Sad
Stressed
Depressed
Lack of confidence
Hopeless
Feeling unloved
Feeling not good enough
Insomnia
Nine of Swords Reversed
Nightmares ending
Hopeful
Good news
Trust
Worry is over
Healing time
Better future
Secrets
Anxiety released
Questions when pulling the Nine of Swords tarot card:
Do you have nightmares you need to address?
Are you worrying a lot?
Can you let go of your fears and worries and allow yourself time to rest?
Is there something in your life that you are doing that feels like a nightmare?
What are you afraid of?
Are you ready to get yourself out of a situation that feels like a nightmare?
What can you do to strengthen your trust and patience?
How can you grow and bloom from this situation?
Can you allow love into your heart and allow others to love you?
The Tarot card meanings are based on the Rider Waite tarot deck.
If you would like to learn more make sure to check out the Tarot books and resources and learn more about the Tarot Card meanings.
Would you like to get a tarot card reading?  If so, reach out to one of our Tarot card professionals.  If you are a Tarot professional, medium, psychic or have another profession of similar nature and would like to get more exposure, we offer personalized profiles on our professional's page and page for your expertise. We also offer a service that helps you get more exposure through writing articles and or videos.  You can learn more on our let's team up page.