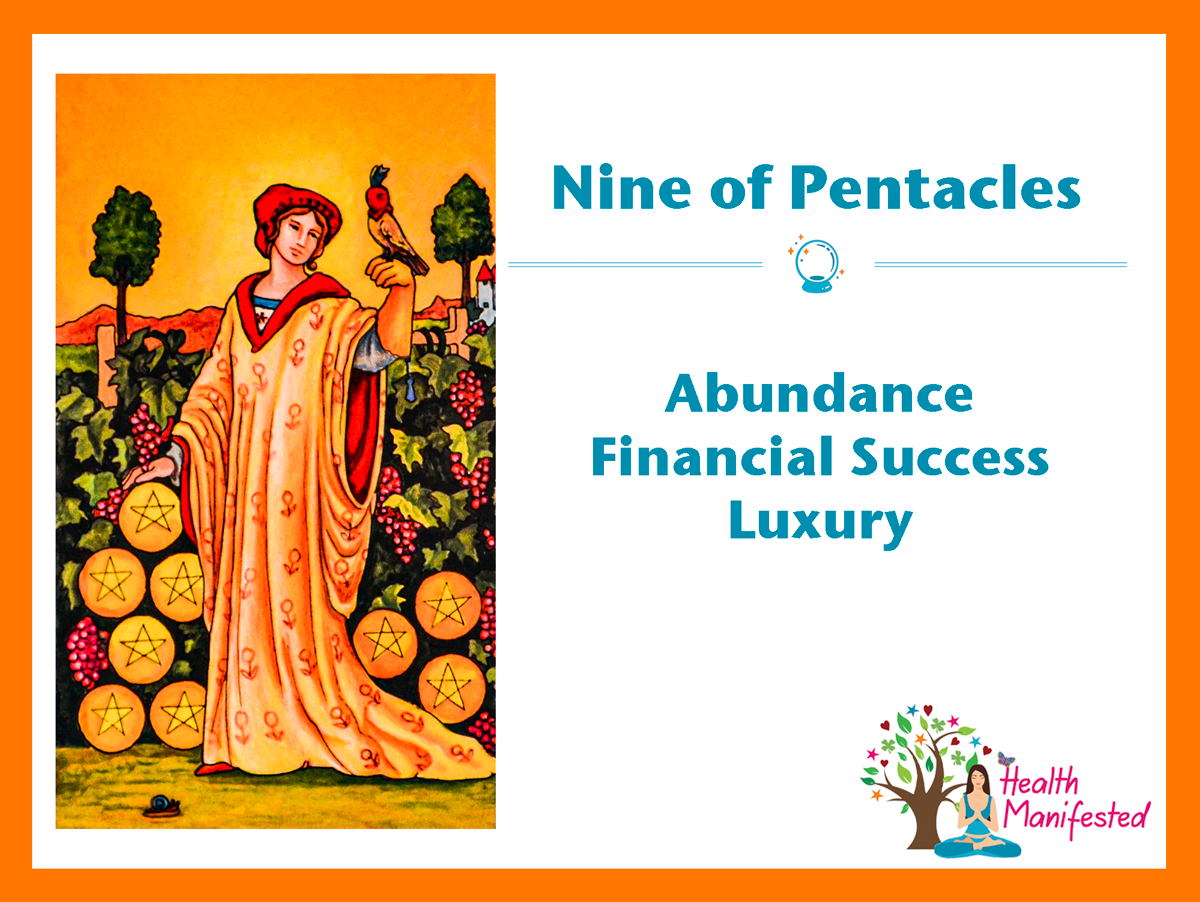 In the Nine of Pentacles, you see a lady standing in a garden in a very large gown with a bird perched on her hand.  The gown has the symbol of Venus on it, which represents what someone values.  There is a snail that can represent being at home anywhere or going at your own pace.  There are nine pentacles hidden within in the grapes.  The six pentacles on the left side can be representative of the Six of Pentacles, which has to do with giving and receiving.  The three pentacles on the right can represent the Three of Pentacles which has to do with developing skills and talents.  The grapes can represent success, enjoying the fruits of labor and can be representative of the Ten of Pentacles. where you see the man wearing a robe with grapes on it.
Nine of Pentacles Upright
Abundant
Self Sufficient
Seeing your worth
Mastery
Success
Prosperity
Fortune
Security
Enjoying nature
Nine of Pentacles Reversed
Poor choices
Loss
Repairs
Wasteful
Foolish decisions
Overworking
Questions to ask when pulling the Nine of Pentacles:
Are you hiding your talents?
Can you see what treasures you have?
Do you know you are priceless?
Can you see the beauty around you?
Are you feeling jealous?
Can you create a routine and rules that you can enjoy?
How can you be your best self?
The Tarot card meanings are based on the Rider Waite tarot deck.
If you would like to learn more make sure to check out the Tarot books and resources and learn more about the Tarot Card meanings.
If you are a Tarot professional, medium, psychic or have another profession of similar nature and you would like to get more exposure, we are now offering personalized profiles on our professional's page.  If you would like to learn more let's team up.