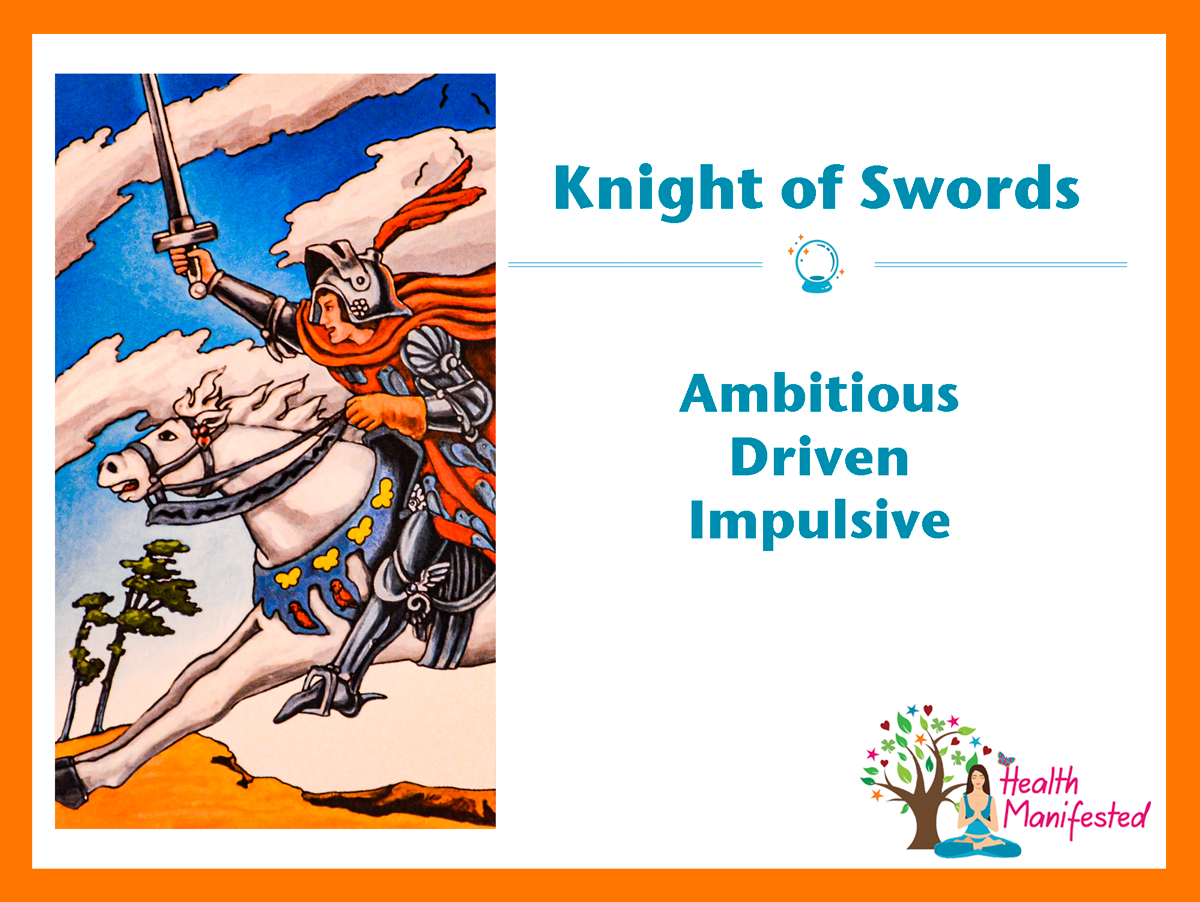 In the Knight of Swords tarot card, you see a Knight riding a horse and appearing to be in a hurry.  The trees are swaying to show it is windy and the clouds look like they are moving quickly.  The knight holds his sword high and moves forward with strong ambition.  The horse is white, which can symbolize pure intentions, and is moving forward with all his might.  The horse has a ring of yellow butterflies around him, which can represent successful change.  There are also red birds, which can represent aiming high and ambitious.  The knight is wearing red which can show how ambitious he is.
Number: 12
Ruling Planet: Mars
Sign: Aquarius
Answer: No
Knight of Swords Upright
Ambitious
Driven
Impulsive
Rushing
Quick change
New experiences
Fearless
Assertive
Decisive
Strength
Focused
Knight of Swords Reversed
Trouble
Restless
Upset
Pushy
Forceful
Unhelpful
Impatience
Quick decisions
Lack of Focus
Questions to ask when pulling the Knight of Swords tarot card:
Are you determined to reach your goals?
Are you in a hurry?
Can you see your potential?
Are your thoughts getting in the way?
Are you making decisions before you are ready?
Do you fear the worst outcome?
Are you focused on your goal?
The Tarot card meanings are based on the Rider Waite tarot deck.
If you would like to learn more make sure to check out the Tarot books and resources and learn more about the Tarot Card meanings.
Would you like to get a tarot card reading?  If so, reach out to one of our Tarot card professionals.  If you are a Tarot professional, medium, psychic or have another profession of similar nature and would like to get more exposure, we offer personalized profiles on our professional's page and page for your expertise. We also offer a service that helps you get more exposure through writing articles and or videos.  You can learn more on our let's team up page.