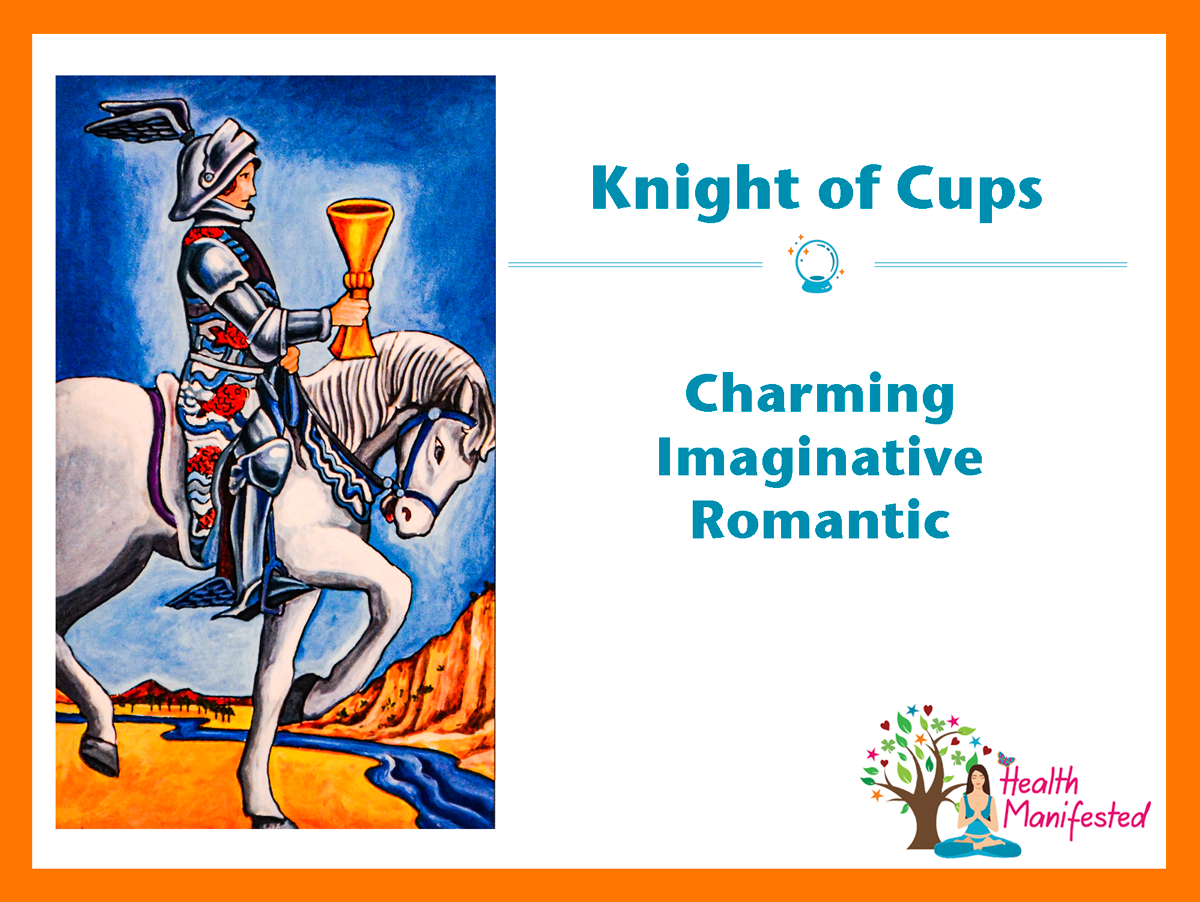 In the Knight of Cups tarot card, you see a Knight with a very large cup.  The cup can be filled with all sorts of emotions.  It is open to interpretation.  The knight is fully armored and this can represent he is protected.  There is a river flowing which can represent flowing emotions or can represent crossing over the emotions.  The mountain can represent obstacles.  The Knight is covered in fish, which can represent wealth and abundance.  The horse is looking down at the river as if to play with the water or cross the river.
Number: 12
Ruling Planet: Moon
Sign: Scorpio
Answer: Yes
Knight of Cups Upright
New experiences
An offering
Imagination
Kindness
Intuition
Follow your dreams
Overly optimistic
Moody
Going with the flow
Romantic
Charming
Knight of Cups Reversed
An illusion
Escaping
Fantasizing
 Unrealistic
Immature
Tricky
Insincere
Jealous
Questions to ask when pulling the Knight of Cups tarot card:
Are you focusing on what is in front of you?
Are you afraid to move forward?
What are your beliefs?
Are you filling your emotional needs?
Are you going where you feel guided?
Can you move forward with what you have?
Are you too much into your emotions?
Are you paying attention to your emotions?
The Tarot card meanings are based on the Rider Waite tarot deck.
If you would like to learn more make sure to check out the Tarot books and resources and learn more about the Tarot Card meanings.
Would you like to get a tarot card reading?  If so, reach out to one of our Tarot card professionals.  If you are a Tarot professional, medium, psychic or have another profession of similar nature and would like to get more exposure, we offer personalized profiles on our professional's page and page for your expertise. We also offer a service that helps you get more exposure through writing articles and or videos.  You can learn more on our let's team up page.