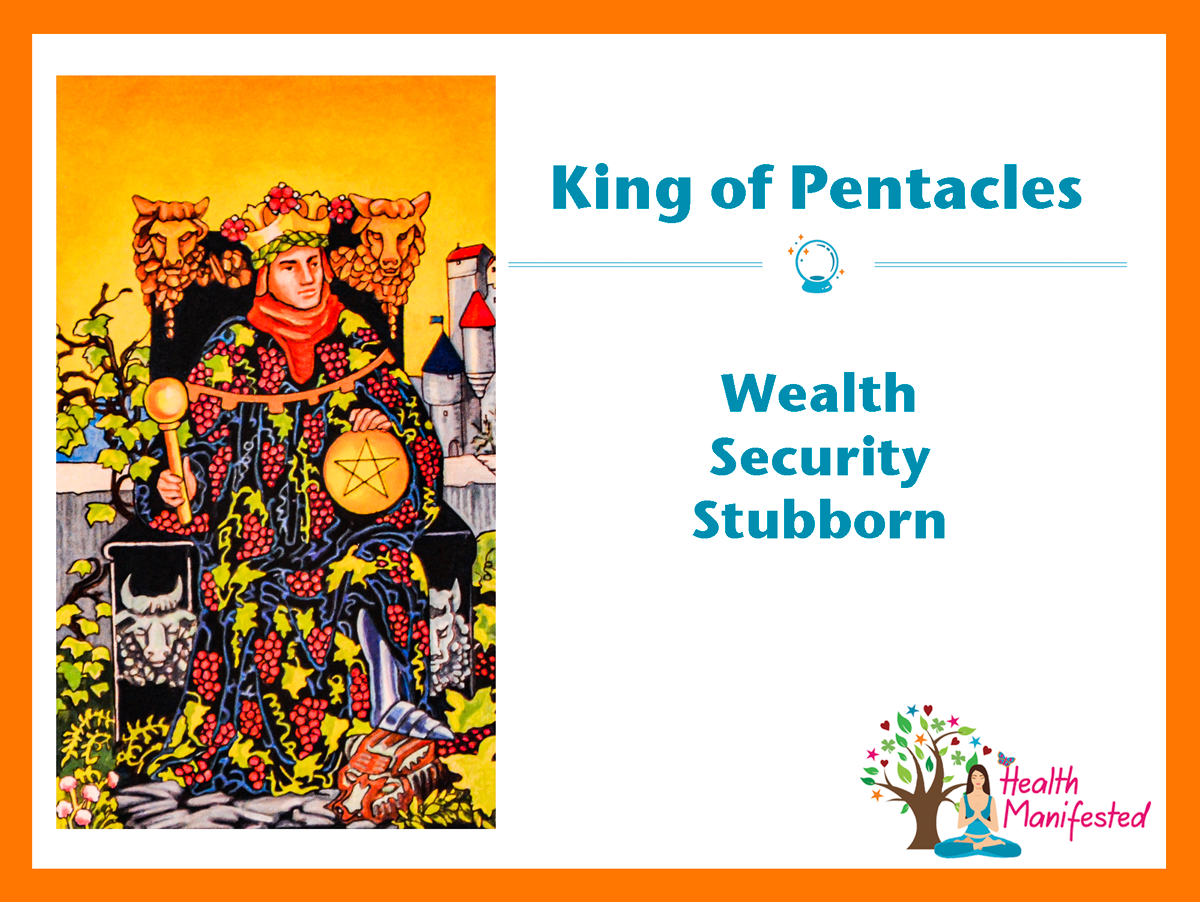 In the King of Pentacles tarot card, you see a king on his throne.  The robe is covered in grapes representing wealth, abundance, and hard work.  The castle in the background represents security and safety.  The Bulls on his throne can represent the Taurus season, comfort, earthly belongings, and stubbornness. The pentacles he holds as well as the grapes, vines, flowers, castle, and throne represent wealth and success.
Number: 14
Ruling Planet: Jupiter
Sign: Taurus
Answer: Yes
King of Pentacles Upright
Security
Progress
Practical
Satisfied
Content
Wealth
Success
Hard work
Achievement
Leadership
King of Pentacles Reversed
Materialistic
Superficial
Greed
Financial worries
Overworking
Disorganized
Stubborn
Questions to ask when pulling the King of Pentacles tarot card:
What do you have?
Do you believe you are on your way to success?
Are your finances in order?
Do you feel financially secure?
Do you let your finances affect your self-esteem?
Are you satisfied with your success?
Are you being greedy?
The Tarot card meanings are based on the Rider Waite tarot deck.
If you would like to learn more make sure to check out the Tarot books and resources and learn more about the Tarot Card meanings.
Would you like to get a tarot card reading?  If so, reach out to one of our Tarot card professionals.  If you are a Tarot professional, medium, psychic or have another profession of similar nature and would like to get more exposure, we offer personalized profiles on our professional's page and page for your expertise. We also offer a service that helps you get more exposure through writing articles and or videos.  You can learn more on our let's team up page.