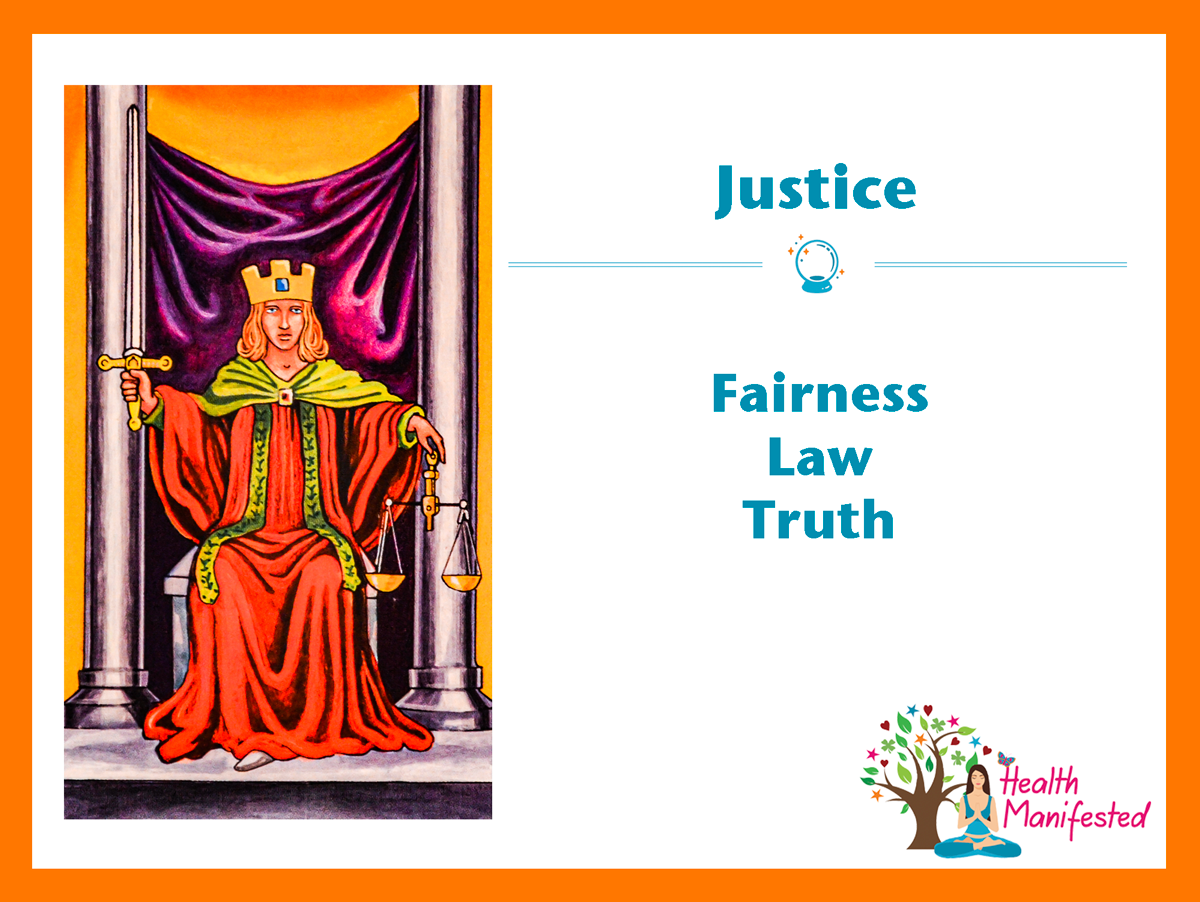 In the Justice tarot card, you see a woman sitting between to pillars with a purple purple curtain behind him.  The curtain can represent the unseen or compassion.  He man is holding a scale.  This can be seen as Libra energy, which is also connected with being fair and balanced and the law.  The scale has to do with weighing out your options.  It can also represent choices needing to be made.  The shoe sticking out of the robe can represent the actions we take and how they have consequences.  The jewel in the crown represents intuition and the third eye.
Justice Upright
Harmony
Accountability
Choices
Creating a vision
Decisions
Agreements
Apology
Gray area
Truth
The Law
Fairness
Justice
Justice Reversed
Being judged
Unfair
Loss
Unapologetic
Prejudice
Imbalanced
Getting away with something
Creating your own rules
Manipulation
Legal issues
Dishonest
Questions to ask when pulling the Justice tarot card:
What are your needs and others needs?
Are you being fair in your relationships?
Are you being treated fairly in your relationships?
Are you being honest with yourself and others?
Do you see the consequences for your actions?
Do you believe in fairness?
Are you trying to manipulate a situation?
Are you being accountable for your actions?
Are there some choices you need to make?
The Tarot card meanings are based on the Rider Waite tarot deck.
If you would like to learn more make sure to check out the Tarot books and resources and learn more about the Tarot Card meanings.
If you are a Tarot professional, medium, psychic or have another profession of similar nature and you would like to get more exposure, we are now offering personalized profiles on our professional's page.  If you would like to learn more let's team up.