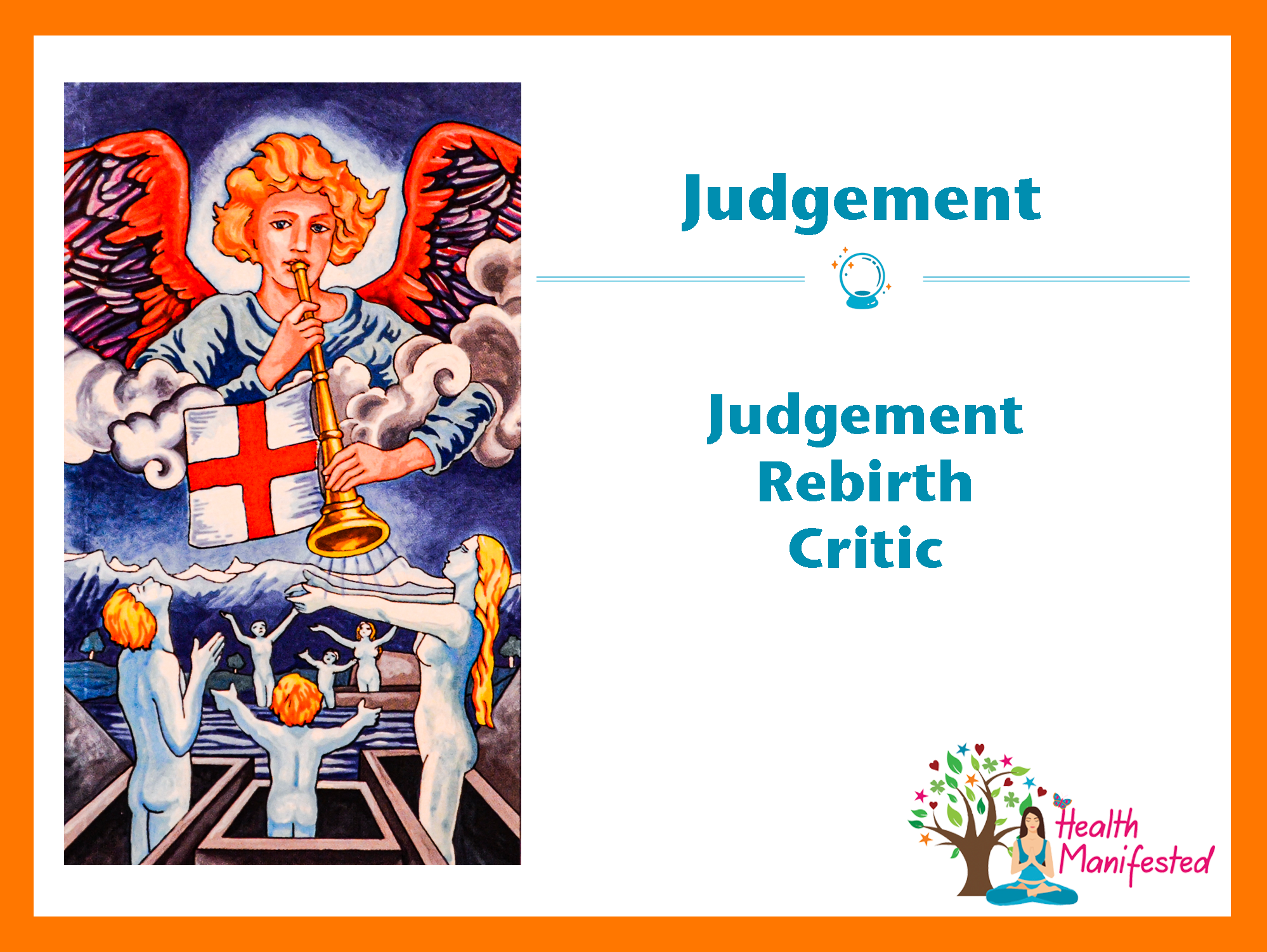 The Judgement tarot card shows you see naked people rising from their graves and looking at the angel in the sky.  This represents the day of judgment talked about in the Bible.  The coffins can be a symbol of being repressed.
The angel can represent any angel or God.  The 6 people and the angel can represent different aspects of yourself.  The angel also represents a change or transformation.  The trumpet can represent the voice of God, your prayers being answered, a message or being brought back to life.  The flag represents unity and oneness.  The mountains in the background can represent obstacles and fears from the past.
Number: 20
Ruling Planet: Pluto
Answer: Yes
Judgement Upright
Reconcile
New decisions
New Path
Ending of a phase
Growing up
Rejuvenate
Renewal
Restructuring
Self-improvement
Transformation
Fresh start
Judgement Reversed
Unexpected ending
Unhappy ending
Delay
Fear of change
Avoiding change
Regret
Not letting go
Fear of dying
Fear of endings
Disappointment
Critic
Questions when pulling the Judgement tarot card:
Are there any grudges you need to let go of?
Is there anything from the past that you need are ready to let go of?
Are you ready to forgive?
Is there something you want to confess?
Do you feel like you have been unfairly judged?
Is someone blaming you for something you didn't do?
The Tarot card meanings are based on the Rider Waite tarot deck.
If you would like to learn more make sure to check out the Tarot books and resources and learn more about the Tarot Card meanings.
Would you like to get a tarot card reading?  If so, reach out to one of our Tarot card professionals.  If you are a Tarot professional, medium, psychic, or have another profession and would like to get more exposure, let's team up.