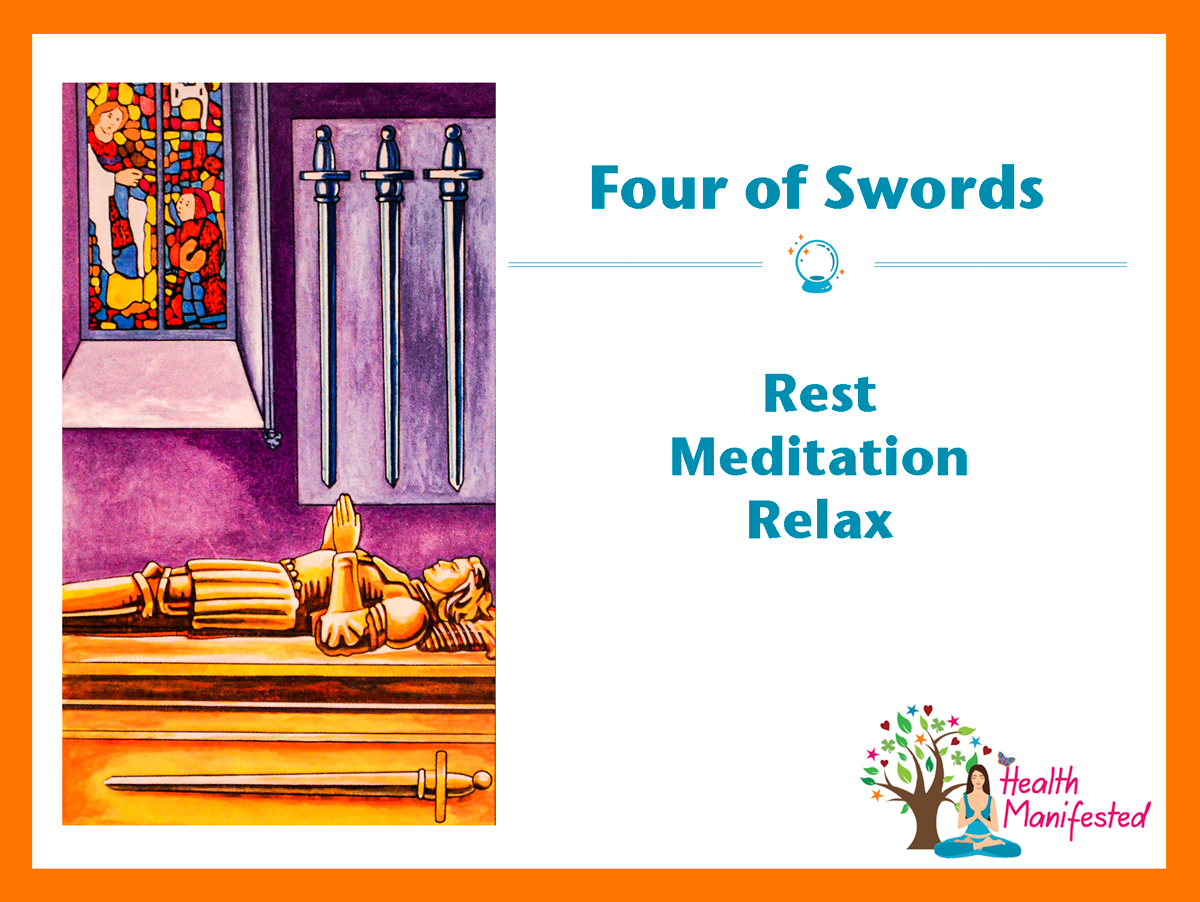 In the Four of Swords tarot card you can see a knight laying down  on what appears to be a coffin. He has his hands positioned in the prayer position. This can be representative of him being exhausted or meditating and in a peaceful state.  There is a stained glass window above him with a cross.  This can be representative of his hopes and dreams, or seeing the bigger picture out of all the pieces and experiences of life.  The 3 swords on the wall can represent what he is fighting in his mind or what he can use to fight.  The 1 sword underneath him can represent what he is focused on.
Four of Swords Upright
Rest
Recharge
Meditate
Relax
Renew
Retreat
Slow down
A break
Regroup
Withdrawl
Pray
Contemplate
Thinking
Getting away
Waiting
Patience
Four of Swords Reversed
Taking action
Feeling recharged
Well rested
Keep going
Burned out
Feeling stuck
Overthinking
Questions to ask when pulling the Four of Swords
Do you see the bigger picture?
Do you see how all the experiences of life fit together to make a beautiful picture?
What are you focusing on?
Are you fighting battles in your mind?
Can you find peace?
Are you able to meditate?
Are you in a relaxed state?
Do you need to be patient?
Are you focusing on what is most important to you?
Do you allow yourself time to rest and recharge?
Are you too much in your head?
Are you trying to hard to make something happen?
The Tarot card meanings are based on the Rider Waite tarot deck.
If you would like to learn more make sure to check out the Tarot books and resources and learn more about the Tarot Card meanings.
If you are a Tarot professional, medium, psychic or have another profession of similar nature and you would like to get more exposure, we are now offering personalized profiles on our professional's page.  If you would like to learn more let's team up.