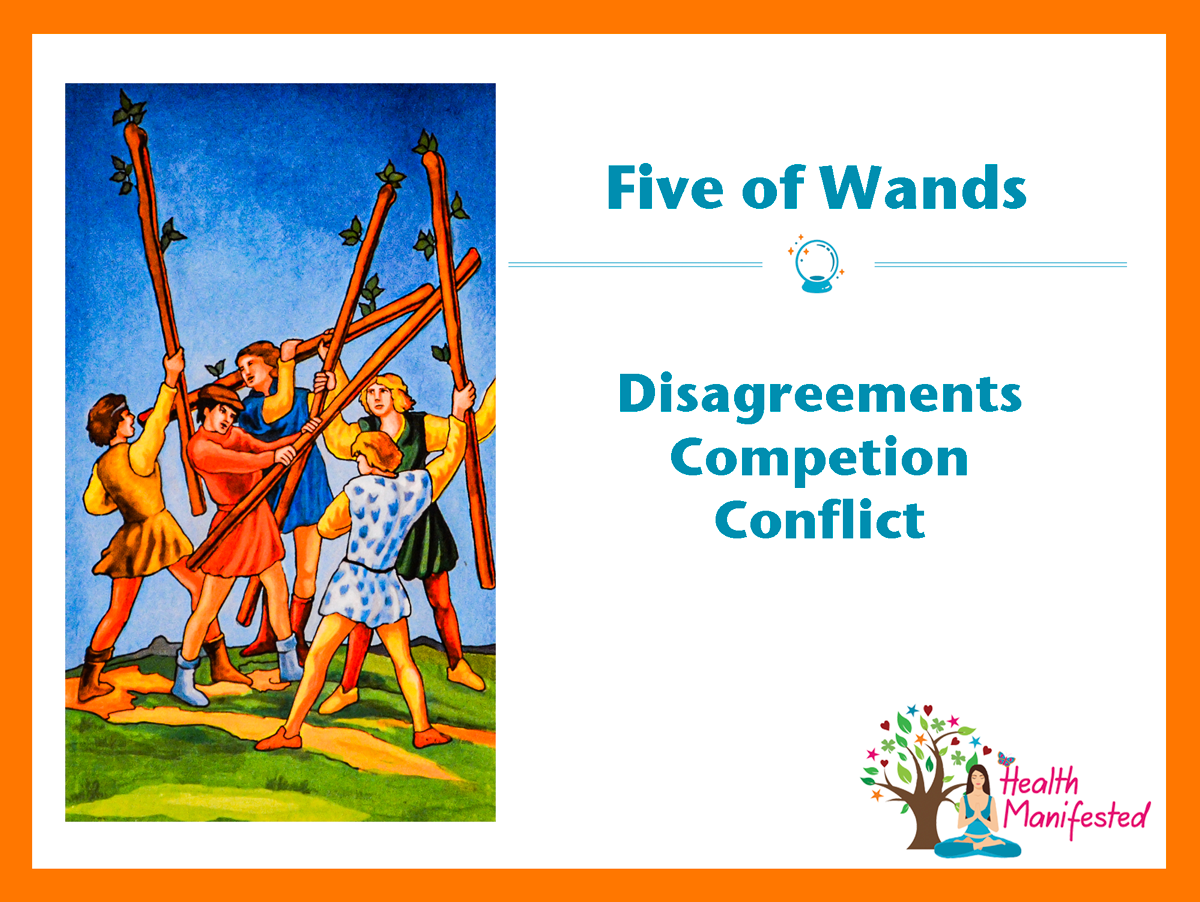 In the Five of Wands tarot card you can see five men that seem to be fighting each other with their wands. If you look closely you can see the wands aren't actually hitting anyone, but it does appear to represent to be a conflict, competition or playing.  Each person is wearing a different outfit to show their differences.  The grown is mostly green, which can represent growth, but other areas of the grown are dirt and can represent something being unfinished or unable to grow.
Five of Wands Upright
Challenge
Proving yourself
Bonding
Physical strength
Obstacles
Playing games
Success through effort
Quarrels
Fighting
Setting priorities
Territorial
Delays
Disagreements
Competition
Stress
Five of Wands Reversed
Relief from conflict
Conflict resolution
Health competition
Opportunities
Internal conflict
Unhealthy competition
Overwhelm
Avoiding conflict
Passive-aggressive
Letting go of conflict
Questions to ask when pulling the Five of Wands tarot card:
Are you giving yourself room to play?
Is there something you are forcing in your life?
Are there too many cooks in the kitchen?
Are you trying to prove your self-worth?
Do you feel overwhelmed?
Are you holding on to conflict or letting it go?
Are you dealing with stress or conflict?
The Tarot card meanings are based on the Rider Waite tarot deck.
If you would like to learn more make sure to check out the Tarot books and resources and learn more about the Tarot Card meanings.
If you are a Tarot professional, medium, psychic or have another profession of similar nature and you would like to get more exposure, we are now offering personalized profiles on our professional's page.  If you would like to learn more let's team up.