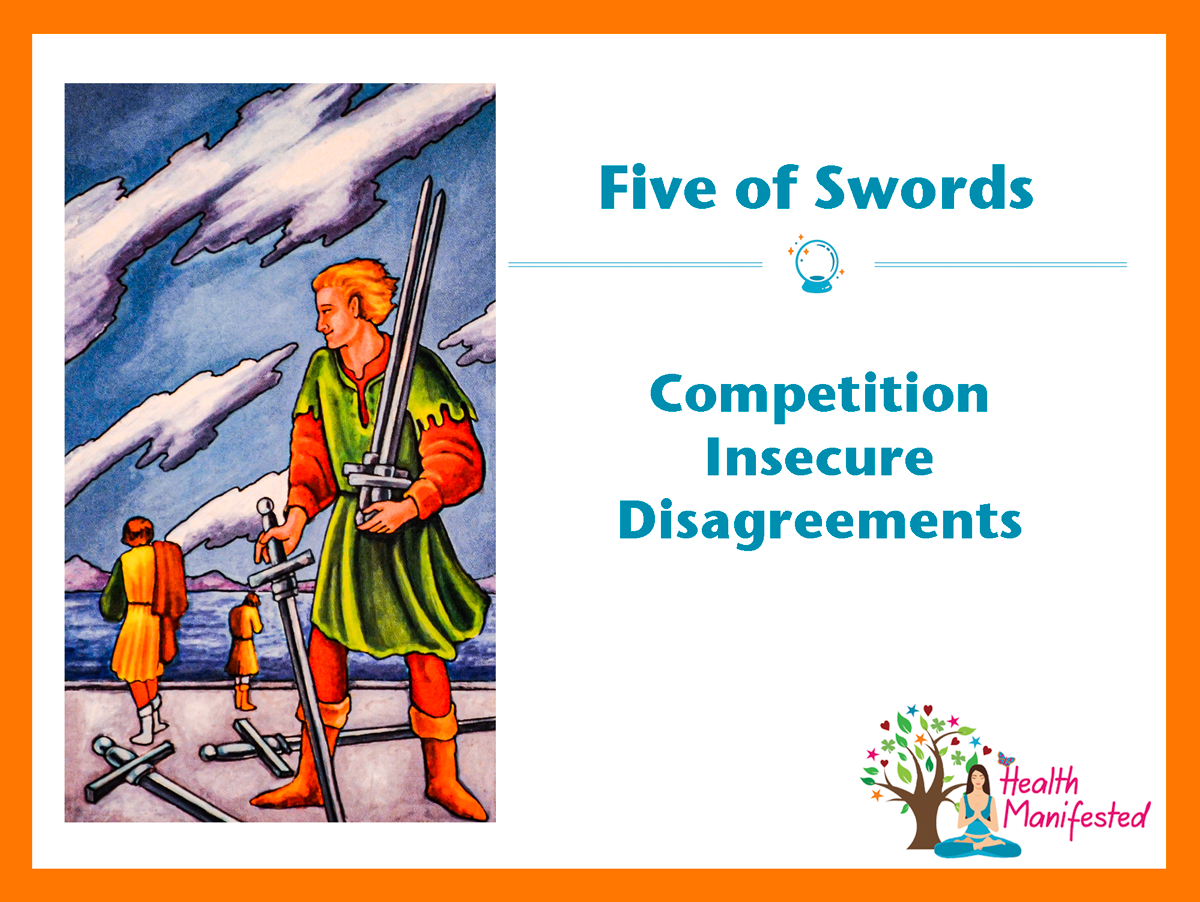 In the Five of Swords tarot card, you can see a man with a grin on his face holding 3 swords with 2 swords on the ground.   Two men are walking away as if they lost a fight.  The gray clouds can be seen as conflict disappearing or conflict in the air.  The Swords can represent the mind, so the battle may also be in your mind.  The man is looking back, which can represent when seeing things from the past they can look different from where you are now.  Hindsight is 20/20.  The man having all the swords can also represent having everything you need to be successful.
Number: 5
Ruling Planet: Venus
Sign: Aquarius
Answer: No
Five of Swords Upright
Negative thoughts
Competition
Winning at a cost
Betrayal
Insecure
Manipulation
Selfish
Conflict
Arguments
Picking up the pieces
Five of Swords Reversed
Defeat
Victim
Resentment
Unfair
Dishonest
Failure
Reconcile
Questions to ask when pulling the Five of Swords tarot card:
Can you see how far you have come?
Can you see you have everything to need to be successful?
Are you ready to let go of any doubts and worries from the past?
Are you ready to let go of negative emotions tied to the past?
Do you feel successful?
What can you learn from your successes and failures?
What emotions do you need to work through?
Are you letting something get you down?
Are you trying to force things?
The Tarot card meanings are based on the Rider Waite tarot deck.
If you would like to learn more make sure to check out the Tarot books and resources and learn more about the Tarot Card meanings.
Would you like to get a tarot card reading?  If so, reach out to one of our Tarot card professionals.  If you are a Tarot professional, medium, psychic or have another profession of similar nature and would like to get more exposure, we offer personalized profiles on our professional's page and page for your expertise. We also offer a service that helps you get more exposure through writing articles and or videos.  You can learn more on our let's team up page.