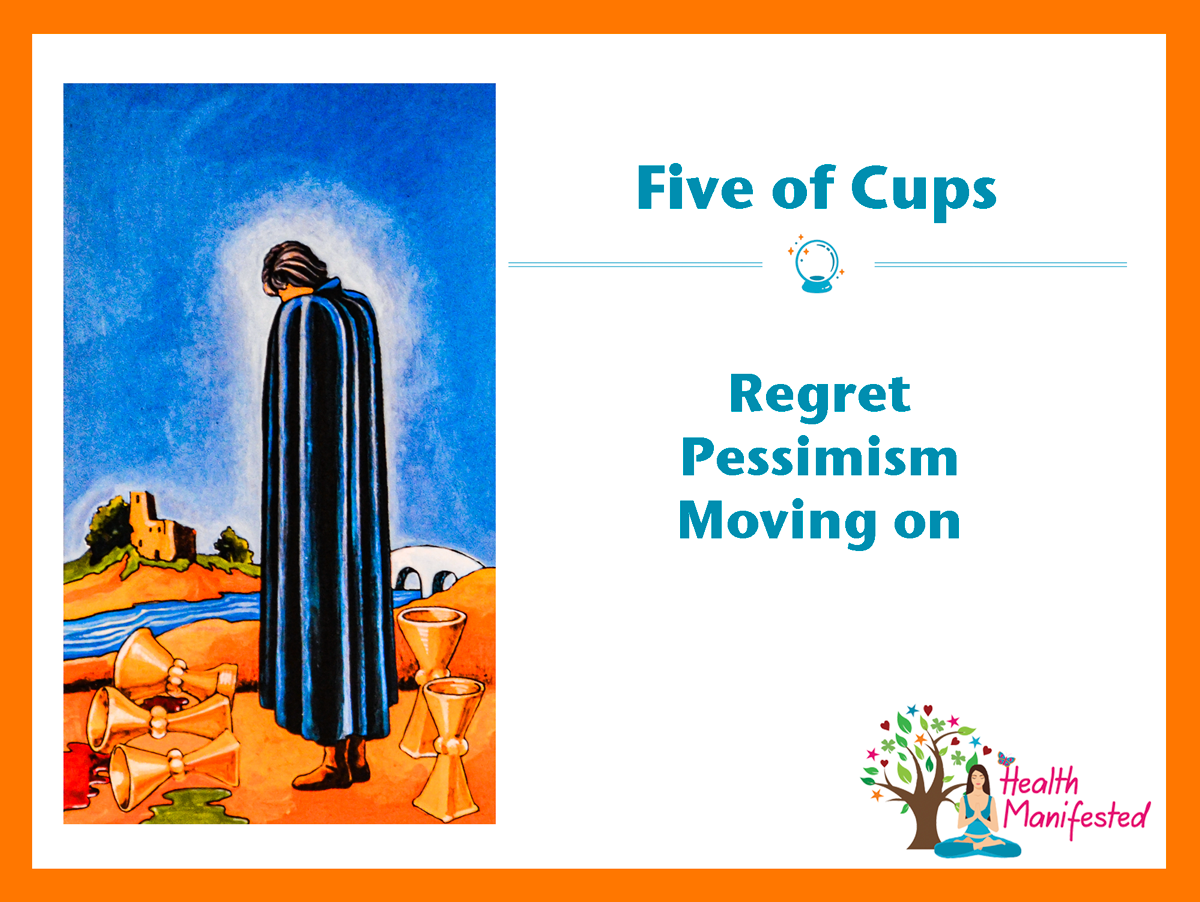 In the Five of Cups tarot card, you see a man in a long black coat with his head down.  The black represents dark feelings.  He has three cups that have fallen over on the ground. These cups represent what it is time to let go of.  Behind him are two cups upright.  The cups represent other possibilities.
The bride in the distance represents a way forward and faith in a better future.  The castle off in the distance represents a safe place once you get across the bridge.
Number: 5
Suit: Cups
Ruling Planet: Mars
Sign: Scorpio
Answer: No
Five of Cups Upright
Sadness
Pessimism
A loss
New phase
Waiting for resolutions
Transformation
Past Hurts
Sorrow
Regret
Ending relationships
Failure
Blame
Five of Cups Reversed
Ending pain
Hope
Good news
New relationships
Opportunities
Forgiving
Moving forward
Question to ask when pulling the Five of Cups tarot card:
Are you seeing the good in what you have?
What are you ready to let go of?
What do you want to build?
Can you see what you are gaining instead of what you are losing?
The Tarot card meanings are based on the Rider Waite tarot deck.
If you would like to learn more make sure to check out the Tarot books and resources and learn more about the Tarot Card meanings.
Would you like to get a tarot card reading?  If so, reach out to one of our Tarot card professionals.  If you are a Tarot professional, medium, psychic or have another profession of similar nature and would like to get more exposure, we offer personalized profiles on our professional's page and page for your expertise. We also offer a service that helps you get more exposure through writing articles and or videos.  You can learn more on our let's team up page.