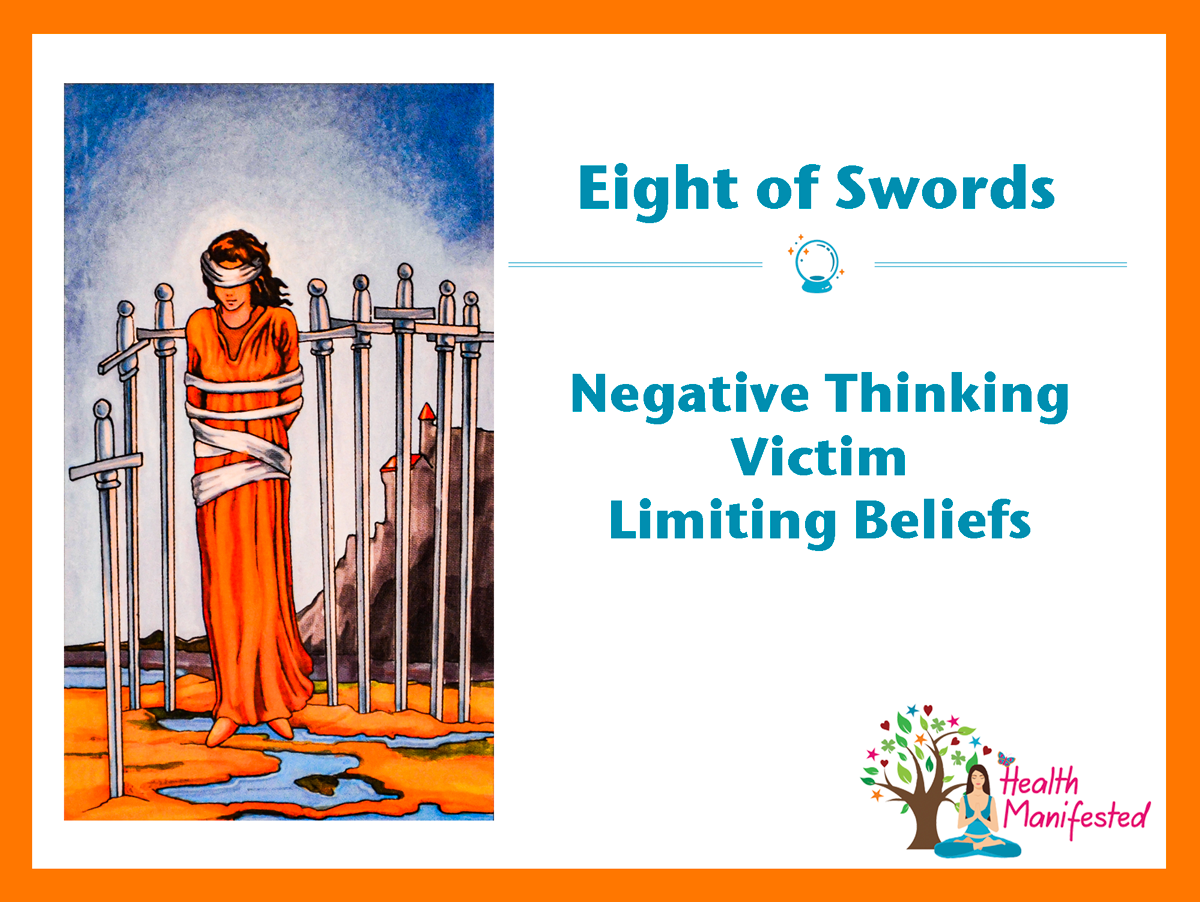 In the Eight of Swords tarot card, you see a lady blindfolding surrounded by swords.  The blindfold can represent what she doesn't want to look at.  She appears to be unable to see what is going on.  She is tied up by what appears to be rope, so she can move her arms.  There is a large mountain in the background with a castle on top of it.  It can be representative of working her way out of what binds her and hard work get her to the top of the mountain to a place that feels safe or it can represent feeling trapped, alone, and stuck.  The water can represent the emotions that are holding her stuck.  The swords can represent feeling trapped, but it can also represent letting go of the thoughts and what is stopping you from reaching the success you desire.  You can see her feet are free and she can walk away if she wants to.
Number: 8
Ruling Planet: Jupiter
Sign: Gemini
Answer: No
Eight of Swords Upright
Negative thinking
Feeling trapped
Victim
Limiting beliefs
Disempowered
Stuck
Isolated
Limiting yourself
Lack of confidence
Worry
Unhappy
Confused
Critical
Eight of Swords Reversed
Unstuck
Overcoming obstacles
Freedom
Releasing restrictions
Moving
Hopeful
Productive
Renewed beliefs
Confident
New perspective
Questions to ask when pulling the Eight of Swords tarot card:
Are you currently having a limited mindset?
Do you feel like you can walk away what makes you feel trapped?
Are you looking at the bigger picture?
Is there something in your life you are refusing to look at?
Is there something you can do to help put yourself in a more comfortable situation?
Have you looked are your beliefs?
Are you being your own worst enemy?
Do you have a limited mindset?
Are you ready to let go of what keeps you stuck?
Are you trapping yourself in a situation you no longer want to be in?
The Tarot card meanings are based on the Rider Waite tarot deck.
If you would like to learn more make sure to check out the Tarot books and resources and learn more about the Tarot Card meanings.
Would you like to get a tarot card reading?  If so, reach out to one of our Tarot card professionals.  If you are a Tarot professional, medium, psychic or have another profession of similar nature and would like to get more exposure, we offer personalized profiles on our professional's page and page for your expertise. We also offer a service that helps you get more exposure through writing articles and or videos.  You can learn more on our let's team up page.