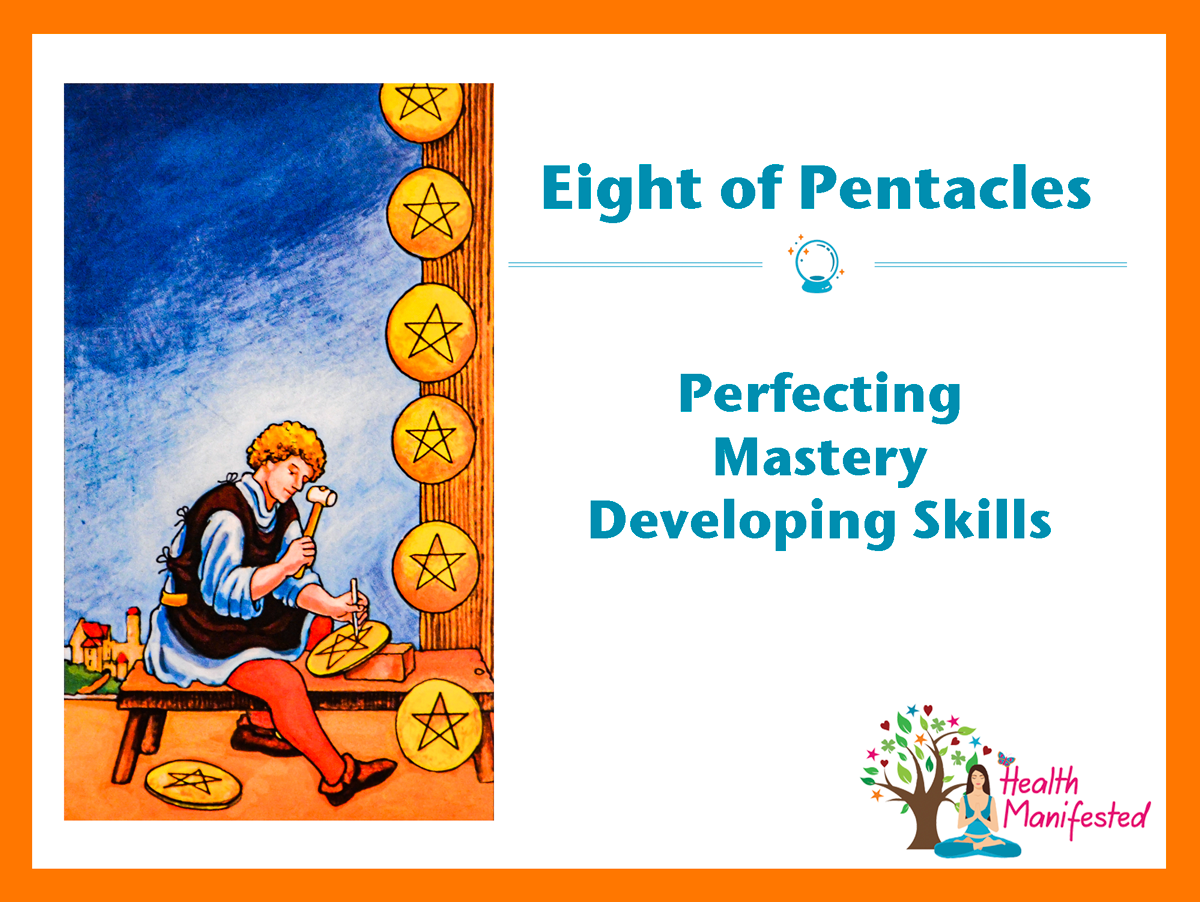 In the Eight of Pentacles tarot card, you see diligently working on carving the star on a pentacle.  This can be representative of him working on himself.  You see six other pentacles that he has worked on, one that he is currently working on, and one more to go, showing that mastery comes with practice and experience.  You can see a town off in the distance, representing that he is taking time away from everyone to master his skill.  The hammer he holds implies the impression he makes on the world.
Number: 8
Ruling Planet: Sun
Sign: Virgo
Answer: Yes
Eight of Pentacles Upright
Apprentice
Training
Mastery
Perfecting
Studying
Self-improvement
Dedication
Money management
Self-employed
Concentration
Eight of Pentacles Reversed
Impatient
Pretending
Misusing skills
Unemployed
Dishonest
False sense of security
Tedious work
Questions to ask when pulling the Eight of Pentacles tarot card:
What impression are you making on the world?
Do you need to step away from everything to giver yourself time to master a skill?
Are you allowing yourself time to master your skills?
Do you need to work on yourself?
What is important to you?
Do you see yourself as the boss of your own life?
The Tarot card meanings are based on the Rider Waite tarot deck.
If you would like to learn more make sure to check out the Tarot books and resources and learn more about the Tarot Card meanings.
Would you like to get a tarot card reading?  If so, reach out to one of our Tarot card professionals.  If you are a Tarot professional, medium, psychic or have another profession of similar nature and would like to get more exposure, we offer personalized profiles on our professional's page and page for your expertise. We also offer a service that helps you get more exposure through writing articles and or videos.  You can learn more on our let's team up page.