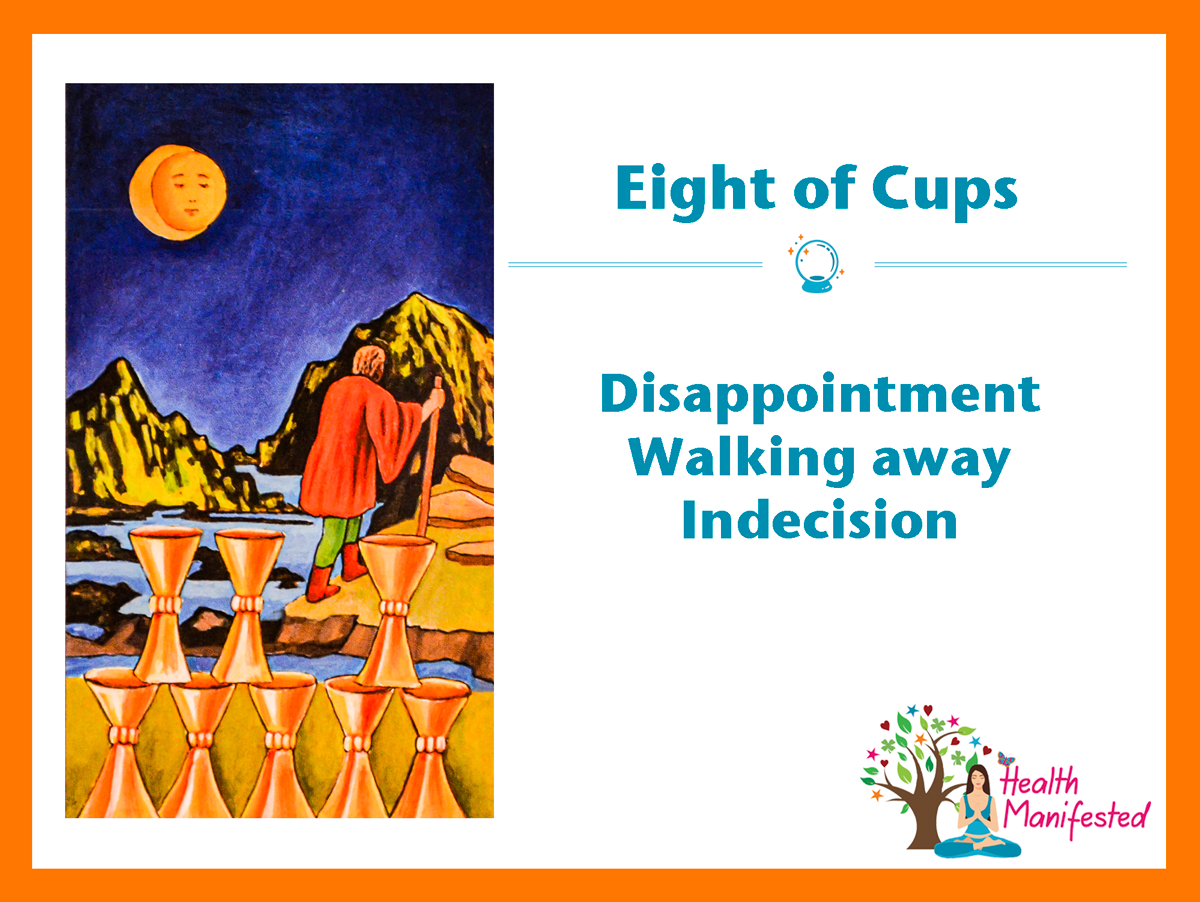 In the Eight of Cups tarot card, you see a man walking away.  This is a card that represents staying or walking away.  It can represent walking away from a lot of old chapters.  It can represent figuring out where you are heading and what you want your life to be.  You could be leaving something behind to create something that is more in alignment with your heart.  It can feel scary to leave something behind.  This is a time to figure out what you are moving toward and where you want to go.
Trust in the timing of everything.  Look to astrology (Sun/Moon) to see what cycle we are in.  Trust in the journey.  The cups are displayed in a way that makes it appear as if one is missing.  This is designed to represent something that is missing or a feeling of disappointment.  In tarot water represents emotions and mountains are often seen as something we need to climb to reach the top.  The picture shows the journey may not be easy, but remember life is the journey, take it one step at a time and it can lead you to happiness.  This is the goodbye card.  It can be saying goodbye and moving in a whole new direction or path.
Number: 8
Ruling Planet: Saturn
Sign: Pisces
Answer: No
Eight of Cups Upright
Walking away
Uncertainty
Turning point
Leaving the past behind
Searching for something new
Change
Eight of Cups reversed
Feeling unsure of what to do
Not sure how to move forward
Doubt and Indecision
Nothing is perfect
Disappointment
Questions when pulling the Eight of Cups tarot card:
Should I stay or should I go?
Is there something that will get you to a better place?  If so go for it.
Where do you want to go?
What do you want to leave behind and say goodbye to?
Which direction can you go to bring more joy into your life?
The Tarot card meanings are based on the Rider Waite tarot deck.
If you would like to learn more make sure to check out the Tarot books and resources and learn more about the Tarot Card meanings.
Would you like to get a tarot card reading?  If so, reach out to one of our Tarot card professionals.  If you are a Tarot professional, medium, psychic or have another profession of similar nature and would like to get more exposure, we offer personalized profiles on our professional's page and page for your expertise. We also offer a service that helps you get more exposure through writing articles and or videos.  You can learn more on our let's team up page.