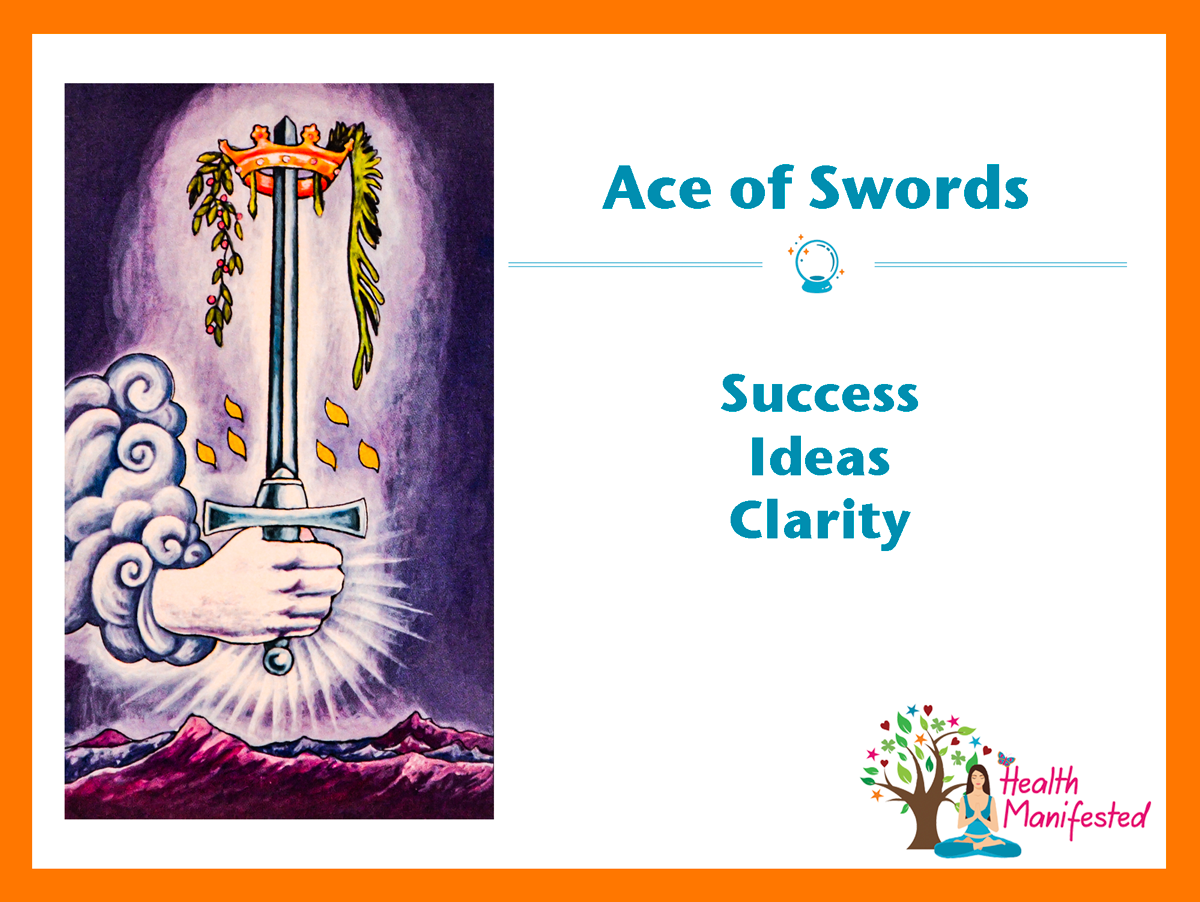 In the Ace of Swords tarot card, like in other Ace cards, you see a hand coming out of a cloud.  In this card you see the hand holding a Sword. The Swords represent the mind.  With this sword, we see a double-edged sword with a crown on top.  The crown can be representative of the experiences and success you have had.  The hand holding this sword is symbolic of us having own mind and be in uniquely you and let your light shine.  The 6 yellow flecks are meant to symbolize gold and is representative of the Lovers card (6).  This is the card that asks you, are you being yourself and creating your paradise?  The twigs hanging from the crown can be representative of the resources you have to take on your journey.  The mountains can be the challenges we go through on the journey through life.
Number: 1
Sign: Libra/Aquarius/Gemini
Answer: Yes
Ace of Swords Upright
Success
Strength
Intellect
New Ideas
New beginnings
New projects
Breakthroughs
Mental clarity
Thinking
Overcoming obstacles
Rationalizing
Ace of Swords reversed
Confusion
Weighing things out
Rethinking things
Obstacles
Harsh words
Bully
Victim
Delays
Unclear
Misuse of power
Unfair
Questions to ask when pulling the Ace of Swords tarot card:
Do you have thoughts and opinions you feel strongly about?
Are you being careful with your words?
Do you know how powerful your thoughts and words are?
What is most essential?
Do you have more clarity about something?
Are you creating plans?
Can you see the good in something that didn't turn out the way you had hoped?
Are you allowing yourself time to think about things before you take action?
The Tarot card meanings are based on the Rider Waite tarot deck.
If you would like to learn more make sure to check out the Tarot books and resources and learn more about the Tarot Card meanings.
Would you like to get a tarot card reading?  If so, reach out to one of our Tarot card professionals.  If you are a Tarot professional, medium, psychic or have another profession of similar nature and would like to get more exposure, we offer personalized profiles on our professional's page and page for your expertise. We also offer a service that helps you get more exposure through writing articles and or videos.  You can learn more on our let's team up page.