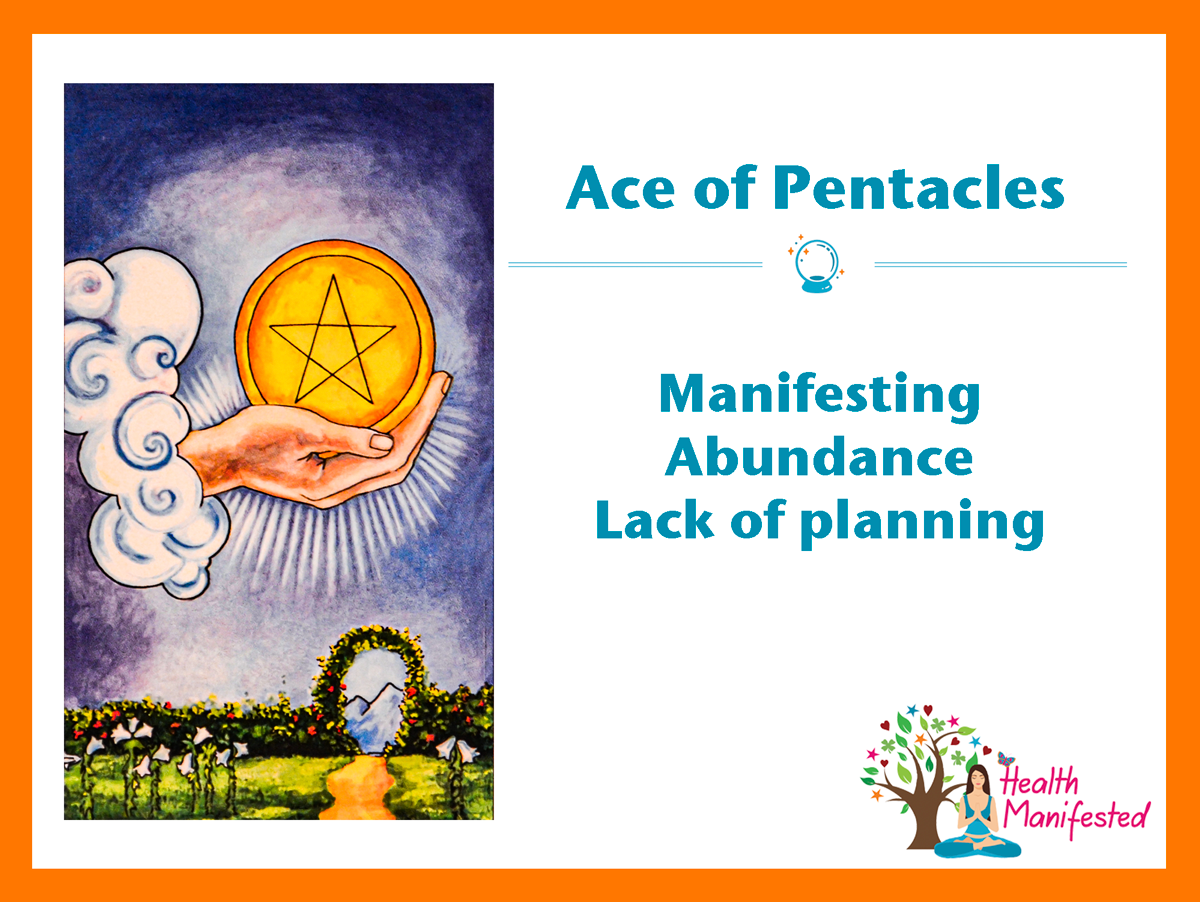 In the Ace of Pentacles tarot card you see a hand coming out of the clouds, like in the Ace of Wands, Ace of Cups and Ace of Swords tarot card.  In the hand you see a large Pentacle. It appears that in your hands you have opportunities manifesting abundance.  This often presents itself in the form of a business venture, financial wealth and manifesting your dreams.  It also implies that you are a gift to the world.  You can see a path with an arch covered in greenery and flowers.  It represents if you walk through the archway/opportunity you will find abundance on the other side.  the Ace of Pentacles tarot card is a great card for manifesting your dreams.  The mountains represent talents, which implies you can manifest great mountains of abundance with your talents.
Number: 1
Sign: Capricorn/Taurus/Virgo
Answer: Yes
Ace of Pentacles Upright
Gifts
Talents
Financial improvements
Prosperity
Achievement
Material success
Promotion
Fertility
Good things
Manifesting
Good investments
Ace of Pentacles Reversed
Lack of planning
Bad investments
Insecure
Money problems
Greed
Unhappy
Careless
Bad choices
Questions when pulling the Ace of Pentacles tarot card:
Do you see the gifts in your life?
Do you see yourself as a gift to the World?
Do you feel insecure?
What are you talents and how are you using them to create abundance in your life?
What do you want to manifest?
What are you planning?
Can you see your achievements?
The Tarot card meanings are based on the Rider Waite tarot deck.
If you would like to learn more make sure to check out the Tarot books and resources and learn more about the Tarot Card meanings.
If you are a Tarot professional, medium, psychic or have another profession of similar nature and you would like to get more exposure, we are now offering personalized profiles on our professional's page.  If you would like to learn more let's team up.