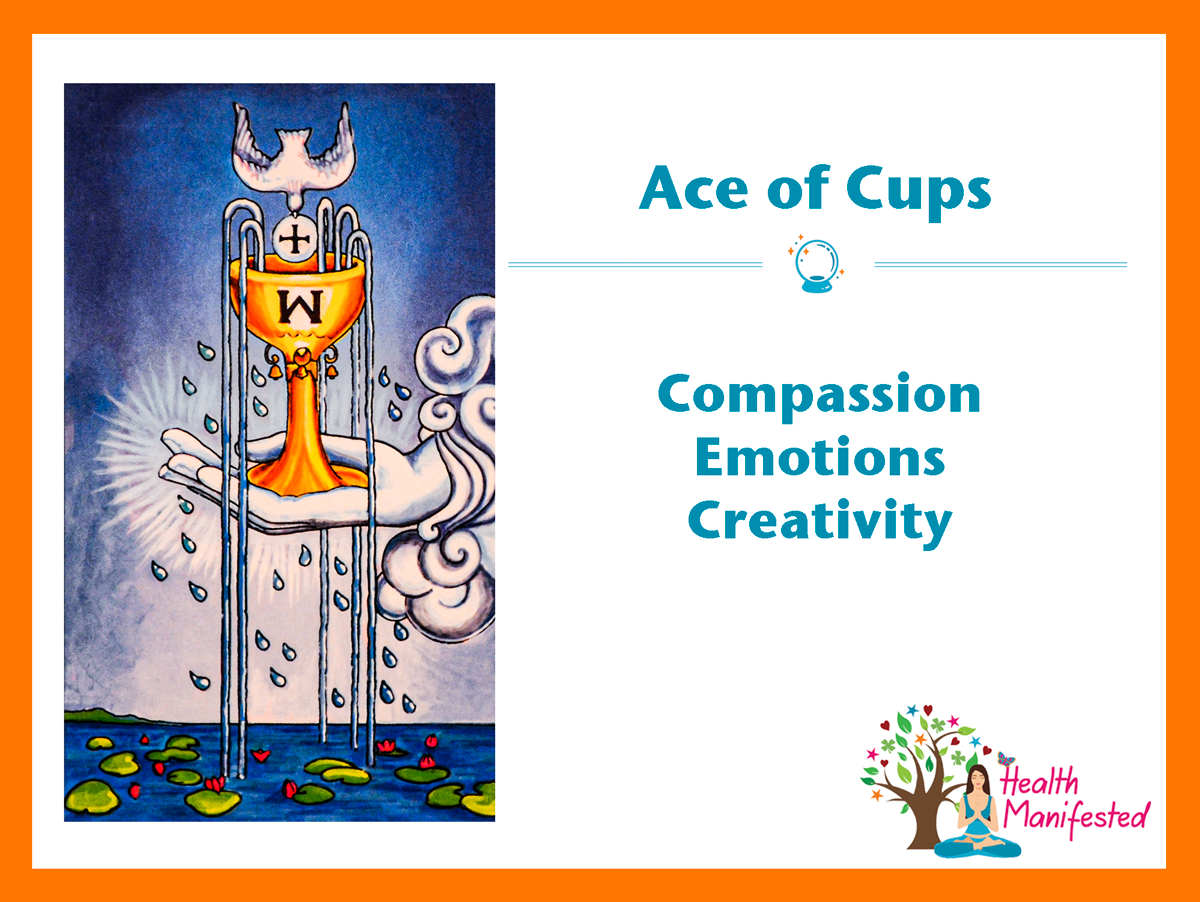 In the Ace of Cups tarot card, you see a large cup with 5 streams of water, which can be symbolic of the 5 senses.  The water can represent your dreams, wishes, intuition, and emotions.  The Cup with the streams of water in the Ace of Cups tarot card can be symbolic of what you are feeling, thinking, believing, and your desires and the different emotions they bring up.  The drops of water can be representative of different feelings and emotions.  The dove can be symbolic of love and peace.  The cross with the dove can be symbolic of "God is love."  The lily's can be symbolic of the beauty of emotion and listening to your intuition.  The hand holding the cup is representative of your emotions being your gift and a guide.
Number: 1
Sign: Cancer/Scorpio/Pisces
Answer: Yes
Ace of Cups Upright
Renewed emotions
Love
Lots of feelings
Happiness
Sensitivity
Creativity
Abundance
Compassion
Renewing love
Psychic
Intuitive
Lots of emotions
Ace of cups reversed
Feeling unloved
Rejection
Avoiding emotions
Unhappy
Relationship issues
Loss
Manipulation
Lonely
Unfulfilled
Feeling all over the place
Questions to ask when pulling the Ace of Cups:
Are you listening to your emotions?
Do you trust what you are sensing is correct for you?
Are you ready to transform your life and emotions?
Can you see your emotions clearly?
Are you allowing your emotions to flow?
Is there something you want to let go of?
Are you living out of integrity?
Do you feel loved?
Are you happy?
Are you following your intuition?
Do you feel a flood of emotions?
Are you honoring your feelings?
The Tarot card meanings are based on the Rider Waite tarot deck.
If you would like to learn more make sure to check out the Tarot books and resources and learn more about the Tarot Card meanings.
Would you like to get a tarot card reading?  If so, reach out to one of our Tarot card professionals.  If you are a Tarot professional, medium, psychic or have another profession of similar nature and would like to get more exposure, we offer personalized profiles on our professional's page and page for your expertise. We also offer a service that helps you get more exposure through writing articles and or videos.  You can learn more on our let's team up page.