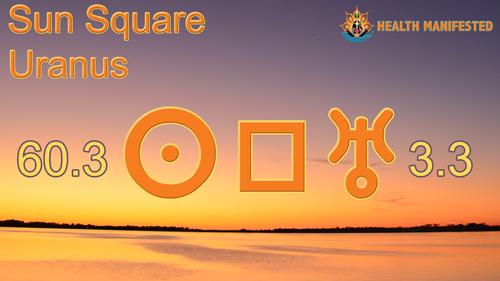 Really early morning on January 19, 2019 the Sun in Capricorn in Human Design Gate 60.3 is going to Square Uranus in Aries in Human Design Gate 3.3.  This aspect brings with it big change.  We can have increased self-esteem and have opportunities present themselves.  These changes can make us nervous.  This transit has the potential to create conflict.  Get excited change is brewing.  Use this energy to create the changes you desire.
Other Sun Square Uranus Dates
July 29, 2019
January 23, 2020
August 2, 2020
January 26, 2021
August 6, 2021
January 30, 2022
August 11, 2022
Are you interested in learning more yourself or how these transits affect you on a personal level?  Check out our products page to learn about the different types of readings we offer.
Click here to learn more about other Human Design Gates. or see other transits. Also, make sure to get your Free Human Design chart to take on your journey through the exciting world of Human Design.