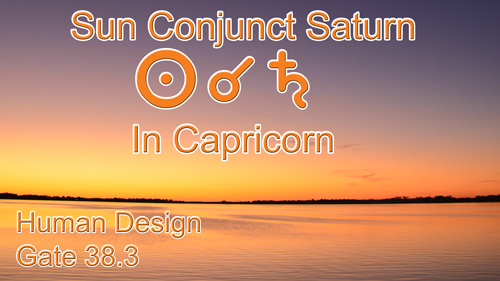 January 2, 2019 the Sun is conjunct Saturn at 11° Capricorn in Human Design gate 38.3.  This is the gate of the fighter and alliances.  This placement makes us more serious, driven and ambitious.  This conjunction helps us stay more focused, pay attention to details and follow through on our commitments.  This is a great time to reflect on the progress you hope to make in 2019.  It is a great time to make big commitments and really set your new year's resolutions for 2019.  We are ready to take responsibility for our visions and put in the work to make our dreams a reality.
Other Sun Conjunct Saturn dates
November 29, 2015
December 10, 2016
December 21, 2017
January 2, 2019
January 13, 2020
January 23, 2021
February 4, 2022
February 16, 2023
February 28, 2024
March 11, 2025
March 25, 2026
April 7, 2027
Are you interested in learning more yourself or how these transits affect you on a personal level?  Check out our products page to learn about the different types of readings we offer.
Click here to learn more about other Human Design Gates. or see other transits. Also, make sure to get your Free Human Design chart to take on your journey through the exciting world of Human Design.