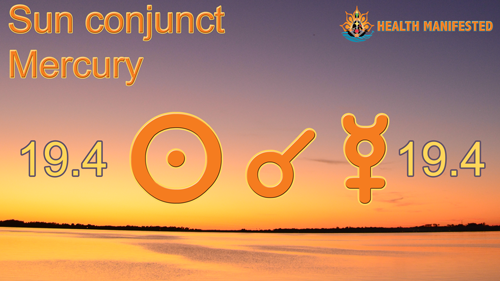 January 30, 2019 The Sun is conjunct Mercury in Aquarius in Human Design Gate 19.4.  In Human Design this is the gate of Wanting.  We may be wanting more attention and desire to be with people more during this time.  We also may be more sensitive and intuitive.  We will be quicker to think today and better at communicating.  Today we can become more clear on our life direction.  We have the potential to have a broader view on things, but can be opinionated.  This is a great time to have a meeting or negotiation.
Other Sun Conjunct Mercury Dates
March 14, 2019
May 21, 2019
July 21 2019
September 3, 2019
November 11, 2019
Are you interested in learning more yourself or how these transits affect you on a personal level?  Check out our products page to learn about the different types of readings we offer.
Click here to learn more about other Human Design Gates. or see other transits. Also, make sure to get your Free Human Design chart to take on your journey through the exciting world of Human Design.