Robert Downey Jr Progressed Human Design chart
Most everyone is familiar with Robert Downey Jr and his rise to fame in 1987, his fall in 1997, and come back in 2008. I looked at how his Human Design chart changed by using his Human Design Progressed charts, one of which formed a channel that will be there for the rest of his life.  You can now get the Human Design progression chart on Genetic Matrix.
In 1992 Neptune progressed into Human Design Gate 1 forming the Channel of Inspiration, 5 years into his rise and 5 years before his fall. His natal Jupiter is in Human Design Gate 8. He did the Chaplin movie that year.
In 2005, during his rise, his Earth progressed into Human Design Gate 14 starting a new 5+ year gate cycle with his Sun & Earth in Human Design Gate 8 and Gate 14. This is part of the Cross of Contagion.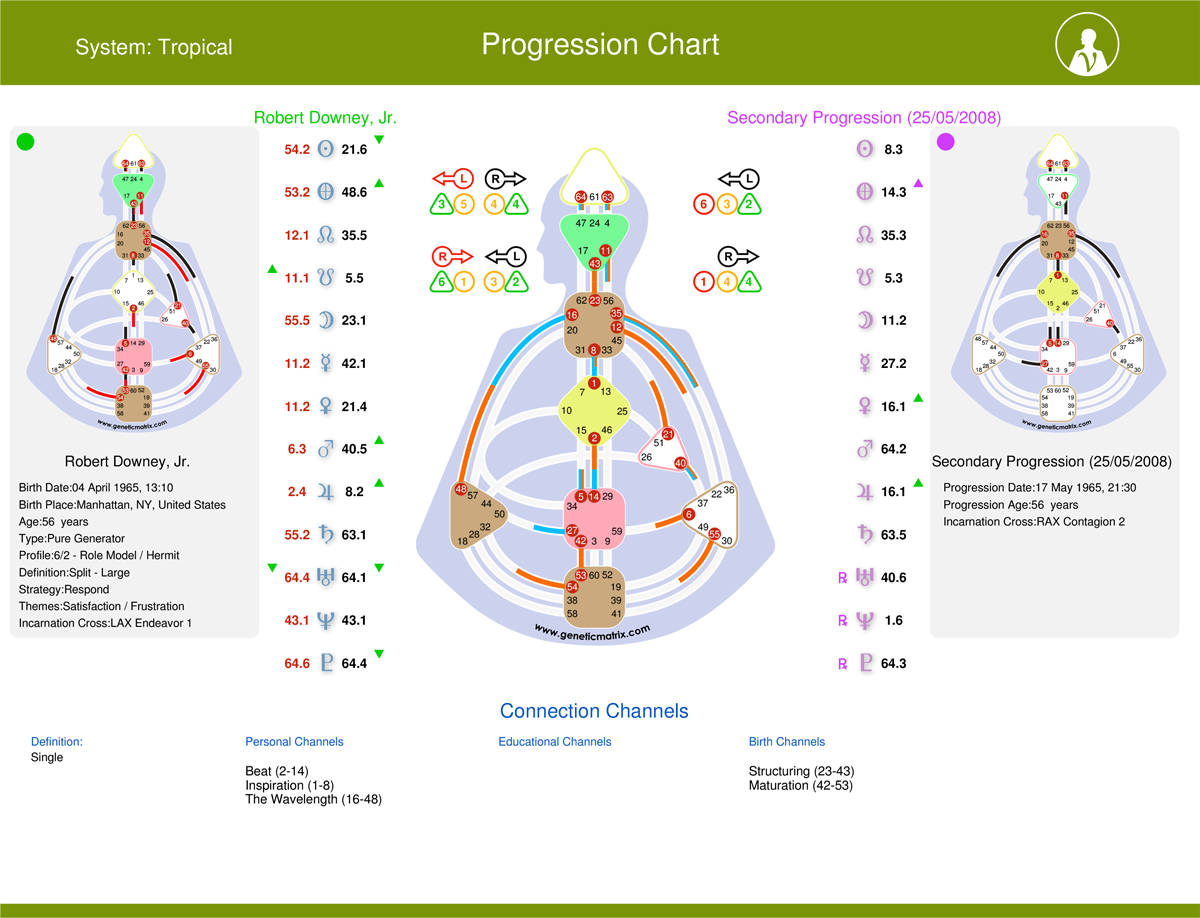 In 2008 he started playing the role of Tony Stark in the Iron Man movies. His Venus progressed into Human Design Gate 16 forming the Channel of Talent with his natal Earth in Human Design Gate 48. Since then Venus has moved thru Human Design Gate 35 and is in line 6 of Human Design Gate 45, creating the Money Line, in which he's made a lot of money being Tony Stark in the Iron Man & Marvel movies. It will move into Human Design Gate 12 next and no longer form a channel.
Personal experience
My personal experience is my progressed Mars in Human Design Gate 3 forming the Channel of Mutation with Venus in Human Design Gate 60. When looking back on this progression, I saw that this started for me the exact same month and year that Mars moved into Gate 3. Something clicked within and I started going through a new mutation in my life.
By the following November, I met Human Design. My experience with Human Design has been very mutative and transformative. I broke from traditional Human Design early on as I am way more expansive with my experience and expressions of my experiences with Human Design.  As a 3/5 I've been mutating Human Design, not that I've set out to do so yet Life, Spirit, does so through my, Gene Key 25 Purpose.
How to read the Progression Human Design Chart
When I look at a Progression Human Design chart, I first look at the Sun and Earth Gates since our Sun & Earth goes through a new gate every 5+ years. Even though I focus on the conscious side, I read through the crosses that the Sun will be going through to see if I notice and experience the different angles.
Then I look at the Moon as it will transit 2-3 gates throughout the year. So each year that the Sun is traveling through the lines of a gate, the Moon continues through 2-3 gates.
Then I look at the next set of personal planets which are Mercury, Venus, and Mars; the outer planets Jupiter & Saturn. The only changes that Uranus, Neptune & Pluto usually make are lines, however, there are exceptions where they change gates, like in Robert Downey Jr's case with Neptune.
I mainly look at new channels and gates between my natal and Progression Human Design charts. I personally use these because I did so in astrology, that's a spillover from that. Plus, there is one other I know that uses progressed charts and that's Kim Gould. She even has a course on progressed charts which is really good. I may see my experience as a bit different but that's what I love about our unique differentiation within our Designs. Maybe I'll create a Masterclass for Progressions.
You can learn more about progressions and Solar Arc Progressions here.
Would you like to purchase a Progressed Human Design session?  If so we can help you schedule that.  If you would like to learn about other charts offered by Genetic Matrix or learn more about the Human Design Gates you can learn more here.  If you would like to read more BEyond Human Design, check out the blog here.