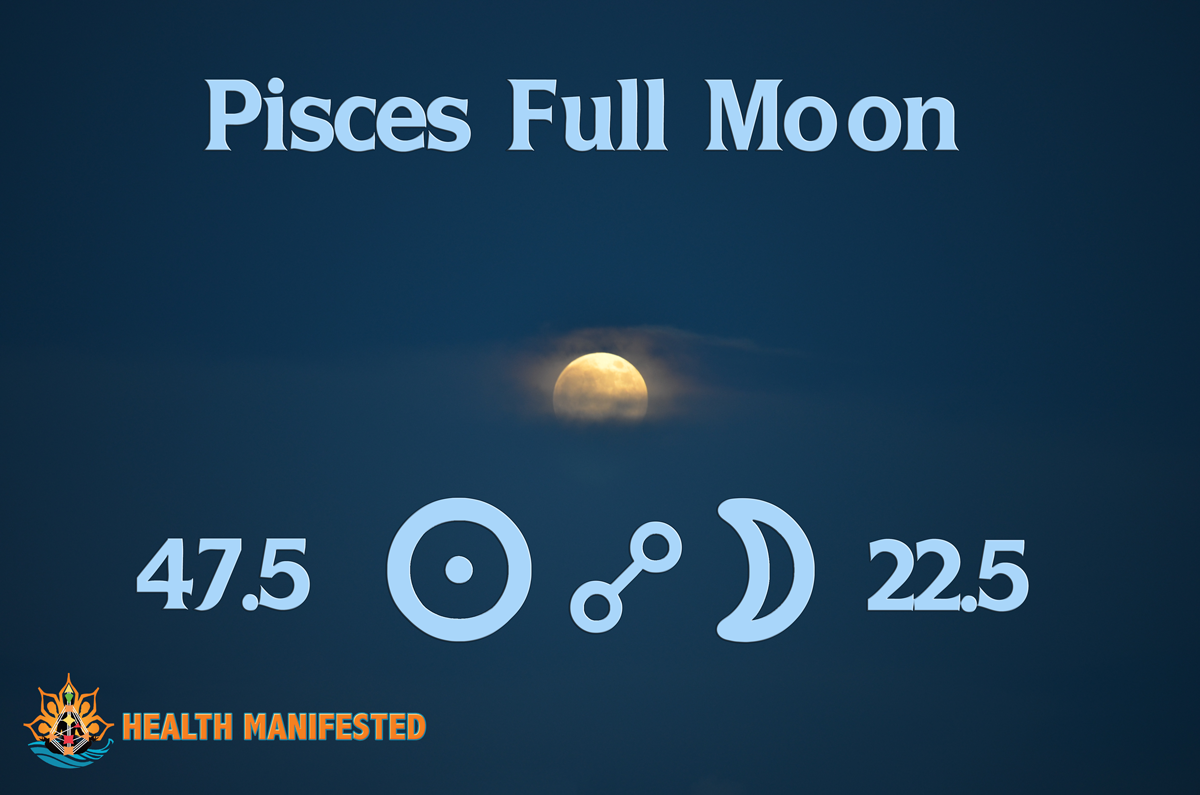 The Pisces Full Moon is happening September 14, 2019, just after midnight EDT.  The Sun is in Human Design Gate 47.5  this is the energy of realizations and the saint at 21° of Virgo.  The Sun is almost conjunct Mars in Human Design Gate 47.1 at 17° of Virgo.  This is the gate of Realizations and Taking stock.
The Moon is in Human Design Gate 22.5 at 21° of Pisces.  This is the energy of Grace and Directness.  The Moon is almost conjunct Neptune in Human Design Gate 22.1 at 17° of Pisces Retrograde.  This is the gate of Grace and the second class ticket.  This full moon is conjunct Neptune.  When the Moon conjuncts Neptune can make us aware of how hard we have worked.  This is a great time to take a break, rest, relax and meditate and do what you enjoy.  We will become more aware of what has created stress in our life and feel a strong desire to let go of what no longer serves us from the past.  We are being asked to let go of control and surrender and have faith in a new and better future.
We have the Sun trining Pluto retrograde at 20° of Capricorn in Human Design Gate 54.6.  This is the energy of ambition and selectivity.  When the Sun trines Pluto it is a time for transformation.  We can feel something shifting fast and easily in our life.  There is something we need to let go of and change to be happier.
During this Pisces Full Moon, we have Venus and Mercury conjunct in Human Design Gate 46.2 at 29° of Virgo.  This is the energy for determination and the prima donna.  29° is a completion degree.  During this time we can feel something coming to end or a new beginning.  We are letting go of where we have been unrealistically determined.  This aspect can help us get our life in order and find new solutions at this time.
Jupiter at 11° of Sagittarius in Human Design Gate 5.6 is squaring Mars and the Sun in Human Design Gate 47.  Human Design Gate 5.6 is the energy of fixed rhythms and yielding.  This is telling us that awareness of our rhythm is key.  The rhythm will never change without awareness.  The rhythm won't change unless you change it and the pressure won't go away until things change.
How are you moving forward?  What is changing in your life?  This Pisces Full Moon is taking us away from the energy of Virgo and showing us that we can have a never-ending to-do list.  Be ok with not having everything figured out.  Let go of any guilt, should have's, could have's, would have's, perfectionism and leave it in the past.  The Sun is giving us realizations about how guilt has been driving us.  Know you are a good person and everyone is doing the best they can.  Let go of what has been overwhelming you.  What are you ready to shift?
Are you interested in learning more yourself or how these transits affect you on a personal level?  Check out our products page to learn about the different types of readings we offer.
Click here to learn more about other Human Design Gates. or see other transits. Also, make sure to get your Free Human Design chart to take on your journey through the exciting world of Human Design.