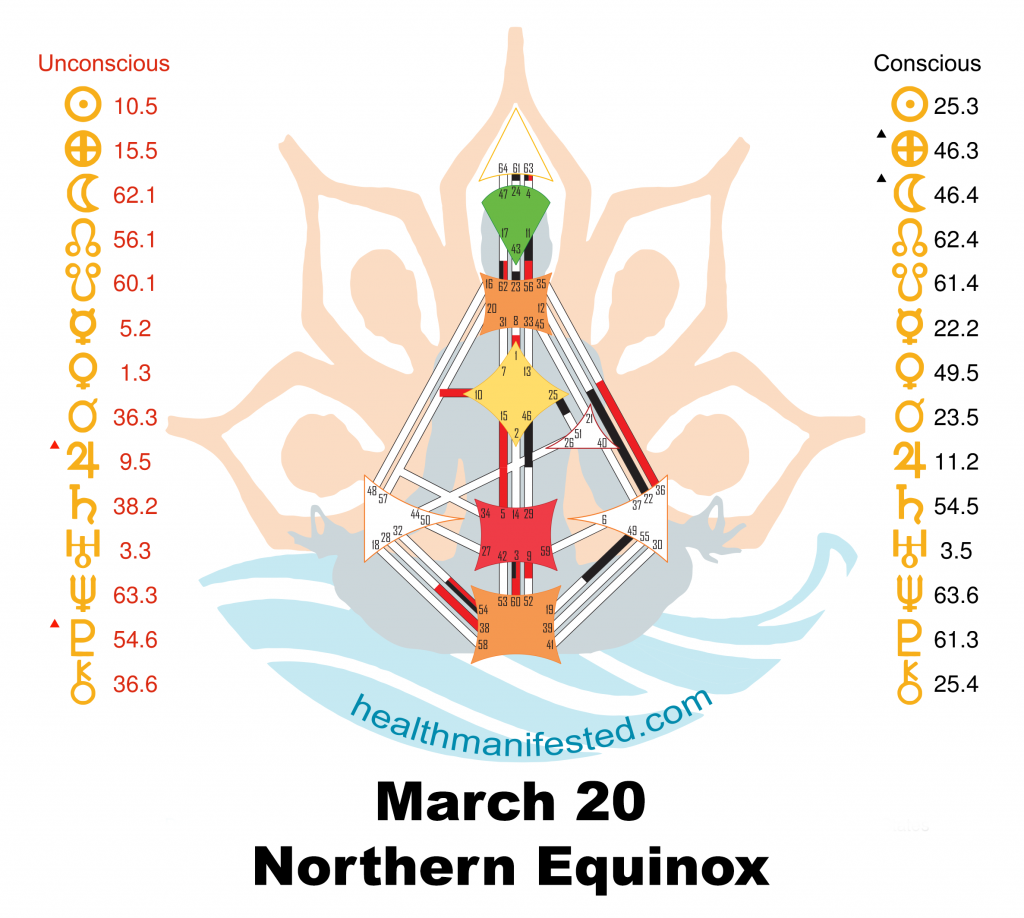 On March 20th, 2019 the Sun enters 0° Aries in gate 25.3 and we have the Northern Equinox.  This is considered the new astrological year.  On March 20th the day and the night will be the same amount of time.  This marks the best time for new beginnings.  This is when we set the tone for the rest of the year and start new cycles.  When we look at the chart for the Northern Equinox we see what will be expected for the next 12 months.  As you can see in the image to the right Chiron is conjunct the Sun.  Because Chiron is conjunct the Sun in gate 25, this will be a year of healing.  You will meet some kind of healer or Shaman in your life and have the potential to heal a part of you that has been broken and return to wholeness.  Chiron represents a Shaman or healer and Human Design gate 25 represents a Shaman or healer.  Take this as your opportunity to heal yourself and create a life you love.  You may also embrace this energy and become a healer or teacher.  There may be some relationship issues or conflict resolution because there is a full moon in Libra and Libra is the sign of relationships.  There are going to be some hard aspects and we can be debating on whether we should move forward and do something new.  Take the opportunity to create a new and better life for yourself.   Embrace the journey.  Heal yourself, learn to love yourself, your body and find your own rhythm.
Are you interested in learning more yourself or how these transits affect you on a personal level?  Check out our products page to learn about the different types of readings we offer.
Click here to learn more about other Human Design Gates. or see other transits. Also, make sure to get your Free Human Design chart to take on your journey through the exciting world of Human Design.