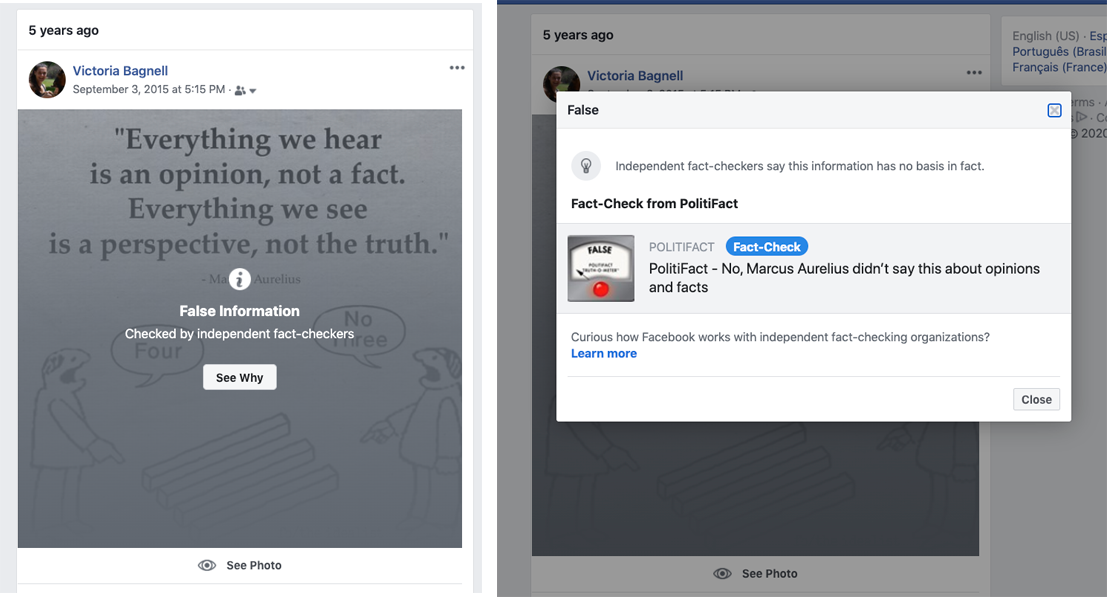 I felt inspired to show an example of the North Node in Gemini and the South Node in Sagittarius.  There is a part of us that may feel like there is a little lack of freedom of speech.  I was browsing Facebook and noticed that a picture I shared from 2015 has been marked by their fact-checker is false.  Do you think we are allowed do have any opinions? Do you think it is ok to say something that isn't a necessary truth?
Although this picture may not be entirely true, I probably posted it because someone had an opinion that I didn't agree with.  Does it make this picture wrong?  This is the energy that the North Node in Gemini and South Node in Sagittarius has brought about.   It is a time when you find out who you really resonate with.  Who speaks your truth.  I heard someone once say, "Opinions are like a**holes, everyone has one."  I have also heard people say, if you don't have anything nice to say, don't say it at all.  I was browsing through Facebook today and saw a post that said, it is interesting how people that speak the truth aren't loved as much as people who say what people want to hear.  I also had someone contact me and tell me the best way to talk to someone that I find doesn't speak the truth is to just tell the person how wonderful they are and they will treat me well.
I hope with this transit you are allowed to keep your beliefs, your opinions, and your hopes and dreams alive.
I do believe we are all entitled to our opinions.  It doesn't make it right.  It doesn't make it wrong.  It is our truth.  Always try to do it with love.  Love is more powerful than hate, or at least that is my opinion.  We all have them.  Sending you all love.
Update: I had a friend call and was talking a lot of about politics, the vaccine's being political, and more.  I was sharing with him about this transit and how it has made people more opinionated.  I feel life was so much more enjoyable without everyone being so opinionated and having such strong beliefs about their opinions.  I look forward to this transit ending.  I do believe everyone is entitled to their opinion and it's ok to have an opinion and still be loved regardless.  Try to love each other regardless of beliefs and opinions.  There is beauty in our uniqueness.  That is the beauty of astrology and Human Design.  We are all uniquely designed.  I would like to encourage us all to put opinions and believes aside as we get closer to this transit ending and bring in more love and acceptance.
Make sure to check out other transit articles.